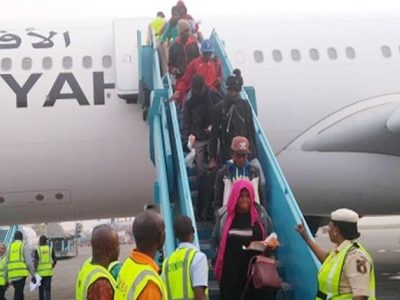 The family is said to be the mirror through which the society is viewed. Whatever happens in the families, affects the society because the society is simply a convergence of families.
If the family functions well, the society, to a large extent, also runs well. It is based on this understanding that the United Nations (UN) in 1993, declared May 15 as International Day of Families.
The day, according to the UN, is dedicated to "promoting awareness of issues to families and to increase knowledge of the social, economic and demographic processes affecting them."
Simply put, it is a day that special attention is paid to how the family can be better so that the society and the world would be better.
To celebrate the day this year, Women's Board, a Non-governmental Organisation with special focus on empowering Nigerian women, organised a seminar with the theme "Effects of Illegal Migration on Families and Societies."
Welcoming guests to the event, Director of the NGO, Edna Dafe, noted that the choice of the theme, different from the United Nation's chosen theme, was based on the toll illegal migration was taking on the society.
"This year's theme (by UN) is "Families and Climate Action: Focus on SDG 13" Special focus is on target 13.3: improve education, awareness raising and human and institutional capacity on climate mitigation, adaptation, impact reduction and early warning and target 13.2: integrate climate change measures into national policies, strategies and planning.
"This year, we are collaborating with the National Agency for the Prohibition of Trafficking in Persons (NAPTIP) to discuss the theme "Effects of Illegal Migration on Families and Society." We are looking at this theme today because we are concerned about the rate at which our youths are migrating illegally to European countries in search of a better future and greener pastures. We believe that if more awareness is raised on the effect of illegal migration and suitable alternatives are provided; we will be able to curb this menace in our society.
"We are convinced that if youths are gainfully engaged in acquiring employable skills, it will serve as a deterrent to their desire to migrate illegally when they are aware of the dangerous kind of life in store for them. From reports of survivors or those who have been repatriated home, it is a life of slavery. We believe that no individual would want to be caught in such bondage. No family will also want their children and family members to be caught in such servitude also.
"Acquiring skills will help to reduce poverty across the country and help families to live a better life," she said.
Presenting a paper on "Doing Better for Families: Reducing Family Poverty Across Nigeria," Mrs. Chinelo Ujubuonu, an educationist and Managing Director, MySchoolArena, said poverty and education were closely related.
According to her, those who cannot read and write have little chance of getting a skilled job to build their livelihood and so, are susceptible to being trafficked.
She identified the consequences of family poverty as illegal migration, human trafficking, insurgences, robbery, kidnapping and corruption.
Dwelling a bit on the effects of illegal migration and human trafficking in Nigeria, Mrs. Ujubuonu pointed out that both result to loss of youths at their prime, spread of infectious or communicable diseases, slavery, prostitution and death.
She lamented that "Nigeria cannot continue to lose its youths at their prime in the name of finding a greener pasture abroad illegally due to lack of jobs, lack of adequate educational opportunities, lack of citizen diplomacy, natural and man-made disasters, lack of justice, equity and fair play, lack of social security among others," and called on governments at all levels to double efforts at eradicating poverty.
She noted that though it might be difficult to totally eradicate poverty, there were still steps the government could take to reduce it. Such steps, according to her, include making education affordable and assessable to the greater majority, encouraging the acquisition of skills in the area of farming, catering, hospitality, sewing and other vocational trainings, promoting entrepreneurship and stimulating the economy.
Mrs. Ujubuonu, also suggested that government could tackle the issue of poverty among families in Nigeria by diversifying the economy, developing rural areas, fighting corruption within the family, society and government and mentoring the younger generation.
The Educationist held though, that the responsibility of eradicating poverty cannot and should not be left to the government alone, insisting that the family must play a role. She said: "Families are the cornerstone of society. They play a central economic role, creating economies of scale for people living together and as the source of home production.They are a crucial engine of solidarity, redistributing resources (cash, in-kind or time) among individuals, households and generations."
To, therefore, play its role towards the eradication of poverty, she said families must place a premium on education. According to her, education as an empowering tool helps families to change the conditions of their lives, to have knowledge and skills of a trade that will make them competitive in the particular productive field and in taking action to do something about poverty as their own concern.
Acknowledging that it was the responsibility of government to provide the basic needs of families, she, however, said that with proper education of members of the family, they can provide some of their needs without depending on the government.
She posited that families must begin to do things differently in order to tackle the issue of poverty and some of its effects on society.
"We should educate our children in virtues of honesty, generosity, future mindedness and integrity. We should teach them life skills; values of fairness, caring, grittiness – determination, perseverance and bravery.
READ ALSO: Edozie Njoku Becomes New APGA National Chairman
"We should teach our children to choose the harder right than the easier wrong; to be loyal- loyalty that scorns to compromise with vice and injustice and knows no fear when truth and right are in jeopardy. We should also teach our children to guard against flippancy and irreverence in sacred things of life," Ujubuonu said.
She further stressed that the family should be "a school of virtues and values, centre of love, a place where the law of respect and communion reigns and a place where a person naturally overcomes false opposition between the individual and the Society."
Ujubuonu emphasised the need for families to be able to talk, trust and feel love for each other; know when they need help and feel safe to seek out resources to restore the family's balance.
Speaking on the topic, "Human Trafficking and Illegal Migration," Mr. Daniel Atokolo, Lagos Zonal Commander, National Agency for the Prohibition of Trafficking in Persons, NAPTIP, noted that migration was not a bad thing in itself.
He said: "It is natural for man to move in search of greener pastures and to better his lot. Many nations, countries, cities and villages evolved as a result of this act of migration. Sometimes people were forced to migrate due to war, famine or even in search of knowledge.
"Today, people still migrate and the pattern has remained from the undeveloped to the developed, from the point of lack to the point of plenty. Due to globalization, shrinking borders and availability of easier means of transportation, migration has been made easier and has inadvertently created problems both for the source and destination countries. These problems also have their attendant effects on the migrants."
He identified human trafficking as a problem of illegal migration with traffickers moving victims in and out of countries with the use of fake documents and clandestine border crossing.
According to him, "human trafficking is the movement of people from one place to another through either the use of force, deception, debt bondage, abuse of authority over another for the purpose of exploitation.
"The movement could be internal (within the country) or external (between countries), while exploitation shall include, at a minimum, the exploitation for prostitution of others or other forms of sexual exploitation, forced labour or services, slavery or practices similar to slavery, servitude or the removal of organs."
Mr. Atokolo described Nigeria as a source, transit and destination country for trafficking. He said: "Nigeria is a country of origin for victims trafficked to Italy, Spain, Morocco, Benin Republic, Netherlands, United Kingdom etc and a country of transit and Destination for Togolese, Beninese, Cameroonians, Nigerians, Chadians etc."
He said further: "Thousands of children are trafficked within, into and out of Nigerian borders. Children trafficked into Nigeria are mainly from Benin, Togo, Niger, Cote d' Ivoire – large number of Beninese have been rescued in quarries working in exploitative conditions in the western part of the country
"Trafficked girls are used for domestic service, street trading and commercial sex exploitation. The boys are used for domestic service, forced to work on plantation, farmlands, quarries and engaged in petty crime."
The Zonal Commander, quoting UNICEF said that 80% of young women engaged in prostitution in Italy are Nigerians noting that sometimes, trafficking takes place with the tacit collaboration of families and relatives of victims.
He particularly noted that young healthy boys were being trafficked under the guise of going to play football abroad. "Traffickers hide under the guise of talent hunting. They pretend to be taking the boys abroad for sports, especially football. Oftentimes, the local agents may not know what the talent hunters have in mind.
"When they take these boys abroad, they harvest their organs."
Mr. Atokolo identified population boom, poverty, unemployment, porous borders, poor standard of living, inequitable development, especially at the grassroots and lack of good governance as factors that facilitate irregular or illegal migration.
He noted that most irregular migrants face a lot of challenges and threats to their survival. Some of the threats according to Atokolo, include; fear of deportation, loss of income, denial of access to economic and social rights as well as benefits of education and health systems by host countries, abuse on the job, xenophobia, human rights violation, racism among others.
Speaking on the effects of Human Trafficking and Illegal Migration, the NAPTIP Zonal Commander said: "Migration, whether legal or illegal creates an impact on nations and societies involved, whether destination or source. Some of these effects include: brain drain, depletion of human resources (work force), economic depression, under population (source), over population (destination), negative image before the international community, limited social amenities in destination countries, increase in crime rate and increase in occurrence of human right violation case."
On the way forward, he advocated mass employment, development and maintenance of infrastructure, strengthening the economy, provision of social security, and public enlightenment programmes to educate people on the dangers of illegal migration.
Atokolo, acknowledged that migration cannot be stopped, but stressed that if certain things are done right by those in authority, illegal migration would be largely reduced.
He said: "The grass might seem greener elsewhere, but in reality, it might end up being an illusion. If you must travel, do it legally. Ensure that you have your documents and know your rights in the country you plan to visit," adding, "it is also important to note here that we as individuals should think of ways of building our country up to the standard of those we desire to go to."