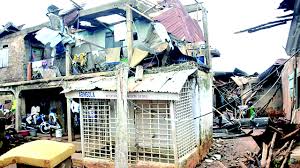 One person was confirmed dead while two others were declared still missing after Saturday night's downpour in Ilorin, Kwara State capital.
The downpour, which destroyed scores of houses, was said to have started about 7:00p.m on Saturday stopping in the wee hours of Sunday.
Areas worst affected were Olokonla, Bobonkiri, Egba-Akota, Aberi, Akuji, Idiope, Harmony Estate, Sobi, Akerebiata, and parts of Ibrahim Taiwo Road, all in Ita-Ogunbo area, Alanamu ward of Ilorin West Local Government area.
The rainstorms also destroyed electricity poles in Taiwo and Odota areas.
The Kwara State Governor, AbdulRahman AbdulRazaq, in a statement by his Chief Press Secretary, Rafiu Ajakaye commiserated with families whose houses were affected by the rainstorm.
"The governor is saddened by the havoc wreaked on various households in Ilorin, the state capital, and indeed elsewhere across the state by the rainstorm. He sends his heartfelt commiseration and a message of hope to such families in this trying time.
"As part of his proactive measures to mitigate the effect of this natural disaster which had been predicted by NIMET, the governor had last week visited various Federal Government agencies, including NEMA, to seek special relief for Kwara. The state government is again urging the Federal Government to urgently consider Kwara State for special support.
Meanwhile, the Kwara Deputy Governor, Mr. Kayode Alabi, on Sunday paid an assessment visit areas affected by the storm.
He commiserated with the families of those, who died in the rainstorm.
He said: "It is with a heavy heart I commiserate with the families of the bereaved. I pray God to bless the departed souls. I equally identify with those that have been displaced as a result of the rainstorm."
READ ALSO: Survival Fund: Registration portal Opens Monday
The deputy governor urged the victims to be calm and exercise patience with the government, adding that efforts would not be spared to give the necessary support.
"Be rest assured that Governor AbdulRahman AbdulRazaq will be properly briefed on the destruction which I find quite disturbing.
"The government will waste no time in giving necessary support to the affected victims," he said.
Areas visited by the deputy governor included Ode Alfa Nda, Ile Akuji, Ile bada, Ita Ogunbo, Ita Kudimoh, Ita Egba, Idi Igba, and Sakele.
Other areas are Okekere, Koko Igbonna, Abata Sunkere, Oju Ekun, Orisan Koko.