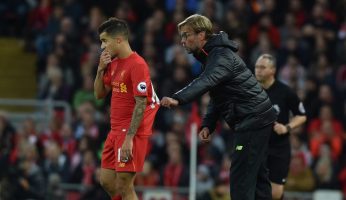 Barcelona seems to remain dogged in the market for Philippe Coutinho's whose transfer request was rejected by Liverpool yesterday.
It has since emerged that Barca will have to pay a stunning £136m for the Brazilian star after seeing a £90m bid rejected earlier this week.
On a dramatic day on Merseyside, Liverpool's owners FSG insisted he was not for sale, Klopp said the same, but then a transfer request came in.
Liverpool must now decide whether it is convenient to keep a player who wants to leave.
Barca, however, are also looking at Ousmane Dembele, Angel di Maria and Ivan Perisic.
Read also: I like Mourinho a lot – Willian
Jurgen Klopp has supposedly gone to war with the midfielder over his move to Barcelona.
The German is said to be 'acting the hard man' and using Coutinho to lay down the law to the rest of his squad.
Klopp wants to make an example of the 25-year-old and is furious at his decision to hand in a transfer request.
Jurgen Klopp wants Liverpool to sign a midfielder before the transfer window slams shut on August 31.
"We don't have too many midfield players in the moment who have experience," Klopp said.
"Are we looking still for players? Yes. That is the truth. But we were looking for players before Adam was injured. Now he is injured and Phil is injured so we have two less.
"It doesn't make the situation more comfortable. You cannot be really prepared for situations like this but we have time.
"I'm just thinking about Watford and how we can start the season. But the 31st (August)?< Yes, I know. Everything can happen. But I'm not sure that they will happen. If I were sure, they would probably already be in or whatever. It's still open for business."
As event unfolds Liverpool may likely do business, as The Daily Record claims that Liverpool have told Barcelona how much they have to pay to sign him.