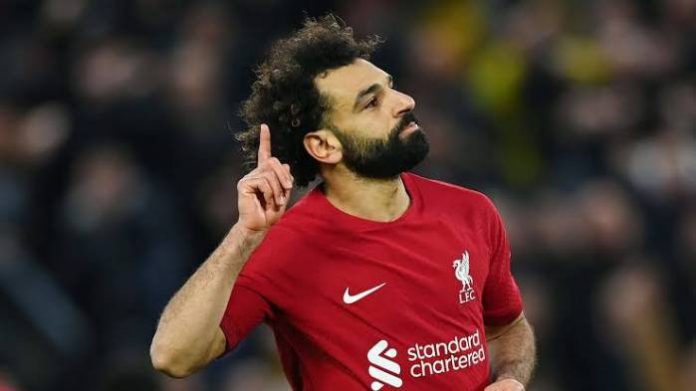 Liverpool manager Jürgen Klopp believes Mohamed Salah still has the body of a young player even as the Egyptian grows wiser with experience.
Salah came off the bench to get Liverpool's final goal in Thursday night's 5-1 Europa  League win over Toulouse, his 43rd European goal for the club – surpassing Thierry Henry's tally of 42 for Arsenal as the most scored by any Premier League player for a single club in continental competition.
It came after the 31-year-old got both goals in Saturday's 2-0 win over Everton, which meant that Salah has now scored or assisted in each of his last 13 Premier League games at Anfield.
Salah will aim to extend that run when Nottingham Forest visit on Sunday and Klopp is enjoying the spectacle of a maturing player with a more-rounded game, yet one who still has the physical attributes to match anyone.
"Off the pitch he behaves like a grown-up man but besides that he's still a young player," Klopp said. "He's so fit. I think if we scan him the majority of the bones are probably 19 or 20 (years old) because he just keeps in such good shape.
"(He has) game understanding. That's what we try to give young players. They all know an awful lot about football when they finish their career at 35 but the earlier you can get this information the more useful it is."
Klopp admitted he had no idea that Salah had surpassed Henry's European tally but, given the number of records the Egyptian has broken during his time at Anfield, it is not easy to keep up.
"Maybe he would have broken a few more records if I would be more into that because sometimes I left him out when he could have broken a record," Klopp said. "It wasn't intentional but I'm not too much into this."
Klopp had made eight changes from the Merseyside derby for the visit of Toulouse, but will reverse most if not all of them on Sunday when Forest head to Anfield.
Liverpool go into the weekend three points off the top of the Premier League table and aiming to show they can balance a Europa League campaign with a title challenge at home.
"So far we could do it," he said. "Thursday-Sunday is not great but it's something we know really for long enough and that's fine.
"The boys that didn't play (against Toulouse) will have a proper training session so that's good.
"If you play always the same team like we did in the past in the Champions League then it's no training at all, it's just recovery and then go again but so far we are able to do it like this with not too many injuries." (dpa/NAN)