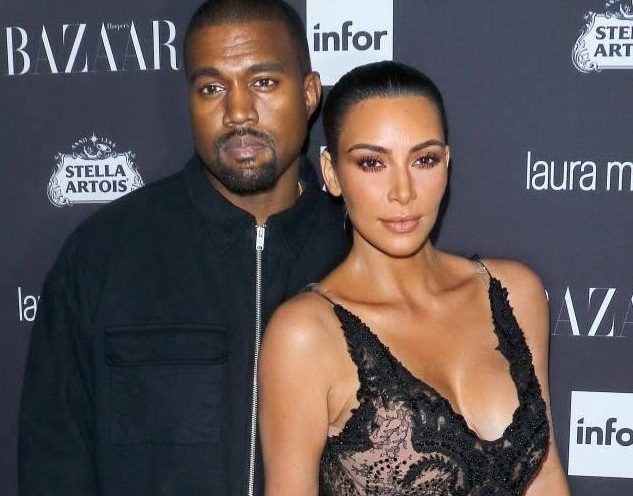 Kim Kardashian and Kanye West will become parents for the third time at the start of 2018 according to reports in the US.
Us Weekly claims the couple's surrogate is now "three months pregnant".
An insider alleged the woman is in her twenties and was approached by the famous couple through "an agency".
Kim and Kanye already have a daughter, North, and a son, Saint, which they conceived naturally.
Keeping Up With The Kardashian's star, Kim, has spoken openly about the prospect of using a surrogate mother to help give the couple another baby.
In June it was claimed the pair had paid £90,000 to secure a surrogate.
As part of the alleged deal, the surrogate will have to stick to a strict regimen in order to ensure the baby is born as healthily as possible.
This includes: restricting sexual activity in the weeks leading up to the birth and three weeks after embryo implantation, staying away from cat litter, and being banned from hot tubs and saunas.
They will also not be able to dye their hair or eat raw fish, with their caffeine intake restricted to one drink a day.
The Sun Online has contacted Kim and Kanye's representatives for comment.
The new reports came just weeks after Kim revealed she suffers from a condition that means she is unable to carry any more children.
In February, Kim got her fans worked up into a frenzy when she re-posted a tweet online which read: "RT if you're getting pregnant in time for the Kim and Kanye kids line launch."
Sharing the message with her 49.9 million Twitter followers, Kim also included a "hand up" emoji, along with four baby emojis.
However, after complications in her previous pregnancies, she has been told that she could "bleed to death" if she were to try and carry another child herself.
Speaking to physician, Doctor Crane, he told her during one episode: "Your pregnancies, you had toxaemia, you had a retained placenta, very traumatic, we're always worried about the next serious complication. I think the potential fear of the whole situation is legitimate."

He added: "You're always taking a little bit of a chance. There are situations where retained placenta could be life and death."

Speaking to her sister Khloe Kardashian on an episode of KUWTK, Kim said in November: "It would be a really dangerous environment for me if I were to get pregnant again.