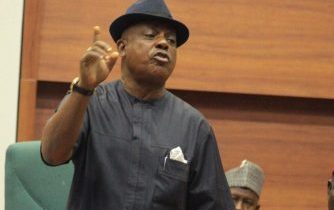 The Peoples Democratic Party (PDP) has said President Muhammadu Buhari's alleged poor understanding of current global economic dynamics and his cover of corruption in his Presidency have ruined the nation's economy.
The party said but for Buhari's alleged poor understanding of current global economic dynamics and his cover of humongous corruption in the Presidency the country's economic situation would not have been terrible.
The PDP made the remark in a statement issued on Wednesday by its National Publicity Secretary, Mr. Kola Ologbondiyan.
It posited that had the president listened to wise counsel from the PDP to allow competent hands to manage the nation's economy there would not have been financial crisis.
It said the president had continued to provide official cover for corruption in his Presidency.
"Since President Buhari assumed office and took control of our once robust economy, his administration has not been able to articulate any germane policy to sustain, let alone, grow the economy, but had instead, resorted to borrowing, while allowing his cronies and APC leaders to fritter away trillions of naira earned by the nation in the last three years.
"Why would the Buhari administration not accumulate debts when it has continued to cover up corrupt practices under its watch, including the alleged stealing of N9 trillion, through underhand oil contracts in the NNPC and Ministry of Petroleum Resources as well as the alleged illegal lifting of crude oil worth N1.1 trillion by 18 unregistered companies to service APC interests, among others," the party stated.
It argued that moreover, the Buhari Presidency had refused to explain the whereabouts of trillions of naira unremitted oil revenue, resulting in the deadlock at the Federal Accounts Allocation Committee (FAAC).
READ ALSO: 2019: Why I will not support Buhari -Dele Momodu
According to the party, if the monies were properly accounted for and utilized, Nigeria would not be in the dire economic situation "which has brought hunger and starvation on Nigerians and rendered millions of compatriots jobless, while President Buhari and his officials live in affluence."
The PDP said it recalled various red flags by international agencies, including Transparency International and the World Bank on the poor management of Nigeria's economy.
It said besides, the Presidency had been concealing the fact that Petroleum sector under President Buhari had been inducted into the FOI Hall of Shame by Media Rights Agenda (MRA) following government's relentless secrecy and violation of rules in the sector.
"We invite Nigerians to note that since President Buhari intensified his re-election bid, there have been huge dearth in investment inflow, further depreciation of the naira and a dangerous slide in the capital market, all signposting that our nation will continue to face perilous time as long as President Buhari is on the saddle with his array of persons with doubtful credentials as ministers and special advisers.
"The PDP therefore urges President Buhari to take responsibility for the escalated debt, stop offering excuses and get ready to accept defeat and quit the stage in 2019,