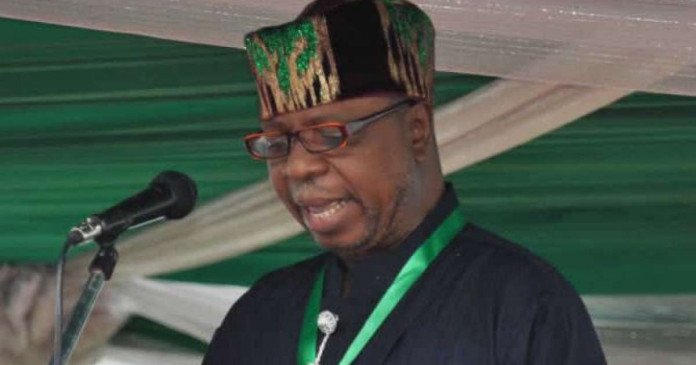 Peoples Democratic Party (PDP) chieftain, Chief Ebenezer Babatope, on Wednesday urged party members to close ranks and unite following the Supreme Court judgment that sacked Sen. Ali-Modu Sheriff as the party's national chairman.
Babatope told the News Agency of Nigeria (NAN) on telephone in Lagos that the judgment was a victory to justice and all members of the party.
NAN reports that the leadership tussle in the party was finally resolved on Wednesday as the apex court nullified the leadership of Sheriff and ruled in favour of the Sen. Ahmed Makarfi-led National Caretaker Committee.
"I want to commend the Supreme Court for living up to the expectation as the last hope of Nigerians in this case.

"I also want to congratulate all members of the PDP for the victory on this day.

"I urge people in the Ali Modu camp to join hands with the other members so that the party would wax stronger," Babatope said.
The PDP chieftain said he was particularly glad the dispute had been resolved at last and that the development was good for the party's preparations for the 2019 elections.
Babatope equally expressed joy at the victory of the party in the senatorial bye election in Osun on Saturday.
"We won because we deserved to win. We presented the right candidate in the person of Ademola Adeleke and also because we are still a popular party."
In its reaction, the Lagos State chapter of the PDP, said the judgment was not only a victory for the party but for the stability of the polity.
"The judgment, for us, goes beyond intra-party politics, but actually a successful surgery on the political stability of Nigeria which had been volatile before now," the Publicity Secretary of the party in the state, Mr Taofik Gani, said in a statement.
He said the judgment was particularly gladdening as it would now enable the party to show that it was a viable alternative to the ruling All Progressives Congress.
Gani said it was never too late for members who left the party in the trying period to return, especially those who won elections on its platform.
"We shall welcome them and forge ahead together if they are found suitable to be associated with," he said.
Mr. Jimi Agbaje, the party's governorship candidate in Lagos State in the 2015 elections, said in his reaction that the party must remain strong and united.
"With the delivery of the Supreme Court judgment, it is now time to put our house in order.

"There is no winner, no vanquished. For the love of democracy, PDP must remain united and strong," he said.