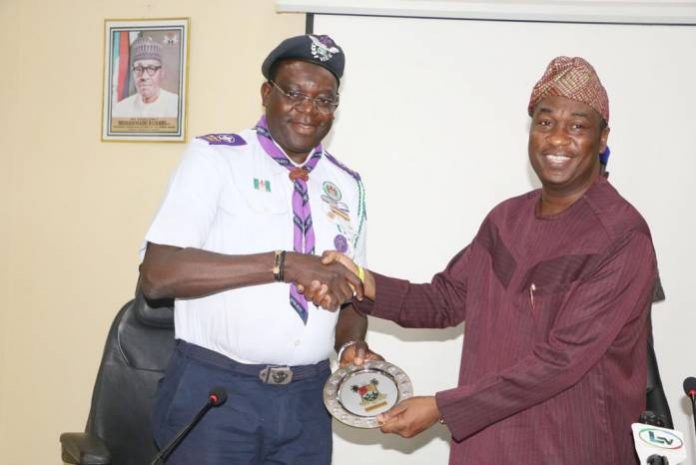 Dr. Kadri Obafemi Hamzat, the Lagos State Deputy Governor, has advised young Nigerians to embrace moral value building societies like the Dr. Kadri Obafemi Hamzat, the Lagos State Deputy Governor,, rather joining cults.
Hamzar, who spoke during a courtesy visit to him by the Lagos State Scout Council today at his Ikeja office, Dr. Hamzat opined that the role of Organisations like the scout has become more important in this era when young people join cults even at the age of nine.
He urged young people to resist peer influences that usually lead them to vices and crime, adding that associations like the Scout provide better character forming influences.
Hamzat urged those already in the Scout to adhere to the principles that had over the years made it an organisation for young people.
While promising the support of the Babajide Sanwo-Olu administration towards their various activities, Hamzat urged the leadership of Scout Council to always provide an avenue for young people to shun vices and violence.
Led by the State Council Commissioner, Mr. Adebesin Oyeyemi, the Scout Council said the organisation was determined to mould character and contribute to the education of young people who join its fold.
According to him, "the mission of scouting is to contribute to the education of these young people and ensure value the change."
Oyeyemi stated that parents should create time to know their children and wards despite their busy schedule, adding that by so doing, a large number of young people would be weaned off crime.
Announcing the participation of the Nigeria Scout at the 24th World Jamboree, holding between July 22 and August 2, 2019, in West Virginia U.S.A, he disclosed that Lagos State had 91 members out of the 230 going.
He explained that this event would be a channel for the development of the Nigerian youths, while the jamboree would showcase the cultural nature of each state in the country.
Present at the event were the Permanent Secretaries of the Office of the Deputy Governor, Mrs Yetunde Odejayi and Dr. (Mrs) Bolajoko Balogun of Youth, Sports and Social Development, among others.