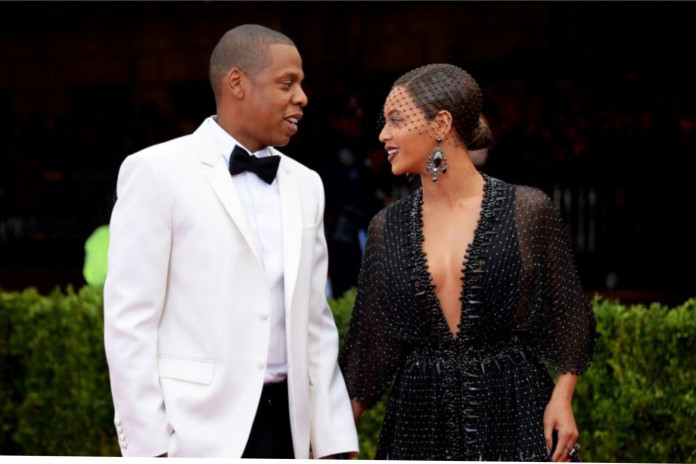 Over the last two years, JAY-Z and Beyoncé have been more open than ever about the ups and downs their high-profile, 15-year relationship has gone through. Beyoncé bared all in her groundbreaking visual album, Lemonade, in 2016, when she basically confirmed the long-held suspicion that her husband had cheated on her, but that the two had come out of the ordeal stronger than ever. And in his 13th studio album, 4:44, released on Friday, JAY also cops to his mistakes in the fifth track, also called "4:44."
He discusses their marriage in the emotionally honest song, as well as mentions the twins the couple recently welcomed into the world. "I apologize often womanize / Took for my child to be born / See through a woman's eyes," he raps. "Took for these natural twins to believe in miracles / Took me too long for this song / I don't deserve you." His references to their kids don't end there, either. After opening up about cheating, the proud dad gets real about the effect his decision might have had on their kids. "And if my children knew, I don't even know what I would do / If they ain't look at me the same / I would probably die with all the shame / 'You did what with who?' / What good is a ménage à trois when you have a soulmate? / 'You risked that for Blue?'" he says.
Like he does in his 2012 song "Glory," JAY also makes a few references to Beyoncé's struggle to get pregnant and the multiple miscarriages she's had. "So I apologize / I've seen the innocence / Leave your eyes / I still mourn this death / I apologize for all the stillborns / 'Cus I wasn't pressing / Your body wouldn't accept it."
Even the title of JAY's album is likely a nod to the couple's relationship, since both of them have a fascination with the number four. Beyoncé was born on Sept. 4, and JAY's birthday is on Dec. 4. Not only that, but their wedding anniversary is April 4, and both of them have matching IV tattoos on their ring fingers. In the annotations he wrote about each song for the album, he also mentioned that he woke up at exactly 4:44 AM one night while writing the album, which was another reason that inspired the name.