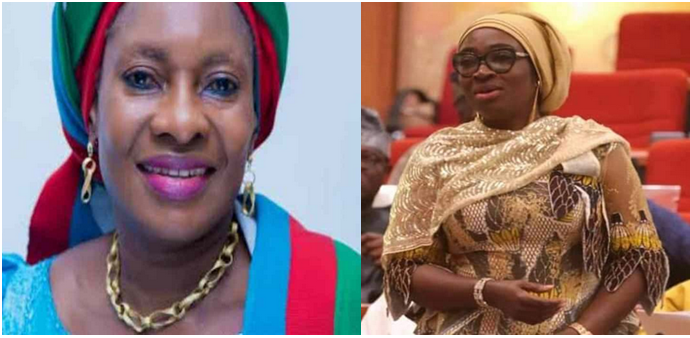 As the Anambra State governorship election scheduled to hold in November draws close and gathers momentum, it is necessary to take a cursory look at how women are faring among the front runners.
At the moment in the state, the major political parties are the ruling All Progressives Grand Alliance (APGA); Peoples Democratic Party (PDP), All Progressives Congress (APC), Young Progressive Party (YPP) and the Labour Party (LP).
These parties have all released the names of governorship aspirants who purchased their nomination forms, ahead of their primaries
APC has 10 aspirants, PDP has about 16, APGA — four, YPP — one and LP — one.
For now, about 32 gubernatorial aspirants will jostle to replace Gov. Willie Obiano of Anambra state in November this year.
Out of these 32 aspirants, Sen. Uche Ekwunife, under the platform of PDP is the only female that will be up against 31 male aspirants aspiring for governorship position just like in the State House of Assembly where Mrs Beverly Nkemdiche-Ikpeazu is the only female among the 30 members of the House.
This shows that the participation of women in the forthcoming gubernatorial exercises is not encouraging.
This defeats the clarion call for active participation of women in governance and politics, which according to the British Council Gender in Nigeria report 2012, has a strategic importance not only for women empowerment, but because it has wider benefits and impact on the society.
Nigeria as a nation also adopted the affirmative action of 35 per cent representation of women in political and elective positions in the country.
Unfortunately, this has yet to change the participation of women in politics, as the Anambra forthcoming governorship poll shows, even with political parties giving out nomination forms to women for free.
Reacting to this development, Mr. Nnamdi Nwagwu, State Publicity Secretary of the PDP, said that the party operates a gender-friendly policy where nomination fee is free for any aspiring woman.
"I really don't know why women are not showing interest. They don't pay nomination fee, the only thing any aspiring woman pays for is the Registration of Interest Form, which costs N10,000 only. It's an official policy.
"So, our party encourages women to contest because gender is no longer a barrier in politics. What a man can do, woman can equally do," he said.
Also speaking, the APC Chairman in the state, Chief Basil Ejidike says that the party is discussing with the women hoping they will show interest before the party primary.
"The APC encourages women to participate in any level of election. While their male counterparts pay millions to purchase nomination form, it is totally totally free for the women.
"I am discussing with a number of our women and we believe that they will still show interest before the primary, either as governorship aspirants or running mates," Ejidike said.
Prof. Theresa Anigbogu, Founder of Women Action Committee, says her group carried out a research on why women continued to take the back seat in the politics of Anambra.
"Data revealed that women remain heavily outnumbered in both the legislative and executive arms of government considering their population in the state.
"We, however, carried out a research and discovered that electoral violence, unhealthy political environment, inferiority complex and lack of interest are the major reasons women are afraid to contest in Anambra elections.
READ ALSO: Breaking! Akpabio Denies Giving Bribe To Malami For NDDC Sole Administrator's Appointment, Threatens Legal Action
"Women are major stakeholders and should be more proactive in issues relating to governance and politics," she said.
Anigbogu said her organisation had commenced a grassroots sensitisation programme across the communities to help improve women's path to leadership roles.
"At the local level, we are working and many women are beginning to show interest to contest in subsequent Councillorship, Local Government and State House of Assembly elections.
"We are engaging traditional rulers and community leaders to support women who are aspiring for political positions and we are very optimistic that come 2023 general elections, more women will be contesting," she said.
A group, the Nigerian League of Women Voters (NgLWV), says it is providing support to ease the burden of female candidates as part of its commitment to growing the pool of women in the political space.
Dr. Bilkisu Magoro, Committee Chairperson on Democracy and Election, NgLWV, notes that lack of funding and COVID-19 pandemic may have deterred women from aspiring in the Anambra governorship election.
"You know that aspiring for an elective position such as governorship, requires huge funding and this is a major deterrent. Also, the COVID-19 pandemic has limited human activities politically and otherwise.
"As women we are cautious and more concerned with the survival of ourselves and our families, otherwise, there are strong women in Anambra who would have been out there to participate. Another thing is that most women don't make it at their party primaries too.
"But, we have commenced intensive advocacy and awareness and we are optimistic that there will be more female candidates seeking elective positions in the coming general election in 2023.
"We are also appealing to women voters to utilise their numerical strength to support their own during the 2023 general elections
"Women have to rise up and now that some of us are here to challenge the status quo, it should be an encouragement," Magoro said.
Sen. Uche Ekwunife (PDP, Anambra Central) and the only woman aspirant, believes that women can pull off any major upsets in the November election.
Ekwunife says that the best way to address the issue of zoning in the next Anambra governorship election is to zone the office from a man to a woman.
She said she was qualified by leadership, experience and capacity to be the next governor of the state.
"The men have done well in governance but the main zoning needed now is from man to woman, that is the authentic zoning we should be talking about in the state," she said.
In her views, Mrs Eucharia Anekwe, Convener, Gender Perspective on Social Development Centre, also an NGO, said that most women had yet to understand their role in politics and governance.
"Frankly, women in Anambra have yet to collectively see the lack of female voices at the table as a serious issue.
"'As women, we have what it takes to make a difference in politics and governance. And we need to continue to remind our women that if they are not in, they cannot get elected or get political positions," Anekwe says. (NANFeatures)