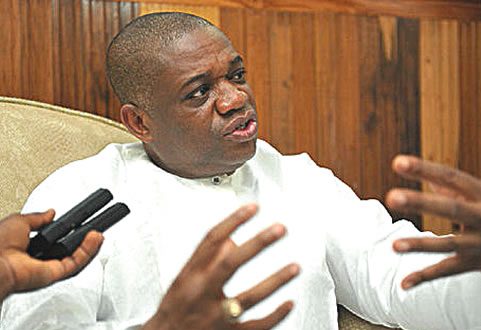 Former Abia State Governor Orji Kalu has said the people of Igbo extraction stand to suffer more than any other in the country in the event of a break-up of the country.
This is as he declared that the Nnamdi Kanu-led Indigenous People of Biafra, IPOB, had through its actions, challenged the sovereignty of Nigeria.
The former governor made his positions known on the side-line of the opening of the 2017 Annual Youth Summit organised by Junior Chamber International (JCI), Ikoyi, in collaboration with Orji Uzor Kalu Foundation at his 'Camp Neya' country home in Igbere, Bende Local Government Area of Abia.
He said those calling for a Biafran nation would only be boxing Ndigbo to a corner as the Igbo were prominent members of the Nigeria nation.
According to him, those agitating for the dissolution of Nigeria should shelve the idea and work toward achieving peace and harmony.
He said:  "The struggle for Biafra is not a serious one. Those agitating for the break-up of Nigeria should stop.
"Ndigbo should rather struggle for equity and justice so that they can feel safe to live and work in any part of the country.
"It is true that Ndigbo are marginalised but even our own people have at one time or the other also marginalised us."
Kalu also spoke in favour of the deployment of troops in the South East, arguing that the move was necessary to stem the tide of criminal activities in the states of the region.
He also blamed Kanu for the increase in the tension in the South East.
"If Kanu had abided by his bail conditions, all these would not have happened.
"If the court gives an order, you are bound to abide by it whether good or bad. Then you can return to court to challenge the order," he said.