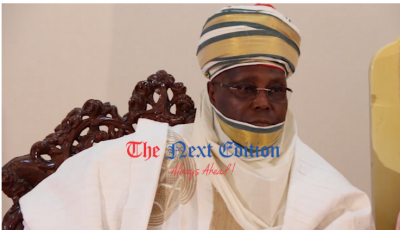 Come home, Atiku Abubakar come home
Long before the nationality controversy, attempts were made to get former Vice President Atiku Abubakar, to return to his ancestral home in Wurno, Sokoto State, The NEXT EDITION can authoritatively report today.
Relations, community leaders and political associates said they knew about Mr. Abubakar's ancestral connections with Wurno many years ago.
They also said subtle moves have been made to get the former vice president to establish contacts with his family members back in Wurno.
Mr. Abubakar's origin became a major controversy shortly after he challenged the outcome of February's presidential election which he contested on the platform of the Peoples Democratic Party (PDP).
Born in Jada, Adamawa State on November 26, 1946, Mr. Abubakar is being stigmatised because at the time of his birth, Jada was not a part of Nigeria.
Promoters of the birther controversy have insisted the former Vice President is a Cameroonian and not a citizen of Nigeria by birth.
They also claimed that his father, Garba Abubakar is from Jada, a community that was administered by the United Nations in 1946.
But weeks of investigations by this newspaper have shown the former Vice President is a blue-blooded Nigerian, having the ancestry of both his father and mother from prominent families in the country.
Mr. Abubakar, said to have been named after his paternal great grandfather, is originally from Sidingo, a village in Wurno Local Government of Sokoto State.
His grandfather was said to have migrated to Jada in present day Adamawa State shortly after colonial troops captured the Sokoto Caliphate and the alternate Caliphate of Wurno.
During the period aptly described by historians and top hierarchy of the Caliphate as the "Great Exodus," thousands were said to have left Sokoto and Wurno, the two most important Caliphate towns at the time.
The grandfather of the former Vice President, Abdulkadir Abubakar, was said to have been one of those who migrated from Wurno during the exodus.
READ ALSO: INVESTIGATION: Untold Story of Atiku Abubakar's Ancestry, Links with Sokoto Caliphate (Part I)
Outrage
But as the controversy rages, close relations, local leaders, family friends and the leadership of the Sokoto Caliphate have condemned the peddlers of the former vice president resident's nationality question.
In separate interviews with this newspaper, they have challenged those slurring Mr. Abubakar to come out with tangible evidence to back up their claims.
Speaking on the issue, revered scholar and Wazirin Sokoto, Prof. Sambo Wali Junaid, said those who question Mr. Abubakar's roots should hide their faces in shame.
A visibly disappointed monarch asked, "If Alhaji Atiku Abubakar is not a Nigerian, then who is a Nigerian?"
Mr. Junaid, a grandson of Othman Dan Fodio said it is sad the former Vice President is being stigmatized on account of his origin by people he said lacked a sense of history.
He argued that Mr. Abubakar's grandfather was one of the thousands who left Wurno, during the "Great Exodus," adding that many Sokoto and Wurno indigenes have been traced to Gombe, Adamawa, Kano and as far as Chad, Niger, Sudan and Cameroon.
"Many of our people left after the colonial invasion of the Sokoto Caliphate and the alternate seat of the Caliphate in Wurno," he said.
"Many followed Sultan Attahiru who was going back to the Holy Land but met a colony of British troops somewhere in Gombe. During the fight, the sultan was martyred and many of his soldiers and followers were killed.
"Those who survived the war fled in different directions and that is why you can meet people whose ancestors came from Sokoto and Wurno in many within and outside the country.
When asked pointedly to confirm Atiku Abubakar's grandfather migrated from Wurno, he said, "I am convinced beyond every reasonable doubt that the great grandfather of Alhaji Atiku Abubakar came from Wurno."
The monarch asked Mr. Abubakar to establish contact with his close relatives in Wurno and contribute to the development of the area just as he has done in Adamawa State and other parts of Nigeria.
On his part, the District Head of Wurno, Mohammad Kabiru, said many of those doubting Mr. Abubakar's nationality might not be Nigerians, after all.
Before the controversy, he said the district had tried to contact the former vice president and invite him to visit the area after he learnt of his ancestral connection with his people.
Mr. Kabiru said he first learnt about Mr. Abubakar's ancestral connection to Wurno in 1990 during the meeting of the Peoples Front, a political association formed by late Shehu Musa Yar'Adua at the time.
The meeting, which held at the Hamdala Hotel in Kaduna was attended by top politicians of the Northern extraction and some of their counterparts from the South.
"I first learnt of Atiku's ancestry connection with Wurno in 1990 when then President Ibrahim Babangida called on the political class to set up political associations towards registration of political parties," he began.
"The late Major General Yar'Adua and his associates set up the Peoples Front. At the time, some of us here in Sokoto were encouraged to join the association. I was made the protem secretary of the association in Sokoto.
"One day, we were invited to a sensitization meeting in Kaduna. However, our invitation to the meeting came at night while the meeting was billed to begin the next morning. I left for Kaduna on the very day the meeting was holding and got there in the afternoon.
"I went straight to the venue of the meeting at Hamdala Hotel. The meeting lasted till 10 p.m and due to the fact that I arrived late, I had no accommodation at Mandala Hotel where the other invitees were lodged.
"I met Babagana Kingibe, who was the coordinator of the Peoples Front then and told him I didn't have an accommodation. he told me to follow him to the guest house and he would get me a room there.
"That privilege to sleep at the guest house led to my knowing that Atiku Abubakar is indeed from my community. Just as I was getting on the bed at about 11 p.m, I heard a knock on the door of my room at the guest house.
"When I opened, I saw Babagana Kingibe standing and he said, 'young man, we're going to have a strategy meeting, come and take notes for us.' The meeting lasted till 4.am. When the meeting ended, they started talking.
"They mocked Atiku Abubakar saying his ancestry is in Sokoto and, in fact, Wurno but that he never made any attempt to link up with his surviving relatives. They were coaxing at him.
"That was the first time I heard he is from Wurno. Some of them, especially late Abubakar Koko, were seriously insisting that he should reconnect with his relations in Wurno," he said.
Asked those who were at the strategy meeting, the monarch named Atiku Abubakar, late Shehu Musa Yar'Adua and Babagana Kingibe.
Others were a Kanuri man, late Muhammadu Buhari, late Abubakar Koko, Yomi Edu and
Farouk Abdul-Aziz, who was the protem chairman of the association.
Mr. Kabiru said he is not sure whether Boss Mustapha was at the meeting, adding, "At that time, Boss Mustapha was a part of Atiku circle.
"Sometimes, when it was not possible for Atiku to attend meetings of the Peoples Front, it was Boss Mustapha who represented him."
He urged the former Vice President to reconnect with his relatives in Wurno and also contribute to the development of the area.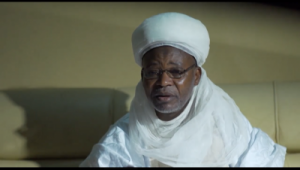 The Sole Administrator of Wurno Local Government Area, Mohammed Ladan, who led our correspondent to the former Vice President's ancestral home in Sidingo, said the council has since been aware of Mr. Abubakar's connection with the area.
According to him, the grandchildren of many of those who left the area during the exodus have started coming back to Wurno, adding that the council has encouraged many more to return to their ancestral homes.
"We were shocked when we heard the insinuation that Alhaji Abubakar Atiku is not a Nigerian.
It seems some of these people are insane because we have always known that his grandfather was from this town," said the council boss.
"It is insulting to say that someone who had served as the Vice President of this country is not a Nigerian. I feel they are taking it too far. We are calling Alhaji Atiku Abubakar to come back to his ancestral home here in Wurno.
"We have enough space to accommodate him and thousands of those whose grandparents left during the colonial invasion and other exoduses that occurred here in the past.
"We're planning to send a delegation to Alhaji Atiku Abubakar to come home and identify with his relations and all of us here. This is his ancestral home and we are proud to have him come back."
In Jigawa State, the family of Inuwa Dutse also expressed displeasure over the allegation that the former Vice President is not a Nigerian.
A visibly angry maternal cousin and Chief Imam of Gandun Sarki Jumat Mosque, Dutse, Bayero Bashir, said those who say the former Vice President is not a Nigerian are sick in the head and should be pitied.
According to him, Aisha Kande was born to his uncle who had migrated to Jada, adding that her connection with the royal family has never been in doubt.
"Atiku Abubakar's mother's mother was brought up in this compound. We come from a large family and everyone in this area knows our family.
"From Dutse and even in Kano, many people know about the history of this prestigious family. Anyone who is saying that Atiku Abubakar is not a Nigerian is not sound in the head and that is why they are not thinking well.
"How can you say that a person whose mother was a member of this family and whose grandfather was from Wurno is not a Nigerian? Does that make any sense?
"They have nothing to say and that is why they are trying to smear him with the allegation that he is not from Nigeria. Who is a Nigerian if Atiku Abubakar is not a Nigerian?" the fiery cleric asked.