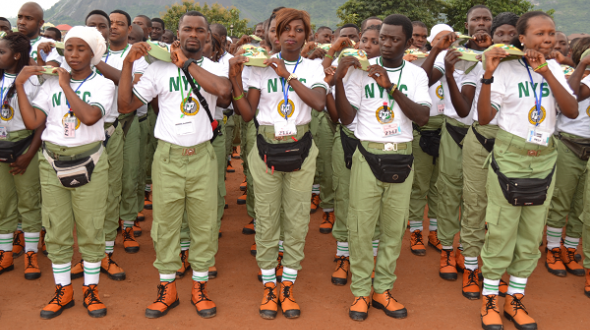 Every year, thousands of youths graduating from the Universities and Polytechnics within and outside the country are mandated to participate in the one year National Youth Service Corps (NYSC).
Presently, the 2017 Batch C are in various NYSC orientation camps across the nation to begin the mandatory one year "service" to the nation.
The NYSC was established in 1973 by the administration of General Yakubu Gowon, the then Head of State, to foster peace and unity given that the country was recovering from a civil war.
Decree No. 24 of May 22, 1973, which established the scheme stated that the it was being established "with a view to the proper encouragement and development of common ties among youths of Nigeria and the promotion of national unity."
The decree, which has been repealed and replaced by Decree 15 of June 16, 1993, states further, "the purpose of the scheme is primarily to inculcate in Nigerian youths the spirit of selfless service to the community and to emphasise the spirit of oneness and brotherhood of all Nigerians, irrespective of cultural or social background."
There is no doubt that the originators of the scheme had very noble intentions as set forth in the decree.
Truth be told, the ideals of the NYSC scheme remain noble and relevant even till date. But as noble and relevant as these ideals are, certain questions beg for answers: Is the scheme living up to the ideals for which it was established? Forty four years down the line, is the programme adding value to the nation and to the youth who mandatorily spend one year of their lives "serving" the nation?
The Next Edition investigations reveal that the scheme is a far cry from the original concept. With the right amount of money one can "buy" his or her choice of state, allowances are owed and intending youth corps members popularly referred to as "Corpers" practically kit themselves.
Ugochi, not real name, is 'working' in Lagos though posted to serve in Ogun State. According to her, she was already working in Lagos before her posting. When the posting came out and she was posted to a government secondary school in Ogun State, she pleaded with the authorities to reject her since they could not pay her or offer her accommodation.
"I begged them to allow me continue my work where I was already earning a salary. Initially, they refused because of my course; I read English and they needed an English teacher but after a while they agreed. It was even one of the teachers in the school that took me to a private school where I worked out the current arrangement.
"I told them that since they could not also pay or accommodate me they should allow me to continue my work. I only go for my clearance and Community Development," she told The Next Edition.
She told The Next Edition that the arrangement didn't cost her anything except that she "appreciates" some of the teachers when she visits. The local government she reports to is not aware that she is not serving in the state.
Ugochi is one of the lucky ones perhaps, as our investigations reveal that such arrangements usually come at a high cost.
In its Vision Statement, the NYSC declares that its intention is "to develop a sound and result-oriented organisation that is strongly committed to its set objectives particularly those of national unity and even development. An organisation that is well-motivated and capable of bringing out the best in our youths and imparting in them the right attitude and values for nation – building."
Indeed, the major reason for establishing the national service programme was to build cohesion among the different nationalities that make up the country by posting "Corpers" out of their places of study and origin.
Sadly, what obtains these days is that with the right connections and the money, one can influence his or her place of service.
Read also: INVESTIGATION: Payroll Scam: How Commissioner, GTB Rip-Off Kano LG, SUBEB Workers
"How did you do it? How much did you pay?" are common questions people ask when they hear that somebody is posted to places like Lagos and Abuja or the other South-western states. Oftentimes, it costs something to get such choice states.
Ebere was posted to the North but after the mandatory three weeks orientation, she changed her posting to Ogun State at the cost of N150, 000. Some even pay to get their certificate without actually serving!
In the time past, government provided kits for "Corpers". These included such wear and accessories as white shorts, t-Shirts, canvass, white socks, among others. But all of these seem to be a thing of the past. Our investigations shows that "Corpers" practically kit themselves these days. There is a standard list given to intending "Corpers" to guide them in their shopping.
Regular and timely payment of the monthly allowance to the "Corpers" have also become a difficult task for the government and managers of the scheme. Most times no reason or excuse is given for the delay.
For example, the problems associated with payment of the monthly allowances of the "Corpers" became an issue last month.
Many of the "Corpers" were not paid their miserly allowance of N19,800 because "a technical error made someone mistakenly" pay some "Corpers" four times their allowances while others got nothing.
One of the victims of the "error", Chinoso told The Next Edition that nobody had given them any real explanation as to what went wrong except a message from their bank signed by one C.C Aderemo. The message reads: "Dear Access bank Corper,
"As you may have noticed, due to a little hitch and technical error of our automated FTDS (fund transfer and dispensing system) , some Corpers were paid twice and others even up to four times of usual 19,800 monthly "allowee," as the allowance is called. While others haven't received.
"Please NYSC is a scheme that tests not just your academic qualification but also a test of your character, so we want to use this medium to appeal to those that were paid allowee twice or thrice to please return the excess so we can pay those that didn't receive, pls let's be out brothers' keepers.
"We at the bank, we are still trying to collate the names of the Corpers who were paid more than once so we can trace their files at the head office, and see their house addresses to retrieve the excess money back. Please be patient as we await approval from our GMD so we can kick start the process.
"Signed
" C.C Aderemo, Head of Disbursement Fund, Access Bank."
The error is, of course, not limited to Access Bank users. Rather, each NYSC bank was mandated to send out the same message to Corp members banking with them.
While the bosses are trying to fish out those who got over-paid, those who didn't get paid are left to fend for themselves, however, they can, in places where they do not have relatives.
In a telephone interview with him, the Head of Corporate Affairs, Access Bank Plc., Mr. Abdul Imoyo, confirmed that indeed the error was caused by a 'glitch' or a system error' but insisted that it had been rectified.
However, as at the time of going to press a few days after the interview, the affected "Corpers" were yet to be paid the owed allowance.
One of them who spoke under anonymity told us that they were given N19, 800, without any explanations as to whether it was for the just ended month or the arrears.
That, unfortunately, is what has become of the National Youth Service Corps programme. The question begging for answers now is should the scheme be continued when there are obvious indications that it is not meeting the ideals for which it was established?
Mrs. Esther Ogwo who was among the first set of graduates to participate in the NYSC programme in 1973 said that indeed a lot had changed between their experience of the programme and what she sees going on now.
"Well, things are not the same. A lot has changed. For instance, during our time, we didn't have a choice as to where we were posted. Now, parents go about trying to fix where their children should go. There was nothing like that for us. Wherever you were posted, you went," she said.
She describes her NYSC experience as unifying."For most of us, it was our first time of leaving our states. So, that brought us together. People from different places and different universities who had never met before lived together as brothers and sisters. The programme also led to inter- tribal marriages.
"Also, we didn' t have to buy any of our kits. Everything was provided for us. But now, parents have to buy all these things, pay to change where their children will serve and the allowance they are given amounts to nothing, it defeats the whole purpose.
"The whole programme is not worth it. Even the situation of things in the country is not encouraging. As things are now, I won't allow my child to serve in the North," Mrs. Ogwo concluded.
Another member of the 1973 NYSC set, Mrs. Nwadiuto Nwagbara, who also served in the then North-East, confirms to The Next Edition that they were kitted by the government and never had cause to agitate for their allowance.
Would she want the programme sustained? "We must remember that the programme was established to unite the country, however, when the basic things are not provided for the "Corpers" it kills the zeal in them. There is also a lot of division in the country now. Ethnicity and religion have been pushed so much to the fore now unlike our time.
"There is nothing that happens in the country now without ethnicity and religion influencing it. The "Corpers" are willing to do whatever they are asked to do but because of all these ethnic and religious issues, the zeal is no longer there. Remember how some of them were massacred in 2011 while on national service. Looking at all these, you really wonder if it's worth it," she said.
However, Mrs. Nwagbara is not ready to give up on the programme. Her words: "If government can do something to bridge these widening gaps in terms of ethnicity and religion, then why not? Nigeria is better as one than divided. Why not try to encourage the younger ones to forget what we the older ones are doing or have done and try to cement the country instead of further dividing it."
Mr. Gilbert Orji has some reservations about the NYSC scheme. "To start with, I was shocked when a friend told me that they had to practically kit their child for the NYSC programme. In my days, in the 90s, our kits were provided by government. We didn't have to wait endlessly for call up letters.
"On the aspect of relevance, putting into consideration the original objective of the scheme; it should be. But when you factor in these recent developments about supposed lack of fund then the original aim tends to be defeated.
"Considering the risks that these young lads encounter in their course of service, government needs to review the scheme and overhaul the entire hierarchy of the agency. If the fund is not available as they claim, in my opinion, the scheme should be discontinued," Mr. Orji said.
Mr. Fidel Ozugha simply describes the programme as a colossal waste of time, money and our youths.
Miss Nonye Okafor is currently serving in Lagos State and shares her thoughts and experiences with The Next Edition. "For me, camp was fun because I camped in Lagos State. All the basic amenities were there for us, like water, toilet and a good medical team. There was steady light and a stand-by generator. The food was well cooked. I remember before camp I was told to take enough money to buy food because camp food was not always good but when I got to camp, I discovered that camp food was very much good so much so that we didn't even wait for the beagle before going to queue up.
"I'm talking about Lagos State unlike other states; you know like my friends in the North they prepare northern food, which they are not familiar with. The only food problem of Lagos camp was the soup because they will have to add excess water so that it can go round.
"Notwithstanding that camp was fun, I feel NYSC should be scrapped for the following reasons: it is a waste of time – leaving your father's house to camp to play for three weeks. After camp, we were posted to different companies 90 % of which rejected the "Corpers" leaving them stranded and walking the streets especially in states where you don't have relatives.
"Also, so many deaths are recorded during NYSC and the allowance of N19,800 from which you rent house, feed and transport yourself to your place of primary assignment etc is not enough thereby pushing some into illegal activities.
"Ladies are being abused sexually while guys are being extorted from. Most times the so-called NYSC staff are also the problem. If you need permission to travel home you have to bribe, for PPA you bribe and even for posting to state of your choice you bribe with huge amount of money. The value added by the programme is little if any. So, I feel it should be scrapped. Rather the whole money should be given to every "Corper" to start a business with.
"Take myself, for instance, my parents were based in Niger State and I was posted to Lagos where cost of living is high. My uncle I stayed with travelled out for a long time, I fed myself and transported myself to work. I was sick for three weeks and was admitted but no one to care for me or pay my hospital bills. You can imagine such situation. I might as well have died and then there would be nothing to show for it. For me, it's all a waste of time."
Nobody can fault the good intentions of the NYSC scheme and its originators but still one wonders whether the initial "good intentions" are good enough in current dispensation?
Should a programme that takes a huge toll on the youths, their parents and guardians and even the society be sustained simply because the ideals it espouses are high and its intentions good? This is a question begging for answer.