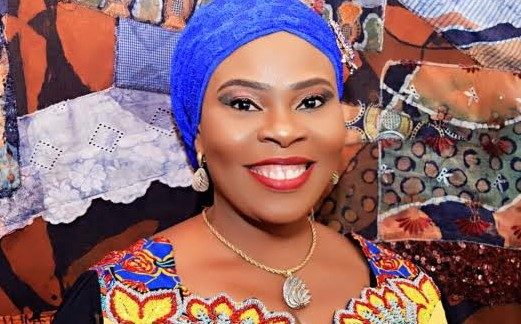 Dr. Maymunah Yusuf Kadiri popularly referred to as "THE CELEBRITY SHRINK" is a young and dynamic Consultant Neuro-Psychiatrist and a Fellow of the National Post-Graduate Medical College of Nigeria (FMCPsych) with over 10 years experience as a practicing physician.
She is the Medical Director of Pinnacle Medical Services, a health and wellness centre dealing with psychological, behavioural, and mental health issues. Recently her clinic started an initiative offering 24 hours free counselling over the phone to members of the public. In this interview with ASIAN NKUTT, she talks about the counselling programme and other mental health issues.
TNE: Why did you go into this line of medicine? At what point did you decide to do this?
In medical school, everyone goes through different posting; medicine, surgery, obstetrics and gynaecology, paediatrics, etc.
This gives you an idea of what you may think you like, an area you will completely stay away from. What I knew in medical school is that I loved something about the brain; I liked things relating to the brain; I liked things that were life changing. I also realized I would not be good in surgery not because I didn't have the expertise, I liked details. I was looking at neurosurgery or neurology. I found out that my hours of standing may be a problem. Neurosurgery or plastic surgery takes hours, 10 – 13 hours and I knew surgery wasn't for me. Neurology also has to do with the brain so it was either that or psychiatry for me. I graduated and moved to housemanship which is where the real deal is. During housemanship you're with consultants, peers, senior colleagues, doing practicals and experimenting.
I would say it was at this is point that I told myself I wanted Psychiatrics. My house officer tried to get me to stay with paediatrics because I was good at it but I wanted to go to psychiatrics.
The big deal came when my parents got to know I wanted to do psychiatrics. They called a family meeting; I was already married and had a baby, they dragged my husband in. My husband woke me up one night and asked me if I really wanted to do psychiatrics and I explained to him that psychiatry as a branch of medicine is medicine for the past, the present and the future.
Every being on earth has a past, is currently in the present and building their future. History is very important; nobody fell from out of nowhere. Even if you are a single parent, somebody got you pregnant or you got a sperm donor. Why did you go into it? What emotional issues did you go through? How did that change your perspective? How did that make you who you are now? That is what I was looking at. The impact and changes in an individual, what impact it is making on that individual, in the family and, of course, how it transcends into the society.
Everybody in my family is a psychiatrist by association and takes mental health issues very seriously.
TNE: Would you say you have found fulfilment in your chosen field?
I don't see it as a job. I see it as an enjoyable activity that I'm making impact on the lives of people. It is fulfilling. Some people mix up success and fulfilment. I feel really fulfilled being here. I feel really good that I go home knowing that I helped somebody. I feel happy, the impact trickles down.
TNE: What is the statistics of people going through mental health problems in Nigeria?
It's a bit challenging getting Nigerian generated statistics and this is because we carry out researches and incubate the results, keep them in the cupboard. When you carry out researches, must publish, results must be known; they must be in journals, that is what it takes to gather statistics. For example, if the United Nations (UN) is coming to do a compendium on what the drug use is in Nigeria, it has to be done here, not in Cotonou or Ghana. It has to be in Nigeria, among Nigerians. So, when they do that they get their statistics and archive.
That is also where we sometimes miss it because we don't have archives. Take for instance, the birth population, how many people actually go to the National Population commission to register?
However, according to the World Health Organisation, WHO, one in every five Nigerian will have a mental illness. It doesn't mean that they must, it just means that in their life time, something can cause it. One may be predisposed either through genetics or family history.
Also, the UNODC just released a book on drug abuse in Nigeria. One of the statistics mentioned there is that one in four drug users is a female and one in five high risk drug users inject drugs.
TNE: What are the implications of the statistics that says one in five Nigerians will have a mental illness?
Currently, there is a study that says one in five Nigerians is depressed and some people say it may even be more but we need statistics to back it up. Studies also show that Africa has the highest number of depressed people and it can't be false because for every six black person in the world, one is a Nigerian. Is it alarming? We have the population, it's scary because when mental health becomes an issue in an organization, Gross Domestic Product (GDP), Human Capital Index, all those things will be affected.
TNE: There have been an increase in drug use in recent times, especially among the youth. Could mental health issues be a reason for that?
It could be. Some people get depressed and they don't even know. Some know and start looking for ways to manage themselves. In trying to find a way to manage themselves, they may self-medicate. With self-medication, if care is not taken the person is already on the way to getting addicted. A typical example is using sleeping pills. A person may start with 1.5mg and sleep well. The second week he or she stops but can't sleep and then moves to 3mg. Before you know what is happening, the person moves from tolerance to dependency and addiction. Addiction is a process.
Sadly, policies are not enforced so drugs that are supposed to be prescribed can still be obtained over the counter by individuals.
TNE: What prompted you to start the 24 hour free counselling initiative and how does it work?
It has been in the cupboard for a while under our Pinnacle Speak Out initiative. We have a social enterprise under the Pinnacle Medical services where we do outreach programmes for churches, mosques, cooperate organizations and so on. For us, it was long overdue. The only reason we were not bold enough to put it out there was capacity because it's free. If people are not there to handle it, what will happen? The people there now are paid. We are trying to get toll free lines. We are also looking for qualified volunteers like counsellors, psychologists and even doctors that can give us even four hours a week to help man the phones behind the scenes.
It didn't come as beautifully as we laid it out so we decided to just start for what it's worth and see how it goes. Every time I come in and ask how it's going, I'm told people have been calling from Maiduguri, Port Harcourt, Abuja. They have to take time to discuss with these people, but of course, the person on the other side is mindful of their credit. So, we really will appreciate toll free lines.
It's a service for someone to know there's someone on the line he or she can talk to. For us it has been long overdue but we haven't got there yet and it hasn't been easy.
We know how much leaves our pocket each month because it's a 24-hour service.
READ ALSO: Mental Health: Private medical facility launches FREE 24/7 telephonic counselling
TNE: The UN recommends one-on-one counselling. Is this a method Pinnacle adopts?
Yes, it is part of the therapeutic ethics. The truth is you also have to take permission, for instance, if someone brings in a child, we will ask the child if he or she wants the parents present. One-on-one counselling allows the person express themselves, but you will still bring in the parents in the case of a child. You allow the child express themselves, get all the necessary information you need, it may even be the parents that are the triggers and if they are there the child will definitely not say anything. It is now on the therapist to bring the information the parents have brought versus what the child has said and use it for a proper family counselling while still helping the child with individual and supportive therapy.
One-on-one counselling is very good. Even in the case of husband and wife. It's still important to talk to the partner not present to enable you corroborate your story. Involve other people in the client's life but giving that person room first to express him or herself will create good rapport, allow them express themselves very well. It will establish trust as well because even when you bring other people in, you cannot just divulge information except they give you permission.
TNE: In your 10 years of experience, what do you think has changed from that time till now?
One area I'm sure we have made a small change is that people are beginning to talk about mental health. A few years ago, it wasn't so. People are now beginning to come out and say something. We are taking baby steps in the right direction. We are hoping that opens up even more. Even globally more people are speaking up. Because people are speaking up it's getting to us personally, into our families where people are dying from suicide, people are now taking their lives, which is not what the Nigerian people used to see before. Even in the villages, suicides are happening. It is not only the rich killing themselves. Because people are affected, they are saying 'Ok, this mental health, let's look at it.'
We are hoping the mental health bill is passed. It covers not only mental health but disabilities generally and it will help people know the right places, the right people to go to, what needs to be done, people on the street know how they can be helped. It covers a lot and we hope it's passed because it has been there since 2003 and it's just now that they are resuscitating it.
TNE: What in your opinion is the greatest obstacle in Nigeria to winning the fight with mental health services?
Our biggest obstacle in one sentence is prejudice, discrimination, stigma attached to people living mental illnesses. It is not allowing people seek help; it doesn't encourage people to seek for help. It doesn't allow us to build the culture of compassion despite the fact that we all face the same challenges. If we start seeing mental health challenges like malaria, hypertension, like diabetes. When the Lassa Fever and Ebola threat came, everybody ran helter skelter, why don't we get to that stage so people can speak out? So that someone can say, 'I have depression' and you won't look at the person somehow. This is the narrative for us at Pinnacle that we are trying to change so that we can discuss freely. We all know that when we discuss things freely, you go away more knowledgeable, more empowered and you will be able to impact the life of the person next to you. We don't want to get to the stage where the society becomes endangered because we have been minding our business and not concerned about other people. We need to talk about it openly. The Ministry of Education should put it in the curriculum, just like physical education.
New York is starting that soon. Just like they have 30 minutes or 1 hour of physical education a day, we also have something on mental health; building resilience, critical thinking, building conflict resolution skills, coping skills and social skills. The thing is it's not a preventive measure if you say 'No to drugs'. It's a wrong approach because she adolescent, teenager's brain matures by 24, 25 years of age. That young brain wants to experiment, is curious, wants to explore. So telling them to say no makes them want to see what it is about. A preventive measure is delaying initiation of taking drugs before that 24, 25. So you teach them coping strategies and social skills that will tell the child 'that this drug is not good because it will affect me.' Teach them how to deal with challenges, manage stress and putting bullying as a red flag. Not to suspend or expel the child but how to manage the child because when they leave they are going to cause more damage elsewhere.
A university student that was found with drugs and expelled will go to another university. What are they doing to make sure that child gets cleaned out? It's not the why are you using drugs, it's how did you get there? Is it experimenting? Peer pressure to fit in? Enhance performance? Is it to make the person better? Because if he or she is dealing with depression, the drug may just be helping him or her. Find out how that person got there. You manage that and you will be able to combat that.