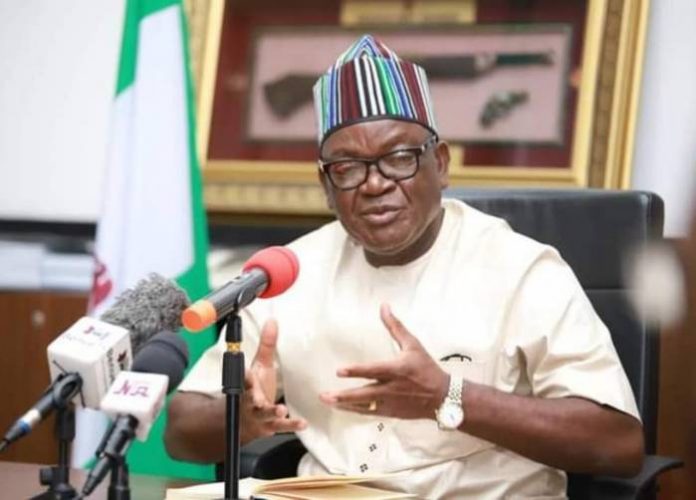 Following heightened cases of insecurity in the country, Benue state Governor, Samuel Ortom, has met with heads of security agencies posted to Benue state.
Ortom who briefed journalists on Wednesday, after a two hours security meeting, said the state government is worried over the security situation across the country.
"Because of what is happening in our country today, what is happening in Abuja, Taraba and Plateau states and of course, the security alarm raised by Nasarawa state which is our next door neighbour, we are worried and have come out with far reaching proactive measures that will help us nip it in the bud."
The governor who encouraged Benue people to be security conscious, said "this not a time to sleep with your two eyes closed. Shine your eyes, open your eyes and ensure that if there are suspicious movements, actions or faces that you see, alert the security agencies, alert the government to enable us nip it in the bud and not allow it to escalate."
He said the state security council have decided that operation of motorcycles, which is a major vehicle for criminals, bandit and terrorists, should be to regulated.
He said while the council sustained the outright banning of motorcycle operators in Sankara axis of the state, Logo, Katsina Ala and Ukum LGAs, the security agencies have been given renewed mandate to apprehend and arrest anyone that breaches the ban.
READ ALSO: JUST IN: ASUU Extends Strike By Four Weeks
"In addition, we have decided that round the entire state, motorcycles should operate from 6am to 8pm. Any breach will be met with stiff penalties, they will be arrested and their motorcycles would be confiscated."
The Governor said the state is working on enacting a law that will not just arrest those who breach the law but ensure they will confiscate their motorcycle and also destroy it.
Speaking on the issues of big vehicles covered with tampoline coming into urban areas especially the headquarters, Makurdi, Ortom said "those vehicles when they come, they must be apprehended at various check points and if it is late, they will wait until it is daybreak when the security will do the needful before releasing them if there are no complicated issues from the vehicles.
He called on Chairmen of LGs support the security agencies to ensure that the directive is enforced to the letter saying "It is for your own benefit and the benefit of the entire state and our own people."
Ortom further disclosed that he will launch the Community Volunteer Guards on Thursday and equip them with necessary kits and legal weapons to support what the security agencies are already doing in the state.