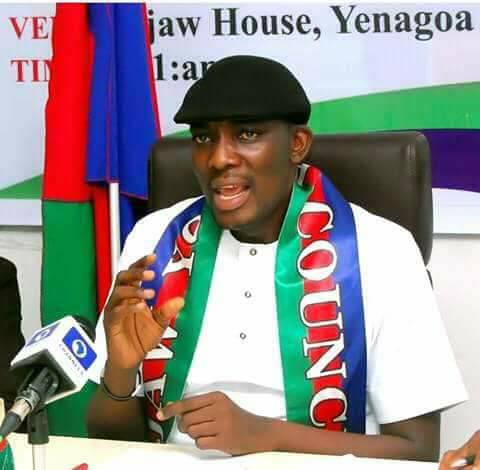 The Ijaw Youth Congress (IYC) Worldwide has expressed worry over the growing insecurity across the country, saying the development is a clear indication of system failure.
Barrister Roland Pereotubo Oweilaemi, IYC President, in a statement on Saturday, while lamenting Federal Government's seeming helpless over the situation, called on Nigerians to be prepared to defend themselves and their properties, urging them not to allow themselves to be vanquished if the security agencies could not provide enough protection for them.
While condemning the recent killing of the Christian Association of Nigeria (CAN) Chairman in Adamawa State, Pastor Lawan Andimi and other clergymen by Boko Haram, the IYC boss lamented that the Federal Government had failed in its primary responsibility of securing lives and properties in the country, stressing that those in authorities at the centre had lost control of the system.
Oweilaemi said: "Nigerians in the circumstance need to look for an alternative measures to secure their lives. No place is safe in the country because the centre is no longer holding the ace.
"All state governors should therefore device a means to provide an alternative security measures to save lives and property."
READ ALSO: Buhari Waging Political War Against Niger Delta, IYC Cries Out
According to him, "The IYC commends the South West governors for taking that bold step to establish a regional security outfit called 'Operation Amotekun'. All the regions should replicate that same gesture in each of the geopolitical zones. Security is everybody's business. It has come to a point where all hands need to be on desk to solve this intractable conundrum.
"We condemn the gruesome murder of the CAN Chairman, Adamawa branch in cold blood. We join CAN and other well-meaning Nigerians to call the Government to stop the serial killings across the Country.
"President Muhammadu Buhari should also heed to the voice of reasons to overhaul his redundant Service Chiefs. The lopsided composition of the security structures in the government and their lack of will the confront the present quagmire is the cause of the rising insecurities.
"Nigeria will not know peace unless Buhari rules this country in accordance with our unity of diversity. The earlier he does that the better for the country. Buhari needs to rule Nigeria in accordance with the constitution."