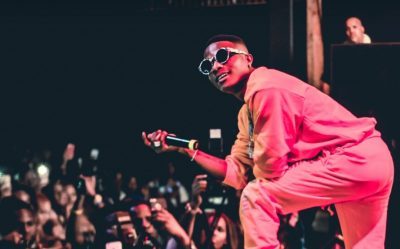 Some years ago, at parties in the cities, they hardly played Nigerian songs. Today, the reverse is the case. No Nigerian music, no party. This feat, which seemed almost impossible to achieve yesterday has now become common.
Our music has become so huge that foreign artistes are beginning to fall over themselves to either collaborate with local artistes or remix their songs. Songs of Nigerian artistes are now being played all over the world.
Nigeria has her indigenous music, which is played across the country. Some of the most common sounds in the country are Highlife, Fuji music and Afrobeats, which was introduced to Nigeria in the 1970s, by Fela Anikulapo Kuti. These were the most common sounds in the 60s and 70s. Several other Nigerian acts like Victor Uwaifo, Chief Osita Osadebe, Rex Lawson, Ete Ntia, Oliver de Coque, I.K Dairo, Dan Maraya Jos, among others, made it to happen.
In the 80s, reggae music, which originated from Jamaica began making waves in the country. It was made popular by the likes of Majek Fashek and Ras Kimono. From the 80s to the 90s their songs played in every nook and cranny of Nigeria.
Majek Fashek especially, was the rave of the moment with hit tracks like 'send down the rain' and 'free Mandela.'
There were also notable musicians like King Sunny Ade, Sir Shina Peters, Alex O, Alex Zitto, Mike Okri, Onyeka Owenu, Jide Obi and Christie Essien-Igbokwe who all mesmerized Nigerians.
On the other hand, people loved to dance to music of Kool and the Gang, Madonna, Michael Jackson and all the reigning foreign acts of the 80s. Foreign music dominated the airwaves from the 80s to the 90s.
In the 90s, Rhythm and Blues and Hip Hop took over the airwaves with songs by musicians such as Tupac Amaru Shakur, Notorious BIG, R.Kelly, Celine Dion, Brandi, Joe and the rest, playing in homes, cars and clubs.
Nigerians could not do without foreign music. Although there were indigenous artistes who were trying to make strides in the industry, it was very difficult for them to compete with their foreign counterparts.
In the early 2000s, Kenny Ogungbe and Dayo Adeneye D1 of Kennis music signed Tuface Idibia who was a member of R&B group, Plantashun Boiz. With the promotion of Kennis music, Nigerians recognized Tufaces' talent and gradually began accepting Nigerian music as the norm.
In 2004, his first album, Face 2 Face was a major hit, selling up to 2 million copies. It had many tracks that competed with dancehall songs from Jamaica, which were the rave of the moment. Apart from competing with the likes of Shaggy and Sean Paul, he competed with Awilo Logomba, Craig David and Sisqo, whose songs were very popular in the country.
Following the success of Tuface, later that year, two young men founded Mo' Hits records. Collins Enebeli aka Don Jazzy and Dapo Oyebanjo aka D'Banj came with a swagger that made their music accepted instantly, especially among the fashion conscious youth. With songs like 'Tongolo' and 'Why me' Nigerians began playing more local songs at parties.
The duo of Paul and Peter (P Square) joined in taking Nigerian music to another level. Olu maintain followed with his hit single 'Yahooze' in 2006. These artistes paved the way for 9ice who wowed everyone with his hit track 'Gongo Aso.' Wande Coal, Naeto C and MI all followed suit.
By 2010, the arrival of Ibrahim Ayodeji Balogun, popularly known as Wizkid cemented Nigerian music in the hearts of most Nigerians. With the help of Bankole Wellington, popularly known as Banky W, his first album, called 'Superstar' was produced. There was nowhere in this part of the country where his songs were not played. Wizkid paved the way for David Adeleke aka Davido who came out with full force with his track titled, 'Dami duro'.
Since then, Nigerian music has become very big. Local artists with their sounds are now making collaborations with international acts putting them on a global scale. One of the most notable collaborations, which opened the door for others was the collaboration between Mo' Hits and Snoop Dogg for the track 'Mr. Endowed remix.' Recently, renowned music star R.Kelly who calls himself the king of R&B did a remix of Davido's 'If.'
Corporate organizations have also taken advantage of the fame and acceptability of local artistes by making them ambassadors, thus getting multi-million naira endorsements. Wizkid is an ambassador for Pepsi and MTN, the largest telecommunication company in Africa.
Globacom, another telecommunication giant has also endorsed so many artistes as well as Nollywood stars.
On September 29, 2017, Wizkid made history by becoming the first African to sell out at Royal Albert Hall, London. His track with Drake "Once Dance" up until September 22 was the most streamed song on Spotify, which earned him a spot in the Guinness Book of World Records. Another trailblazer in the country's music industry is Tiwa Savage. Recently, she made the list of BBC's 100 most influential women in the world.
While other sectors in Nigeria may be moving slowly, the music industry is moving at the speed of light.