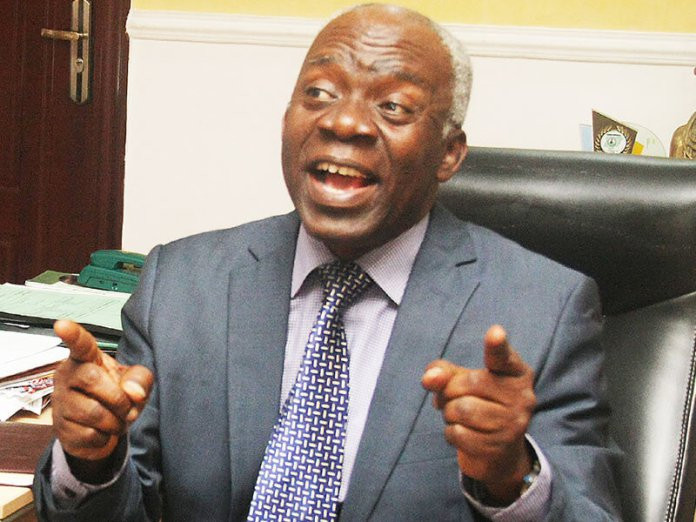 Human rights activist and Lagos-based lawyer, Mr. Femi Falana, has accused the President Muhammadu Buhari-led administration of being the worst in terms of flouting court orders and violation of human rights.
He made the accusation on Wednesday while addressing a gathering at the fourth (4th) and final edition of the Policy Monitoring Dialogue Series by Savannah Centre for Diplomacy, Democracy and Development (SCDDD).
He cited the continued detention of former National Security Adviser, Sambo Dasuki and leader of the Islamic Movement of Nigeria Sheik Ibrahim El-Zakzakky and his wife, as two different cases in point.
His words:  "Many judgments have been given but ignored by the government, particularly the Buhari regime. It simply ignores the court. It is the worst in history.
"Dasuki was arrested and granted bail. As soon as he was being taken out of Kuje prison, he was rearrested. The ECOWAS court awarded N15 million to Dasuki for what he went through but they have failed to comply."
READ ALSO: Metuh: Court gives bailiff five days to serve Jonathan summon
Falana said further in the case of the detention of El-Zakzakky:
"347 people were killed in Zaria. That's almost the worst case of massacre in Nigerian history. El-Zakzakky and his wife have been in prison since December 2015 as a result. Zakky  and his wife were not at the scene when people blocked the Chief of Army Staff's car, but the army went to his house at night and killed three of his children in his presence and took him and his wife away.
"The man has lost his right eye and he is about losing the other one. The bullet in his wife's body has not been removed since December 2015. All pleas to the government for them to get proper treatment fell on deaf ears. We didn't go through this under military dictatorship. These guys don't bother. To them, who are you?"
Falana said Nigeria was different from the situation in a country like Ghana where the rule of law, according to him, was observed.