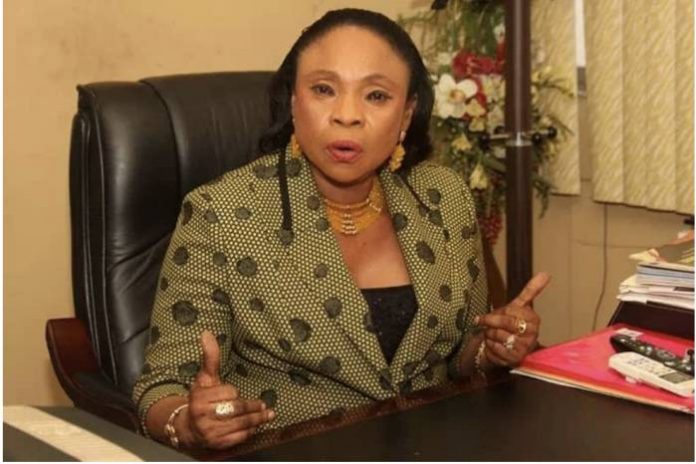 I don't know how many kids the former governor of Imo State, now the Senator representing Imo West senatorial zone at the NASS, Rochas Okorocha, and his wife, Nkechi, have. But I have met a couple of them on a few occasions. Of course, meeting somebody is not the same as knowing somebody, but I adhere to the saying: "First impression matters."
I had met their boys, and I was impressed.
They were calm and collected. They seemed polished and unassuming. Most important, they seemed very respectful.
I am not the only one who came away with this impression. Not a few people feel that their mother did a good job of bringing them up.
Now, I have never met the girls, but the most famous of the children is the first daughter, Uloma. And she is the one I use as a peg, here, to talk to the Okorocha kids.
Uloma is married to his father's aide, Uche Nwosu. He was Okorocha's Commissioner for Lands and, later, Chief of Staff. It was from there his father-in-law endorsed him as his would-be successor in office.
Before this endorsement, Nwosu was, without a doubt, the most powerful person in Okorocha's government. He was his right hand man. His man-Friday. His favourite son-in-law.
The endorsement shot Nwosu's profile to high heavens.
Nwosu began to see himself as the governor in-waiting. He dished out orders. He dished out patronages. His words were law. And not a few people were already addressing him as: "His Excellency".
But man proposes, God disposes is a common saying. All the plans for Nwosu's ascendancy were thwarted by God and, Imo people.
Imolites had become disgusted by the Imo they were seeing. They had become disgusted with the shame that is their state. They had become disgusted by the ruin that has become every fabric of their state. From education, health, infrastructure, culture, tradition, the civil service, the local government system, the legislature. Just everything. The state, the people insisted, had become one huge joke. It had become an empire, ruled by an emperor who heard only his own voice.
But the most hair-raising is: Okorocha left the state with death-traps as completed roads, bridges, tunnels, fly-overs. They have all caved in, and with them, billions of Naira spent on constructing them. One of the things governor Ihedioha owes Imo is to bring the Contractors who bequeathed the people these death-traps to book.
Worse, Okorocha's penchant for illegal land acquisition of his subjects bordered on the primitive. A good percentage of choice land in Owerri, it has been revealed, belong to the Okorochas. It was like there were no men and women in Imo state. It was like the people had been conquered by one man.
The impunity became so brazen, so insulting, that it brought together people of like minds, across political parties. Imo people bought in.
That was how Uche Nwosu's ambition was shut down. That was how Okorocha's ambition for a third, and possibly, fourth term, was shut down.
At his defeat, the people rejoiced. They felt that the aberration has finally been consigned to the dustbin of history.
They were wrong.
For, Okorocha now embarked, allegedly, on a massive looting of the state which would make a common thief green with envy. From vehicles, plasma television sets, power generating sets, fridges, beds and beddings, carpets, chairs, to even things as little as cutleries, he allegedly made away with.
When this scandal broke, Imo people organised themselves into vigilance groups. Many volunteered to be whistle-blowers. Under pressure to bring back all the looted assets, Ihedioha set up a panel to that effect. The panel has since justified the reason for which it was set up.
Two times, efforts by members of the panel to retrieve the looted assets met with resistance from the Okorochas. Sadly, the arrowhead of the resistance is Okorocha's daughter, who would have succeeded her mother as the state's first lady, but for God and the tenacity of Imo people.
The other day, she and her staff members, allegedly, were in a physical fight, almost, with members of the recovery panel when they went to one of the sprawling plazas of the Okorochas to recover some of the alleged loot.
Now, a couple of days ago, the same scenario played out. The scene was at what I choose to call "the Okorocha container depot."
Mrs Nwosu, once she was told of the presence of the members of the panel at the depot, rushed to the scene to resist them.
My opinion: The young lady has guts. She has courage. Whoever is beating the dance drum for her is strong.
But big mistake.
After the first raid, she, actually, had the guts to sue Ihedioha and the Imo State government to the tune of billions of Naira.
This time around, she was seen challenging the Imo crowd which had assembled.
Whoever advised her to do that did her an injustice. She was endangering her life. In her shoes, God forbid, I will not do what she did. That was a mob, baying for blood. It was an angry mob. And she made herself a target.
What if she had been lynched? Most of those gathered were aggrieved.
Okorocha, in his primitive acquisition of everything, seized people's ancestral lands. He treated many people as if there will be no tomorrow.
Now, tomorrow is here. And the people are out for revenge. They are shocked and scandalized at the hundreds of billions of Naira of assets acquired by the Okorochas within a space of eight years. Estates. Hotels. Plazas. Supermarkets. Event centres. Furniture companies. Health Clubs. Farmers' markets. Schools, including Universities. And, much more. How manage?
The questions thrown at Okorocha's daughter, repeatedly, by the angry mob were: What were you doing before your father became a governor? How much were you making? What were your bank account balances?
These questions should go to all members of the Okorocha family, some of whom were well known by Imo people before this manna from heaven.
But a word of advice for the Okorocha children. Don't go to any of those asset recovery scenes. It's dangerous. Confronting them is of no use. Somebody should be nominated, by you, to take an inventory of such alleged looted assets. The best you can do, in the circumstances, is to go to court and prove your innocence.
Former governor Okorocha says a government official slapped his daughter. He and his daughter are lucky. The crowd could have done worse. If Uloma was slapped, that's very condemnable. But, where is the video evidence?
So, lamenting, he is asking Governor Ihedioha and his government to apologise to his daughter and family. Okorocha is just talking. He knows nobody will extend that to him.
Tomorrow is here. My final advice, however, remains: Keep your children off the angry mob. Or, peacefully return alleged government's assets which they accuse you of making away with.
A word, they say, is enough for the wise.
* This column was first published in The Source Magazine of July 30, 2019.