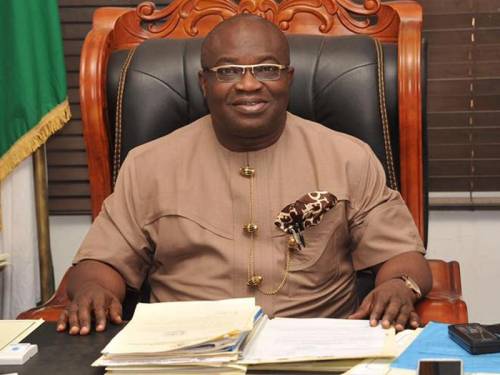 The Governor of Abia State, Dr. Okezie Ikpeazu, has said that his loss of the 2023 senatorial election to Senator Enyinnaya Abaribe in last Saturday's National Assembly election was not an issue that worries him. Ikpeazu, who said he was thankful to God for the opportunity of serving Abia State as governor for eight years told journalists that he was grateful to God that not life was lost in the election as he was not ready to engage in violence or spill blood to win an election.
Ikpeazu, rather said that in any democratic setting, it was expected that one wins some battles and loses some others.
Asked about his loss of the election for the Abia State South Senatorial seat, Ikpeazu said: "Yes in elections, you win some and you lose some. It is service and if somehow the opportunity fails to come to you, you thank God for the ones you won. I cannot spill blood for politics. I am a happy man and now focused on 11th March governorship election."
READ ALSO :  Renewed Hope Has Dawned In Nigeria, Says President-elect Tinubu
He acknowledged that the effect of the Peter Obi candidacy affected most of the results from the South East and said it was important to focus on the governorship election coming up in about 10 days' time. He said the Igbo would "take stock of the Obi wave and it's socio political impact."
He added: "Tell our detractors that Dr. Ikpeazu has won two gubernatorial elections in Abia and by God's grace defeated COVID. He can count his blessings. In 8 years as governor, he restored peace and security, built 4 bridges and 200 roads; built a Paediatric hospital, 700 classroom blocks, four model schools, gave overseas schorlarship to 51 Abians, among other things, all In 8 years. That is to show that he came to serve without bitterness and attention to naysayers. Ikpeazu has promised to finish the new Goverment House, Umuahia, finish the new ultra mordern diagnostic lab in Isukwuato and mega hospital in Aba. I can count my blessings. Let all men count their own. It's not how long but how well."
The governor said he would now be focusing on winning the state for the PDP governorship candidate, Chief Okey Ahiwe, on March 11.
He said he was thankful to God for the opportunity to serve Abia State and would remain in contact with the next administration in the state to offer his advice, when needed.