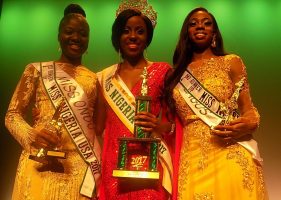 Idara Inokon, Miss Nigeria USA contestant representing Akwa Ibom, has emerged winner of Miss Nigeria USA 2017 beauty pageant held on Saturday night into early Sunday morning in New York.
Idara, who was crowned by the former holder of the title, Miss Lola Adeoye, beat 13 other contestants to emerge winner.
The new Miss Nigeria USA, who was the fourth to be crowned in the pageant, carted home $10,000 in prizes, according to Ms Joy Fakhoury, the organisers of the annual beauty pageant.
She would also embark on a pet project that would impact on the less-privileged back home in Nigeria.
Each of the contestants represented her culture in the pageant that was meant to promote the richness of Nigerian culture, the diversity of its people, the beauty and intellect of the Nigerian lady and to promote togetherness and unity among Nigerians in the Diaspora.
Miss Ondo – Ayoyemi Ajimatanrareje, emerged the First Runner-up, Miss Lagos – Susan Adeyemi, emerged the Second Runner-up, while Miss Rivers, Lucy Edosomwan, emerged Miss Congeniality, in the keenly contested pageant.
Read also: Picture of the Day: Miss Nigeria 2017 New York
The contestants were tested on intelligence, carriage, beauty, knowledge about Nigeria, Nigerian culture, and planned contributions to Nigeria through a pet project during their reign.
Judges said that they had a hard time determining the winners as all the contestants performed outstandingly.
Fourteen contestants made the finals on Saturday. They were: Miss Abia, Anambra, Akwa Ibom, Bayelsa, Delta, Ebonyi, Edo, Ekiti, Enugu, Imo, Lagos, Ogun, Ondo and Rivers states.
The new Miss Nigeria USA expressed surprise at her emergence, pledging to devote her reign to impacting the lives of the less privileged in Nigeria.
"I was very surprised, I felt very shaky in the whole competition, you know how nerves get to you but I just said 'Idara, whatever the outcome, you did your best and so I went out with a smile'.
"I see it as a moment to share women empowerment and to represent my culture, which is a perfect opportunity. I really want to start to get to work to see how I can serve my community.
"My platform is to create awareness on prevention. As a registered nurse, I do health education on a daily basis.
"It is something I am very passionate about and I believe that if people are educated about their health, they can live healthier lives. So that would be what I would pursue during my reign," she said.
Inokon, a registered nurse in the U.S.,< and born to a Nigerian father from Akwa Ibom, graduated from the University of Maryland, College Park in 2010 with a Bachelor of Science and Psychology.
She also attended the Accelerated Nursing Programme at the University of Delaware and graduated in 2014.
She is now a Masters Student in Family Nursing.
The event was attended by many Nigerians across the U.S.