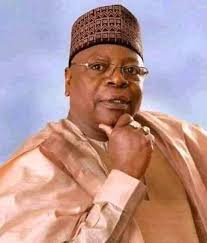 Sen. Ibrahim Gobir (APC-East) says he is staying put in APC contrary to speculations that he is defecting to PDP before the 2023 general elections.
Gobir, who is the Senate Majority Leader and Chairman, APC Senate Caucus, made the clarification while speaking to journalists in Sokoto on Sunday.
The lawmaker, who was a former governorship aspirant in the 2023 primary election said the APC was the only home he has and nothing can send him out of it.
"The assertion that Sen. Gobir is defecting to PDP is misleading, to leave my own home to the bush or what, I don't move from one political party to another.
READ ALSO: Ebonyi: It Will Be Unjust To Hand Over To My Brother, Says Umahi
"Moreover, getting a mandate to contest or not cannot take me to another place while I am comfortable in my own home.
"Therefore, I am a member of APC and will continue to support our candidates to ensure the party wins in the 2023 general elections for the best of our people and democracy," he said.
Gobir added that the Nigerian political atmosphere had since pointed out APC as the party to lead the country following its acceptance by the greatest majority.
"With the caliber of people defecting to our party I can boldly say that all our candidates are waiting for swearing-in on May 29, 2023.
"Our party is truly accepted by Nigerians, which is an indication that In  sha Allah, 2023 elections will only be an endorsement of all APC candidates," he added.
On the new Naira notes, the Senate leader called on Nigerians to remain calm, saying the lawmakers are doing their best toward addressing the situation.
"The Naira notes redesign policy has nothing to do with politics, so Nigerians should remain calm as we are all there to protect them," Gobir added. (NAN)