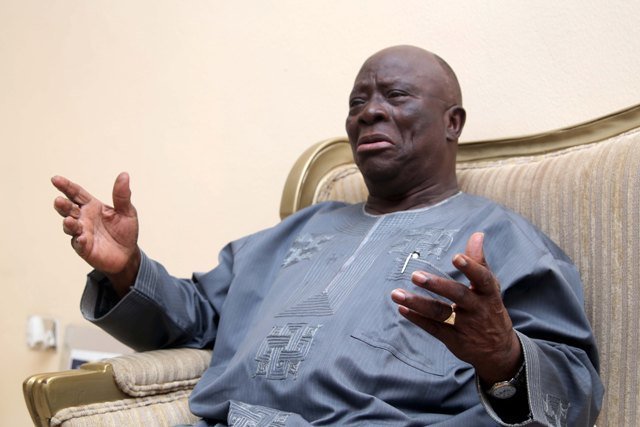 The Pan-Yoruba Socio-political organisation, Afenifere, on Wednesday said about 30, 000 people have been killed in the past four years due to activities of herdsmen.
The years span from 2015 to 2019.
The organisation made this disclosure at a press conference in Lagos where it also ordered the killer Fulani herdsmen to vacate the Southwest immediately or face serious showdown.
Addressing the press on Wednesday in Ikeja, Lagos, one of the leaders of Afenifere, Ayo Adebanjo explained that the quit order on the herdsmen followed the recent killing of Mrs. Olufunke Olakunrin, the daughter of Afenifere's leader, Pa Reuben Fasoranti, by suspected herdsmen.
"Yoruba land has now become the epicenter of the terror of these Fulani marauders and our people are fed up with the shedding of innocent blood that is quite anathema to our respect for human life which would see us remembering those who died peacefully 50 years down the line."
"We demand their immediate exit from Yoruba land. If they refused to leave in reasonable time, we will not stop our people from confronting them," he said.
He cautioned the National Assembly against amending the Land Use Act to give powers of land allocation in states to the federal government to allow RUGA's implementation.
The Afenifere leader also decried federal government's refusal to allow elected governors have state police, while on the other hand permitting the setting up Fulani bandit -vigilantes on Yoruba soil in addition to the Fulani militias terrorising the same land.
"We are miffed that those who will not allow our elected governors have police are now setting up Fulani bandit -vigilantes on our soil in addition to the Fulani militias terrorizing our land," he said.
He, spoke further, "About 30,000 people have been killed by the Fulani herdsmen/militia across the country between 2015 and 2019.
"Apart from not bringing them to book, the administration of President Muhammadu Buhari has taken so many steps which betray the encouragement being given to these troublers of Nigeria.
"We cannot continue to live under these conditions. The blood of our people will no longer be used to water the tree of a dysfunctional unitary order."