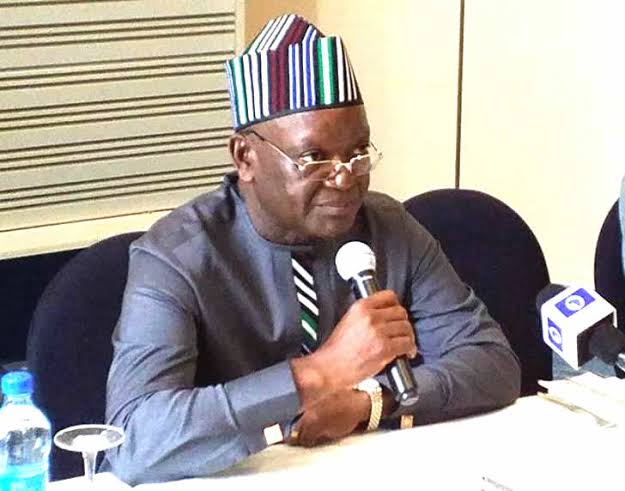 Following increased attacks on Benue farmers in recent times, as well as crisis among communities in the state, the Benue State Government has said it may consider the establishment of a security outfit to confront the challenges.
State Governor, Samuel Ortom disclosed this on Monday while fielding questions from newsmen in Government House, Makurdi.
Ortom who lamented the magnitude of challenges in the state said his administration may be looking towards replicating 'Amotekun' in Benue state to compliment the conventional security agencies.
"I think every other region is planning their security outfit. I think that we are also going to meet very soon at our own regional level. There will be need. For me as a person, we have not met at the regional level of North Central Governors, but I can assure you that there will be need for Benue state too to provide a security outfit that will compliment what the conventional security personnel are doing.
"We are yet to discuss it at the regional level but for me as Benue state Governor, I think there is need to have something in place that will collaborate and complement what the current security personnel are doing," Ortom said.
The Governor who flayed both external aggression and Internal crisis in the state said "the rainy season is about to start and preparation for farming this year has began. It is quite challenging with these disagreements over land."
READ ALSO: Herders/Farmers Crisis: PAD Stakeholders Call For Deeper Collaboration among Institutions
He said his government is doing its best but the security men on ground are inadequate to take care of the entire state considering the volume of the problems that abound, especially the problems within, concerning farm lands.
Ortom said government is mobilizing traditional rulers to speak with their people to allow for peaceful resolution of conflicts rather than fighting among themselves.
The Governor who also lamented the renewed killings in the state by herdsmen stated that "they are using gorilla tactics where they come without cattle, kill burn down houses and move to the next village to do the same.
"But we are closing in on them. The agro rangers have been mobilized with vehicles and other resources to keep vigil especially for those who are not coming for the purpose of grazing, but for the sake of killing and destroying people's property including those who have gone back to settle."
Ortom recalled that he had written to the military to sustain Operation Whirl Stroke, OPWS, saying the magnitude of the problems in the state will require more personnel and equipment to be deployed and more funding."
Our correspondent reports that Benue has been in the news recently over killings by gunmen suspected to be herdsmen and crisis between communities in Benue state over land.
The most recent includes crises between the Agila people in Benue and Ngbor in Ebonyi State, Tiv and Jukun communities in Benue, and between Ikpayongo and Ayati communities among others.