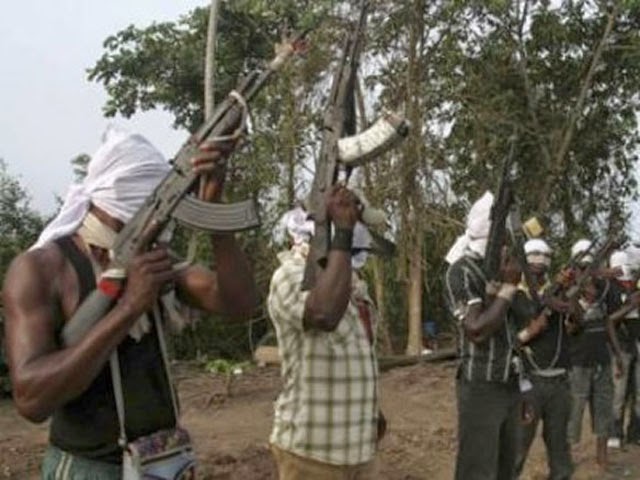 Gunmen have assassinated one Moses Udam, a lawyer, his wife and an 88 year-old blind man identified as Nyikyor Mazugu, in Agboghul village, Makurdi Local Government Area of Benue State
Our correspondent gathered that some unknown gunmen suspected to be hired killers entered Agboghul Tuesday at about 11:30p.m and killed a prominent Makurdi lawyer, Moses Udam, his wife and one other person at their residence around modern market in Makurdi.
The gunmen after murdering three people in cold blood also injured three others; the Barrister's younger sister and two sons of the deceased old man and made away with their money and valuables.
When Governor Samuel Ortom visited the scene of the incident, in company of security agencies, aides and newsmen, some villagers were seen gathered in the late barrister's house with some women crying while broken glasses from smashed vehicles were littered everywhere.
Narrating their ordeal, one of the residents and neighbour of the deceased, Mr. Terwase Ungase said, "at about 11:20p.m, we heard gunshots and when we came out we saw that they have killed this our neighbour, (Udam) and his wife.
READ ALSO: Ogun Police Arrest Cultists With Member's Corpse
"They also killed one elderly man there, (pointing to the deceased house) and then they cut two of his sons with cutlass. So, when they killed the old man, one of his children ran out shouting. That was when we all moved outside.
We called the DPO of D Division and he came with the commander of Livestock Guard. We searched everywhere down to the riverside but we didn't see anybody."
Another victim, Amaa Ater told the Governor that the gunmen robbed him of his N200, 000, being a loan he collected the previous day, to give his wife for business.
According to him, "When the gunmen came, my wife heard the gunshot and woke me up. After she woke me, she fled the room. I was left with our two children and when I wanted to take them, they were heavy so I left them and climbed the ceiling.
"They hit my daughter with the boot of their gun, slapped her to tell them where I was but when she didn't, they searched everywhere and took the money," he said.
Meanwhile, during his visit to the area, Gov. Ortom who described the incident as sad, said the killing, coming barely four days after a similar incident at Tse-Angbande, a community in Makurdi was unfortunate and bore the handwriting of mindless jihadists who had set out to overrun the state.
"This is not the Nigeria or Benue of our dream. Some of us when we ventured into politics, we thought we are coming to add value to development and not witness rounds of killings. This is unfortunate."
Ortom who acknowledged that it will be difficult to put police in every village or community in Benue lamented that the state has continued to witness bloodshed even after seeking very peaceful ways of ending the killings by enacting the law on prohibition of open grazing.
Ortom who again, stated that the law has no ethnic bias, therefore, vowed that Benue State under his watch will not succumb to attacks by terrorists whether they are jihadists or militia herders whose sole target is occupation of the state and destruction of lives and property.
The Governor noted that the series of attacks were a grand plan to whittle down operations of Livestock Guards and Agro Rangers who are doing very well in containing attacks on communities and enforcing the ranching law of the state.
The Governor lamented that developed climes globally with higher number of cattle compared to Nigeria have no cases of conflicts between herders and farmers due to ranching which is also being practiced in Benue, stressing that he would continue to speak against impunity in the country.
"Our eyes have continued to shed tears and this is unfortunate. It is bad enough that they killed him but they still butchered him to pieces."
He pledged to work with the security agencies to bring the perpetrators of the heinous crime to book.
Ortom further challenged the youths to quit drinking alcohol; ogogoro and hard drugs in particular but, to stand up and protect their land saying the security agencies alone cannot do it without the cooperation of the community members.
He also directed the recruitment of more livestock guard and more vigilance to support security agencies to secure the state.
He also expressed the hope that the soon to be recruited community police will help work with established security outfits to put an end to the killings.
Ortom commiserated with the community and families who lost their loved ones and urged community members to report suspicious persons and movements to security authorities.
Journalists also gathered that the lawyer was handling some sensitive cases and might have been killed to silence him.
Earlier, the Benue state Police Command had confirmed the incident saying the police have commenced investigation into the matter.
The Police Public Relations Officer, PPRO, DSP, Catherine Anene, in a phone message said, "Gunmen attack on Agboughul village Makurdi, claimed the lives of two persons. One person receiving treatment at Benue State University Teaching Hospital, (BSUTH)."
She also stated that policemen have been deployed to forestall further breach of peace in the area.