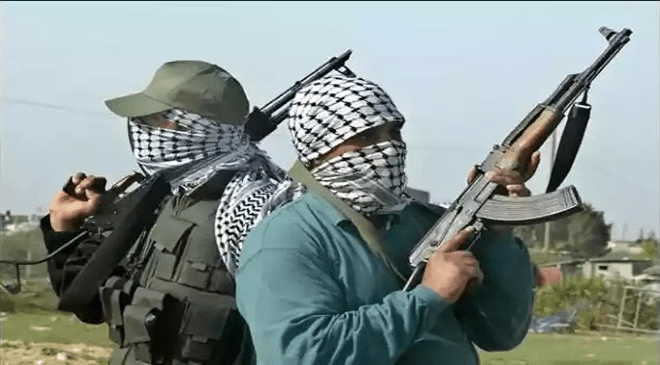 A member of the Livestock Guard in Benue State has been killed while another, a member of the Agro Rangers, has been injured in an ambush in a community in the state.
Security Adviser to Benue State Governor, Samuel Ortom, Lt. Col. Paul Hemba disclosed this on Saturday when he spoke to journalist in his office.
Col. Hemba said there was an attack, which took place around 4p.m on Friday in Mballa ward, a community in Makurdi local government area when the security personnel were on patrol.
He said the bandit had come on motorbikes, attacked and disappeared into thin air before the security men could arrive the scene.
"Yesterday, there was an attack on members of Livestock Guards' who went out on patrol. They went in company of agro rangers to Mballah council wards, just behind NASME Barracks in Makurdi.
"On their way back from the patrol, they were ambushed by suspected armed herdsmen who suddenly opened fire on them killing one of them on the spot. His corpse has been deposited at the Teaching Hospital mortuary.
"Another one had a bullet hit just by his eye. He is currently receiving treatment.
Hemba lamented the spate of Herdsmen attacks in the state saying the state has witnessed series of these attacks, the last being in Adaka village of Makurdi, in December 2020.
READ ALSO: I'm a helpless, hopeless romantic –Cobhams Asuquo
He said "these attacks were unprovoked. It seems that Herdsmen, just for the fun of it,  just decide to attack targeted communities, open fire, kill people and disappear before the security agencies will arrive.
He noted that the pattern of Friday attack has become a reoccurrence where they are particularly targeting livestock Guards', probably to intimidate and discourage them from carrying out their duties.
Col. Hemba who noted that no arrests have been made said  the members of the Operation Whirl Stroke, (OPWS), were informed and they responded swiftly "but the bandits had disappeared before they arrived."
Narrating their ordeal to journalists, the Commander of Livestock Guards in the state, Mr. Linus Zaki said: "Yesterday, around 6p.m, I went out with my men, on our way back, reaching a market called Zongo, we heard gunshot from both sides of the road. We jumped down from our bikes and started running. That was when one of my members was killed and a member of the agro ranger was also hit by the bullet.
He expressed worries that despite their efforts, "the armed men come in selected areas where they know that troops are not close. They carry out their nefarious act and then vanish into thin air.
He, however, stated that they will not be deterred by the attack as they are determined to ensure that the Anti-Open Grazing Law is totally enforced and obeyed.
"Firing at us will not make us leave our job. This is not the first time. We will not be discouraged from doing our work because we cannot leave our land to them. They have to respect our law," he added.