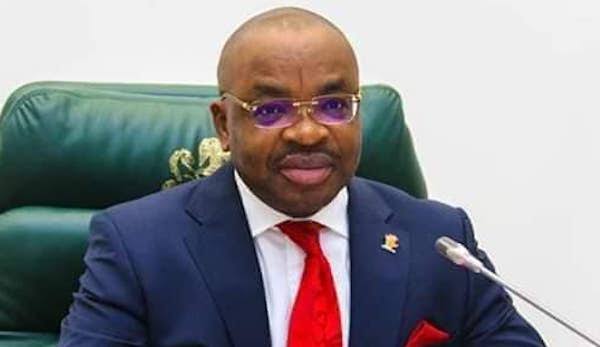 Gov. Udom Emmanuel of Akwa Ibom has appealed for the deployment of more  military personnel to assist tackle crime along the waterways in the state.
Emmanuel made the appeal during Tuesday's courtesy visit on him by Maj.-Gen. Sani Gambo, the General Officer Commanding (GOC), 6 Division of the Nigerian Army, Port Harcourt, at the Government House, Uyo.
He emphasised that a formidable security network would not only safeguard the lives and property of  the citizenry, but would also encourage investors to settle in the region.
"I learnt that  the Chief of Naval Staff is billed to come here soon; we also want to appeal to him to deploy more resources here, because the state government does not have that much any longer.
"Gone are the days when state governments in this region used to be buoyant.
"We want to appeal that we need more support, especially, along our waterways because of the investors that are coming into this region and for the benefits of the country at large; not just for the benefits of one state.
"Fortunately for us, we are the state with the longest shoreline in the country, so we call for a whole lot of collaboration and be rest assured that we will do a whole lot that we can.
"Please see us as your primary responsibility; since you are resident in Port Harcourt, you are likely to concentrate more at your residence and since your men are there, but please give us attention," the governor appealed.
Emmanuel also commended the selfless services of the Nigerian Army in safeguarding lives of  the citizenry in the country.
He urged the security agencies to forge a common front to address security challenges in the region.
In his remarks, the GOC appreciated the governor for the warm reception accorded him and his team.
READ ALSO: Police Confirm Abduction Of RCCG Staff, Polaris Bank Staff In Ibadan
Delivering the goodwill message of the Chief of Army Staff (COAS), Lt.-Gen. Ibrahim Attahiru, to the government and people of Akwa Ibom, Gambo said his visit was in line with the vision of the COAS.
According to him, the goal of the COAS is for the region to collaborate with all stakeholders to enhance the general security in the state and across the country.
"This visit is in line with the vision of the Chief of Army Staff.
"As the Army General, he has troops that are professionally trained in order to defeat all vices in a joint environment.
" The main focus there is to operate in a joint environment and that joint environment encompasses all stakeholders," he said.
Gambo commended the governor for supporting the security agencies in the state, especially, for renovating the army barrack at Ibagwa.
He assured the governor  of his team's resolve to enhance security in the state and the region. (NAN)