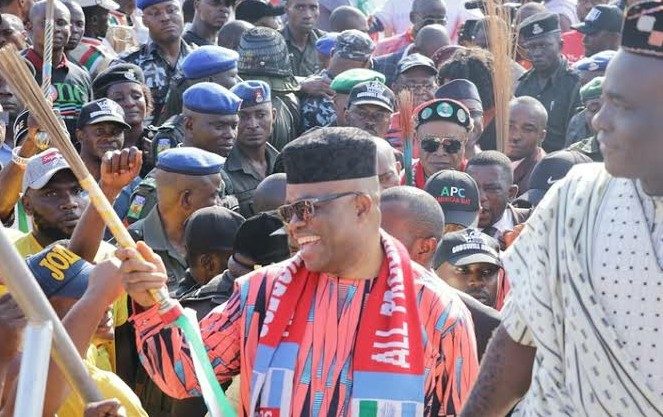 The name Godswill Obot Akpabio rings a loud bell in the ears of most Akwa Ibom indigenes, and indeed in Nigeria, but it wasn't always so. In 2006, when he declared his intentions to run for the office of the Governor in the state, not many gave him even a fighting chance, the reason being that the then Governor, Victor Attah, had an anointed candidate.
Attah's choice of successor was no less a person than his son-in-law, Udoma Bob Ekarika, and Akpabio was a mere commissioner though he had served in three key ministries in the state and performed creditably well.
Unfazed by the status of his opponents and the challenge facing him, young Akpabio, he was just 45 years of age then; decided to take the bull by the horns and dived into the ring with his boxing gloves. Motivational speakers always say that "Whatsoever a person believes, he or she can achieve," and Akpabio believed and went after his heart's desire with everything in him.
He campaigned throughout the state, not soliciting for votes as it were, but telling Akwa Ibomites; "Let God's will be done." In the end, God's will was done and Godswill Obot Akpabio became the Governor of Akwa Ibom State. The rest is history as it is often said.
As a governor, he ran the affairs of the state for eight years; 2007 to 2015 and they were glorious eight years. In those years, Akwa Ibom State couldn't have had it any better in terms of development, popularity, and recognition. His performance in office was unprecedented, acknowledged and given resounding applause at home and abroad.
Paul Ryan, who served as the 54th Speaker of the United States House of Representatives, it was who said; "Every successful individual knows that his or her achievement depends on a community of persons working together." Bearing that in mind, Akpabio set out to work to implement his uncommon transformational agenda, which was the major plank of his administration's policy.
In all fairness, it is not for nothing that he is known and addressed by his own people even at the national level, as the "Uncommon Transformer."
Before Akpabio took over office as Governor of Akwa Ibom in 2007, failed and/or abandoned projects dotted the skyline of the state. Several Local Government Areas of the State remained undeveloped in every sense of the word. For most of the projects, huge sums of money had been committed to contractors who collected the money, cleared sites and vanished into thin air. One of such projects was the abandoned airport. Prior to becoming the governor, residents of the state used to go to neighbouring states to catch flights to their destinations if they desired to travel by air. The administration before Akpabio had engaged a contractor, mobilized with huge sum of money, but much was not done. Akpabio inherited a cleared mass of land as airport.
Undaunted, he went to work restoring and completing the project and on schedule too. Today, Akwa Ibom has an International Airport reputed to have one of the longest runways in Nigeria.
Again, as the governor of Akwa Ibom, Akpabio undertook a road rehabilitation and construction project that was unparalleled. By the end of his eight years, he had done well designed brand new roads running into hundreds and rehabilitated several others including federal government owned roads. Under his leadership, the state was described as "a construction site." Every local government in the state got its share of well-planned and solidly constructed roads. Like an icing on a cake, about six major flyovers sprang up in different parts of the state to ease vehicular movement and enhance its beauty.
In clear terms, the former President of Nigeria, Goodluck Jonathan, testified to Akapbio's uncommon transformation of the state during one his official visits. President Jonathan said "One thing I have seen today is that the projects I have seen are not just projects, but with very high quality…And I'm quite pleased with that because the Governor is not just playing politics with projects; it is so glaring that he is committed to changing things."
The roads have stood the test of time because the uncommon transformer employed the services of world class construction companies to handle the jobs.
Another major challenge that faced the residents of Uyo, the state capital in particular before Akpabio came into the picture was flooding, which seemed to defy solutions. Living in some parts of Uyo during the rainy season was a nightmare. From the Idoro area through Itam road to Ikot Ekpene road, was near impassable after rainfall. It was also so bad that many houses in the flood-prone areas were submerged after heavy down pour.
On assumption of office, Akpabio decided to wade into the matter and deal with it once and for all. He got a giant construction company engaged, which deployed the "Pipe Jacking" or "micro-tunnelling" technology to put an end to the peoples' yearly harrowing experience.
Under the pipe jacking method, water was channelled into well lubricated huge pipelines buried 40 metres under the ground, passing through the discharge drain at Ekim Itam-Ikot Oku road, Uyo.
Again, former President Goodluck Jonathan during one of his visits to the state was so impressed with the project that he said: "One of the projects that is quite interesting to me is the drainage system. I think this is the first time I have seen that kind of drainage system and I believe it must be one of the first in the whole continent of Africa."
Akpabio, is a firm believer in the saying that what is worth doing, is worth doing well. Thanks to him, Akwa Ibom State boasts of the first-in-West Africa e-library. The project was part of the free and compulsory education policy of his administration, which had tremendous impact in the state.
Apart from the five floor edifice, which in itself is an architectural masterpiece, it is the only library in Nigeria with a multi-media conference hall with a capacity for 200 guests. It also has facilities for teleconferencing from any part of the globe.
The e-library boasts of about 70 million downloadable e-books and 30 million books in print with in-built alarm system to safeguard the resource materials.
The story of the uncommon achievements of Akapabio cannot be complete without mention of his revolutionary contributions in the area of rural electrification. Under the project, almost all, if not all communities in the state were linked to the national grid. In the same way he declared free and compulsory education, healthcare services were free for children under five and the elderly in the state.
As a parting gift to the state, Akpabio gave it the 30,000 capacity Akwa Ibom International Stadium complex (aka Nest of Champions) and Games Village situated along Goodluck Jonathan Boulevard, Uyo. As a mark of gratitude, the stadium in 2015 was renamed after him, Godswill Akpabio International Stadium.
The stadium built at a cost of $96million was handled by Julius Berger, one of the best international structural engineering firms.
Modeled after Allianz Arena; the ultra modern multipurpose sports complex sits on 48 hectares of land. It boasts of bullet proof VIP/VVIP sections, collapsible seats, two digital score boards, digital playback screens, digital flood lights, eight-lane 400m standard track; warm-up facility with six-lane 400m track; a standby power supply system; Box office, Media facilities; 7,500 seater Grand Stand; Helipad; two dressing rooms; Ambulance bay; and 30 emergency exits to enable exit within 6 minutes.
Akpabio had during inspection of the project before the commissioning in his characteristic manner said; "What I had in mind was to build a world class international stadium that would be a thing of pride to all Nigerians and Africans; a place that will give us respect so that when people who are used to playing in fantastic stadiums in the United Kingdom and other parts of Europe come here they will say whaooo! So, this can be done in Africa? That was actually the concept. We didn't just want to build any stadium. We wanted to build something in tune with my administration's belief of uncommon transformation. We wanted to build an uncommon stadium that has not been seen before in West Africa. It is a beautiful place and I pray the spectacular beauty does not distract and affect athletes' concentration when they come because they may get lost trying to take pictures."
Another legacy project of his administration was the state-of-the-art Ibom Specialist Hospital with ultra-modern medical facilities including, 164-slides CTscanners, digital mammography machines and devices to perform endoscopy surgery, highly sophisticated intensive care units and medical gas plants, with fully automated laboratories, the latest Magnetic Resonance Imaging (MRI) machines, three modular theatres, full interventional cardiac facilities, highly sophisticated intensive care units (ICU) both with dependency facilities, about 180 suites, hordes of operational wards and full-fledged neurosurgical facilities.
The hospital also had a wide range of scopes for laparoscopic surgery, laboratory, which is fully automated and latest technology connected to lying inwards with conveyor belts for collection and delivery of specimens and reports in record speed.
Akpabio's intention when he built the hospital, which was meant to provide quatenary healthcare services to the people of the state and Nigeria as a whole was to stem the negative effects of capital flight caused by the huge amount of money expended by Nigerians seeking medical services abroad.
Other legacy projects include the governor's lodge, Ibom Tropicana Entertainment Centre, Le Meridien International hotel, Four-Points by Sheraton located in Ikot Ekpene, among others.
After his eight years as governor, the people of Akwa Ibom North-West Senatorial District sent him to the Red Chamber in Abuja to represent them.
READ ALSO: Akpabio denies writing to Buhari's Chief of Staff
In 2017, after two years in the Senate, Akpabio returned home for his Constituency briefing. It was indeed a befitting home-coming. Those who sent him on an errand were not disappointed.
He came with a scorecard as impressive as what he did as governor. His constituency projects brought succour to the people across the 10 local government areas that make up the Akwa Ibom North West Senatorial District.
Some of the projects executed by the Senator included the construction of market stalls; solar powered borehole; new classroom blocks and the rehabilitation of classroom blocks of existing schools with supply of desks, white boards, teachers' chairs and tables; construction of town halls and community centres complete with boreholes and generators.
He also gave out 30 vehicles, 40 cargo tricycles, four tractors, 800 generating sets, 100 computer sets and printers, 194 sewing machines, 154 grain grinding machines, 55 block molding machines, 58 tricycles, 10 cassava processing machines, 30 home grinding machines, among others.
But he did not stop there. As part of his human capital development initiative, Sen. Akapbio facilitated the training of 400 youths and women in entrepreneurship through the Small and Medium Enterprises Development Agency (SMEDAN) and the National Directorate of Employment (NDE).
He also instituted a full scholarship scheme for 250 students of tertiary institutions drawn from the 10 Local Government Areas of the Senatorial Districts at N50, 000 per students as well as bursary for 22 students at the cost of N100, 000 per student per year of study.
It must also be mentioned that besides the empowerment programmes, Akpabio has facilitated the employment of hundreds of Akwa Ibom people into Federal Ministries, Departments and Agencies.
As much as Akpabio invested in infrastructural development of Akwa Ibom, his greatest achievement and what will always stand him in good stead with Akwa Ibomites remains his investment in human beings.
Across the state, Akpabio touched lives. He put many through school, gave them jobs and erected houses for the poorest of the poor. He didn't just give the people fish; he taught them how to fish.
Cesar Chavez once said; "We cannot seek achievement for ourselves and forget about progress and prosperity for our community…Our ambitions must be broad enough to include the aspirations and needs of others, for their sakes and for our own."
Akpabio as governor of Akwa Ibom and later as Senator representing Ikot Ekpene Senatorial District seem to have lived and worked by this saying.
Come Saturday, February 16, Akwa Ibomites will join other Nigerians to choose their representatives to the National Assembly.
Godswill Obot Akpabio is seeking re-election to the Senate under the umbrella of All Progressives Congress (APC) and his challenger is none other than former Deputy Governor of the state, Dr. Chris Ekpenyong, popularly known as "Ukarakpa."
Ekpenyong who is the candidate of the Peoples Democratic Party (PDP), in his own right is not a political pushover. He has been around the political scene for years; still, political watchers believe it would be near impossible for him to unseat Akpabio based on his antecedents.
They premise their argument on the fact that Akpabio with his quality performance has proven to the whole country that he has the interest of the people at heart so the people would want to allow him another opportunity to continue from where he stopped. Allowing him another chance to represent them at the Senate invariably means empowerment for all and sundry. In this wise, it's inconceivable for anyone to think of replacing him in the forth-coming elections. The uncommon transformer is, indeed, unbeatable!