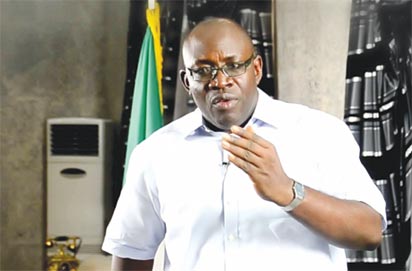 There is need to pay special attention to the Brass Liquefied Natural Gas project (LNG), Bayelsa State Governor, Henry Seriake Dickson, has told the Federal Government.
The governor who spoke on Thursday said it was to ensure its successful take off.
This is as he also called on the management of Nigeria Agip Oil Company (NAOC) to site a modular refinery and build its corporate office in the state.
On this, he said the government would provide land for the purpose.
The governor who spoke during his meetins with officials of Brass LNG and NAOC in Government House, Yenagoa, described the Brass LNG project as strategic towards accelerating the pace of socio-economic wellbeing of the state, Niger Delta and the country at large.
His words:  "I want to call on the Federal Government to pay special attention to the Brass LNG project. This is one of the greatest interventions we will be having in this state. It has capacity to engage youths, create wealth and develop skills as well as turn around the economy of the Niger Delta region and the country."

"I am told that there are hitches, but I want to use this opportunity to reiterate the commitment of the government and people of this state to encourage the completion of this project by collaborating with all partners including the Federal Government to see that these hurdles are addressed."
While imploring all stakeholders to join hands to make the project a success, Governor Dickson enjoined the companies to pay their taxes and obey laws to protect the environment among other things.
Expressing his appreciation, the Managing Director of the Brass LNG, Mr. Daniele Tamborini and his NAOC counterpart, Mr. Massimo Insulla lauded the state government's security efforts.   The Chief Executives expressed gratitude to Governor Dickson for the support they had received and solicited the continued cooperation and support of the government and the people of the state.