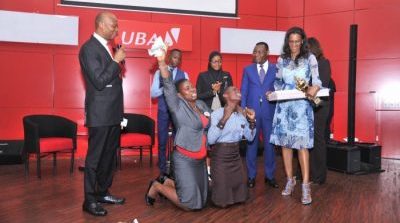 It was an all-female affair as 15 year old Samuella Sam-Orlu of British Nigerian Academy, Abuja, led other girls in clinching the top prizes at the 2017 edition of the UBA Foundation National Essay Competition.
Samuella emerged the overall winner among 11 finalists from over 1,000 entries.
She took home an educational grant of N1 million  to study in any African university of her choice, as well as a laptop.
The second prize was bagged by Deborah Chinwendu Innocent aged 15.
She is from Enal International Schools Abuja.
She won N750,000 educational grant and a laptop while the third prize went to Yahofon Ettah Essien of Nigerian Christian Institute, Akwa Ibom State.
She won a N500,000 educational grant and a laptop.
The other finalists were given laptops.
All 12 finalists also went home with certificates.
Accompanied by her guardian, Mrs. Jacqueline Uzoadibe, Samuella said winning the competition would propel her to do more in attaining her dream of becoming a medical doctor.
READ ALSO: Nigeria wins World Bank competition
"I am very thrilled, and thankful to God. I want to say that I am very grateful to hear my name announced as the winner. I am indeed very grateful to UBA for this huge opportunity and making me believe in myself. This grant will go a long way to support my bid for quality education."
The Managing Director and Chief Executive of UBA Foundation, Bola Atta, while congratulating the winners commended them for their exceptional brilliance.
"Every student who sent in an entry is on a winning streak already. To be confident about your writing skills and thirsty enough to enter a competition to further enhance your educational path is laudable. For those that did not win, I would say do not be discouraged. Take it as a challenge to perfect your writing skills and enter for the competition again in 2018," she said.
According to Atta, UBA Foundation, being the CSR arm of UBA Plc, makes it a point of duty to give back to communities where UBA operates.
She described education as one of the foundation's focus areas as it is the bedrock of any nation.
She went on to encourage finalists to be good ambassadors of the competition which is in its sixth year in Nigeria.
She stressed that the competition will be held every year.
In his remark the Managing Director/Chief Executive Officer of UBA Plc., Mr. Kennedy Uzoka, said UBA as a bank was happy that it was touching lives and making solid impacts through the competition and the grant.
"Seeing past winners tell their stories on the impact the grants have made on their education and particularly how the financial burden was lifted off their parents, gives us joy that our foundation is unique and stands out from others in touching lives," Uzoka said.