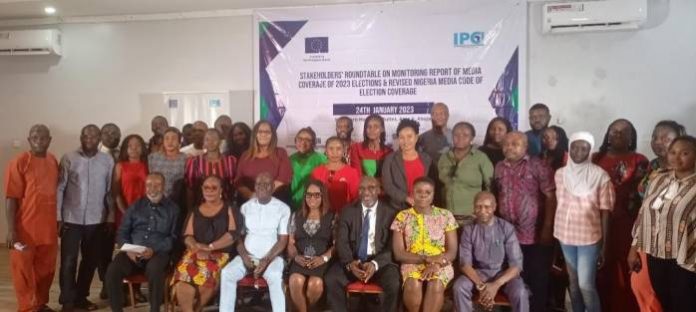 International Press Centre (IPC) on Tuesday advised journalists to take their safety and health seriously during the coverage of the 2023 General Election.
Lanre Arogundade, Executive Director, International Press Centre (IPC) said this at a Stakeholders' Roundtable on the Media Monitoring Report on Coverage of 2023 Electoral Process and Public Presentation of Nigerian Media Code of Election Coverage (revised edition 2022).
The News Agency of Nigeria (NAN) reports that the roundtable was organised by IPC with support from EU-Support to Democratic Governance in Nigeria (EU-SDGN II) Component 4:Support to Media in Abuja.
Arogundade also called on journalists to be ethical, while carrying out their duties.
He said that there was also need for a conducive environment to be provided for journalists to work adding that the call became imperative to guard against press restriction and attack usually experienced during election.
He said that although no journalist was killed on election day in 2019, about 250 journalists were molested across the country including those who were accredited.
"Journalists get attacked while covering campaign activities, they get molested in the line of duty , even journalists accredited were still molested by security agencies.
"We are making appeal to the law enforcement or security agencies that what happened in 2019 should not repeat itself.
"If a journalist is accredited and is able to show evidence of accreditation and in addition to that the identity card of his organisation, any policeman or soldier on national duty should know that journalist is not a busybody and therefore should not be molested in any way.
"So we are using this occasion to draw the attention of INEC, governments, security agencies and political parties to their responsibilities ,if they want us to cover these elections effectively," he said.
Arogundade said that it would be wrong for any political party or candidate to deny any journalists access to a public event because the Nigerian media code of election coverage said they should be given free access,
He said that journalists have rights and they should be respected and asked for by them especially request for protection when necessary.
He said that beyond the election, it was worrisome that not less than nine journalists have been killed and there have been no investigation, talk less of prosecution of the suspected killers.
READ ALSO: Lagos SDP Chairman, Excos Dump Party, Join PDP
He called on journalists to report any of such attacks or threats as the nation headed toward the 2023 general election.
He tasked journalists to as a matter of fact, also ask their employers to give them protective wears.
"INEC also has a role to play ,so we are using this forum to appeal to INEC to make the issue of journalists covering elections an item on the agenda of their engagement with security agents," he said.
Arogundade called on journalists to be guided by the Nigerian Media Code of Election Coverage revised edition 2022 to give equitable media coverage to all parties, be professional and carry out social responsibility.
He added that the media should shun promoting hate-speech and word that could incite violence and they should reflect conflict sensitivity while reporting.
Prof. Abigail Ogwezzy-Ndisika of the Department of Mass Communications, University of Lagos, presented a report on "Highlights of Trends in Media Coverage by IPC's Media Monitoring Activity on 15 Print/ Online Newspaper's Reporting of the 2023 Electoral Process (October and November 2022).
Ogwezzy-Ndisika said that the report presented state of the art on media reportage of elections in Nigeria.
She said that it also helped to point the media on the direction on what they should do as journalists so as to deepen democracy knowing that the media is a critical institution in elections.
"So it is very important that we do a review of what we have done and the strength of our work, where the gaps are so that we can fill the gaps so that we can make impact in the electoral process .
"It is a kind of self evaluation that we have done because it is important for for us to shape our work," she said.
Ogwezzy-Ndisika said that it was found out that inclusivity was poor in terms of reportage as reports were more urban centric.
She called on the media to delve a little more into the sub national level and also try to give visibility to more political parties rather than the four enjoying
prominence.
"So we should have a rethink of the angle, perspective that we are going to bring into our stories.
"We should also try to make our stories multimedia so we can speak to the non literates people in the rural areas to make their voices included.
"So essentially we need to be deliberate about inclusivity in our reportage," she said. (NAN)