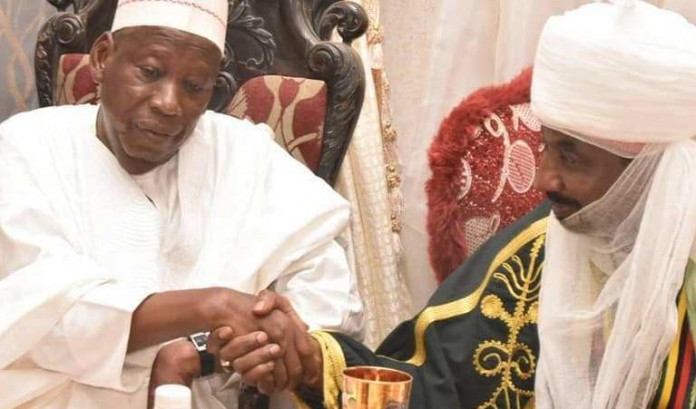 Kano State governor, Abdullahi Ganduje has signed into law, a bill that sought to create four emirates out of the Kano emirate.
With the signing of the Kano State Emirs' Appointment and Deposition Amendment Bill 2019 into law, the state now has five emirates – Gaya, Rano, Karaye, Bichi and Kano.
This in effect reduces the sphere of influence of whoever occupies the seat of the Emir of Kano and in the present instance, Muhammad Sanusi II.
The state House of Assembly passed the bill earlier on Wednesday less than 24 hours after a petition submitted to the House by one Ibrahim Salisu was read by the Speaker, Alhassan Ruum.
On hearing about the bill, Ganduje promised that he would sign it into law as soon as it was transmitted to him.
"That is the popular wish of our people. This will also go a long way in hastening growth and the development of the state.
READ ALSO: Osun Guber: Oyetola, Adeleke Wait with Bated Breath as A'Court Delivers Judgement Today
"It will also lead to more concentration on our health, education and other equally important sectors of the society. That is why I said there would be no waste of time in signing the bill into law.
He also said the law would take the traditional institution closer to the people.
Giving effect to that pronouncement, he signed the bill into law barely eight hours after it was passed by the lawmakers.
He assured that all the necessary requirements needed for the immediate take off of the new councils were in place.
"Kingmakers will be known very soon. So also all other processes and procedures will be completed for appointing respective emirs, issuing them with appointment letters up to the coronation stage," the governor said.
Reading the report of the House joint committees before the floor of the House on Tuesday, the Majority Leader, Baffa Danagundi, said the decision to pass the bill followed wide consultations with stakeholders.
According to him, under the law, if signed by the state governor, each of the emirate council will have their own kingmakers except Bichi which would have its kingmakers from the old Emirate Council, Gidan Dabo, in particular.