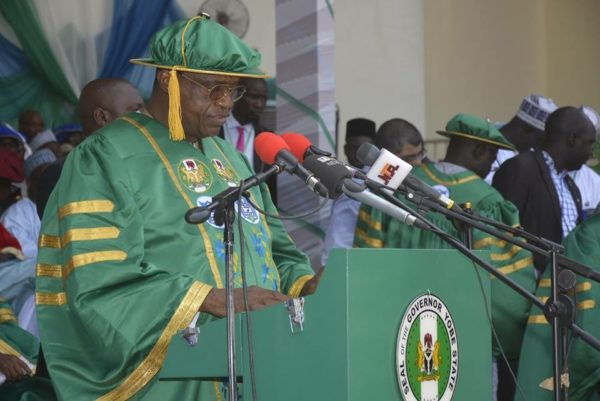 Governor Ibrahim Gaidam has offered jobs to 38 First Class graduates of the Yobe State University(YSU).
He made the offer at the maiden convocation of the university, during which he was also awarded an honorary doctorate degree.
The First Class graduates will become graduate assistants, if they accepted the job offers.
The convocation covered five sets of over 2000 graduands who completed their studies in the last five years.
Geidam restated  his administration's commitment to education and other sectors to improve the lives of the people.
Gaidam said government spent N289 million on sponsorship of 28 lecturers of the university to undergo post-graduate studies overseas.
He said government released N1.3 billion for the construction of structures and supply of equipment to the College of Medical Sciences.
READ ALSO: Licence renewal: No need for data capturing –FRSC
According to him, establishment of the College will enable the training health personnel, thereby addressing the challenge of inadequacy of trained manpower in the health sector.
Prof. Yakubu Mukhtar, Vice Chancellor of Yobe State University said although Boko-Haram insurgency had had a negative effect on his institution, the university remained committed to pursuance of quality education.
The university started with 50 staff in 2006 but now had 709 academic and non academic staff.
He commended the state government for providing funds for staff development as well as necessary facilities that enable the accreditation of courses.
The ceremony, held under tight security in view of the recent abduction of school girls in Dapchi town of the state, also featured the  installation of Alhaji Muhammadu Grema, Emir of Tikau as the Chancellor of the institution.