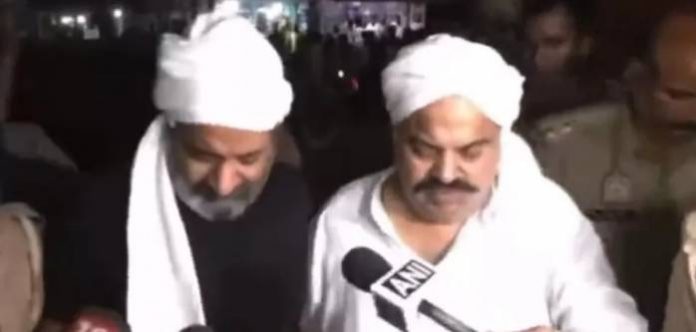 A former Indian politician convicted of kidnapping has been shot dead live on TV along with his brother.
Atiq Ahmed, who was under police escort, was talking to reporters when a gun was pulled close to his head in Prayagraj, also known as Allahabad.
After the shots were fired on Saturday night, three men who had been posing as journalists quickly surrendered and were taken into custody.
Ahmed's teenage son was shot dead by police days earlier.
Ahmed had previously claimed there was a threat to his own life from the police.
Video showed Ahmed and his brother, Ashraf, both in handcuffs, speaking to journalists on the way to a medical check-up at a hospital seconds before they were both shot.
In the footage, shared widely on social media and TV channels, Ahmed is asked whether he attended his son's funeral.
The three suspected assailants had arrived at the site on motorcycles, the police said. A policeman and a journalist were also injured at the scene.
Following Saturday night's incident, Chief Minister Yogi Adityanath ordered a judicial probe into the killings and banned large gatherings in the districts of Uttar Pradesh.
Ahmed, who is a former MP, and his brother were in police custody and had been brought to Prayagraj in Uttar Pradesh, where Ahmed was facing murder and assault charges.
They had both been arrested in April in connection with the February murder of Umesh Pal, a key witness in the 2005 murder of Raju Pal, a lawmaker belonging to the regional Bahujan Samaj Party (BSP).
Ahmed was jailed in 2019 after he was convicted of kidnapping.
Atiq Ahmed's teenage son Asad and another man, wanted in connection with a murder case, were killed by police earlier this week in what was described as a shoot-out.
Last month India's Supreme Court declined to hear Ahmed's petition in which he alleged there was a threat to his life from the police.
Uttar Pradesh is governed by the Hindu-nationalist BJP, and opposition parties criticised the killings as a security lapse.
"Crime has reached its peak in UP and the morale of the criminals is high," Akhilesh Yadav, chief the opposition Samajwadi Party, tweeted in Hindi.
"When someone can be killed in firing openly amidst the security cordon of the police, then what about the safety of the general public. Due to this, an atmosphere of fear is being created among the public, it seems that some people are deliberately creating such an atmosphere," he added.
More than 180 people facing various charges have been killed by police in the state in the past six years.
Rights activists accuse the police of carrying out extra judicial killings, which the state's government denies. (Headline not BBC)
Courtesy: BBC