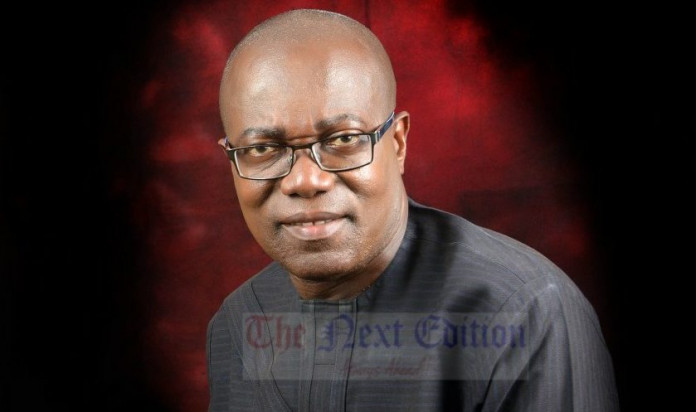 The race for the governorship position in Imo State seems to have begun in earnest as Mr. Nick Opara-ndudu,  a former banker and Commissioner in the first term of Governor Rochas Okorocha's administration declared his interest and intentions to run for the office in the 2019 general elections.
He hopes to run as the flag bearer for the All Progressive Grand Alliance (APGA).
In a release titled "Imo State Governorship 2019 – Declaration of Intent," made available to The Next Edition, Mr.  Opara-ndudu noted that Imo State was in dire straits, being faced with uncommon challenges  and therefore needed a new skills set as well as shift in leadership paradigm to reposition and revive it.
According to the former banker; "For Imo people these are trying times and we must collectively resolve to change the status quo. Addressing the challenges require a new skills set and shift in our leadership paradigm. Imo State is in dire need of a governor who has capacity to provide the consequential  leadership to face these challenges and surmount them for our collective good. That governor must be mature, experienced, knowledgeable and accomplished in his field and above all, God-fearing and truly compassionate in his dealing with people."
Cataloguing the myriads of challenges Imo State is presently faced with, Opara-ndudu pointed to the state's high debt profile, which is in excess of N100billion, high level of poverty exacerbated by the destruction of markets and other traditional sources of productive engagements by the present administration, total decay of the health sector, battered and crippled infrastructure across the state and the scourge of unemployment.
Meanwhile, the aspirant among other things, insisted that the agricultural sector in the state if revamped could create at least 200,000 jobs within three years while a conducive and convenient industrial sector environment could yield at least 50,000 jobs over a period of five years.
READ ALSO: Budget: What Buhari told Saraki, Dogara, others
Speaking on qualities that qualify him to aspire to the governorship seat in Imo State, Opara-ndudu said; "Having worked in the banking sector for over two decades and rising to the position of Deputy Managing Director after earning a Bachelor's Degree in Accountancy from the University of Nigeria, Nsukka and qualifying as a Chartered Accountant, I believe I have the required experience of working in a structured environment and the disciplined approach to accomplishing tasks that come with such experience.
"These are qualities that would come in handy in addressing the rapacious destruction of the Civil Service bureaucracy and non compliance with due process, which have become signature marks of Gov. Rochas Okorocha's administration."
Opara-ndudu who served as Chief Economic Adviser to Imo State Government as well as Commissioner across three ministries; Budget & Economic Planning, Works & Transport and Internal Resources (IGR)  and Pension Matters during the first term of Gov.  Okorocha believes that exposure has given him ample public sector experience alongside an in-depth understanding of the intricacies of public sector governance.
"Working with Gov. Rochas Okorocha provided me with very useful learning points (even if bitter) on how not to run a government and the pitfalls in consistently avoiding wise counsel of technocrats and professionals in the execution of government programmes," he said.
He called on the people of Imo to support and co-operate with him to "confront the demons of our politics and governance," stressing that by working together "we shall force a change in our leadership paradigm by ensuring that this race becomes a contest of ideas."
He also called on the people to ensure that only "transformative, productive and enduring ideas prevailed" while sounding a note of warning to those who boast that they will deploy trailer – loads of cash to subdue and further subjugate Imo people that their time was up as there was no greater force than an idea whose time had come.
Mr. Nick Opara-ndudu who hails from Ezeogba, Emekuku, is married with children.