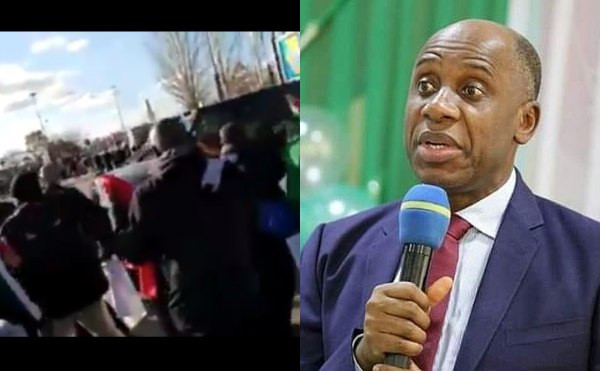 Followers of the Transportation Minister, Rotimi Amaechi on Twitter have expressed their views on the attack on the Minister in far away Spain.
The Minister was on Friday attacked by some irate Nigerians while attending an event on climate change held in Madrid, Spain.
Amaechi took to his Twitter account to break the news of the attack Friday evening.
He wrote: "Some minutes ago, I was attacked by a few misguided Nigerians while on national assignment at a climate change event in Madrid, Spain. They were quickly repelled by the Spanish police before they could do any harm. I am fine. I was not hurt. Thanks for your support & prayers."
The tweet did not state those behind the attack, however, the Indigenous People of Biafra, IPOB, have since claimed responsibility for the attack.
Spokesman for the group, Emma Powerful said the minister was attacked Friday based on standing order issued by the leader of the group, Nnamdi Kanu.
According to him, the order had been in force even before the attack on Senator Ike Ekweremadu in Germany.
"IPOB Spain precisely Madrid beat Minister of Transport, Dr. Chibuike Amaechi in Spain. The order was there before the attack on former Deputy Senate President, Dr. Ike Ekweremadu in Nuremberg, Germany."
READ ALSO: The list of ministers and their portfolios are listed below:
Reacting to the incident, some of the ministers followers condemned the attack while some said he got what he deserved.
@Ike_Chike: "You are one of those that can be trusted in this admin..Your performance so far confirms that. Stay safe "
@proiknt " Ai them for allow those people to knack am small. Yeye people"
@ BANKYBABA "What are you doing in a climate change event? Are you The Minister of Environment? Abeg pack well."
@Femiolaolu1: "They're not "misguided" sir, they're sending a message which your government should heed."
@Justsociety4all: "No body is supporting and praying for you. Since you people conspired together to ruin our democracy. It is now btw you people and Nigeria masses."
@UnekuE: "I am praying for him, the kind of prayer mountain of fire, prays for their enemies."
@DonPEKA: "They are not misguided Mr. Minister…..They are just testing the Microphone. It will come like a storm. Unu ga aguru ji unu ghowara n'oku (Sic)."