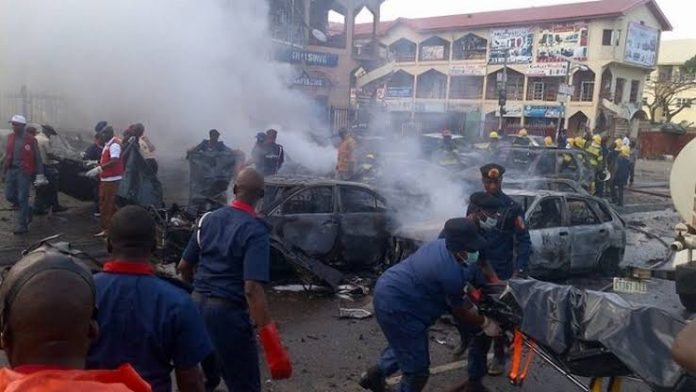 Radicalism and Extremism are words that have recently gained popularity in notoriety in the Nigerian lexicon.
Not a day goes by without acts of radicalism and extremism especially in the northern part of the country.
Oxford Advanced Learners' Dictionary, defines extremism (political and religious) as "ideas or actions that are extreme and not normal, reasonable or acceptable to most people," while radicalism is defined as "belief in radical ideas and principles."
In April 2019, the United Nations Secretary-General, Antonio Guterres, expressed concern on the rise of violent extremism and radicalisation among young people, calling for increased bureaucratic entities to combat the menace.
Unfortunately, Nigeria is not exempted from the radicalisation of the young ones. Often times, they serve as suicide bombers, as the kidnappers and violent armed robbers.
The youth seem to have embraced violence and this poses a great concern for the African Youths Initiative on Crime Prevention, AYICRIP.
Looking for ways to save the youth and prevent those yet to be indoctrinated from crossing the line, AYICRIP, recently organised a National Youth Summit on Crime Prevention.
The 10th in the series, the Summit was themed "Combating Radicalism and Violent Extremism in Local Communities: Perspectives and Practices."
Welcoming guests and participants to the event, the Executive Director/Founder, AYICRIP, Mr. Chris Ibe, noted that "most communities, business organisations and institutions across Nigeria and many other parts of Africa today are living in abject fear due to the high rate of insecurity which is traceable to the criminal activities of some citizens, mostly young people."
Positing that no country can achieve the Sustainable Development Goals or make meaningful development with high crime rate, especially radicalism and violent extremism, Ibe lamented that "the bonds that hitherto bind our community value of love, tolerance, dialogue, patience and care irrespective of our ethno-religious divides is fast falling off with high speed."
He also decried the leaders' nonchalant attitude towards addressing the nagging issues.
The Summit brought together about 500 youth leaders from across the country for the purpose of educating them on their role in the national fight against crime and also to expose them to the consequences and repercussions associated with criminal activities.
Part of the expectations of the organisers of the Summit was also to give "Youth participants the opportunity to interact and share ideas with crime prevention experts on the best ways to support in the crime fighting programmes of the nation especially radicalism and violent extremism within their communities."
Delivering the main paper on the theme of the Summit: "Combating Radical and Violent Extremism in Local Communities: Perspectives and Practices," Isaac Igwe, PhD, an Independent Researcher, Expert in Crime Prevention, Peace Studies and Youth Development, noted that indeed the world was sitting on a dangerous precipice, "owing to a growing trend that is not caused by nature or some unseen forces but by the actions of concrete human beings."
This dangerous trend, according to him, "refers to increasing upsurge in radicalisation and violent extremism all over the world, and in most instances, the youths serve as readily available tools."
Pointing out that no part of the world is exempted from acts of radicalism and extremism, Igwe posited that radicalisation and violent extremism are social phenomena and as such, "happen in human communities and are caused by man or human beings."
Speaking further, he said since it has been established that man is the problem, "man is also the solution."
Igwe, said radicalism referred to a state or quality of being radical and reflected the actions and beliefs of people who canvass or advocate total political or social reform. "In political science, the term radicalism is the belief that society needs to be changed, and that these changes are only possible through radical means," he said.
The University of Lagos, UNILAG, lecturer, also noted that radicalism, in contemporary discourse, "has become associated with social, political or religious rebellion. In other words, it now being understood "as the phenomenon of people embracing heterodox ideas and resorting to violent tactics in order to reach a specific political/ideological objective."
He went on to posit that "holding a radical position is not a problem in itself. It is only a huge problem when violent means is adopted in actualising such position."
This, he said, leads to extremism, which he said means, "unguarded/unguided radicalism."
Explaining further, he borrowed the definition of extremism as given by the UNDP, to the effect that "Extremism is a practice or an attempt to elevate one's position, belief or ideology over and above the rights of others to hold different position, belief or ideology. In other words, when the holder(s) of a position begin to lay claim to universal truth/validity outside of which there is no other, such situation becomes known as an extreme state of affairs or fanatism.
"Extremists all over the world have the same character traits. That is, they are willing and ready to defend till death, the indubitability, irrefutability and sacrosanctity of whatever it is they are convinced of."
Discussing violent extremism, the Speaker, borrowed some definition from the FBI and USAID. According to the FBI, "violent extremism is the encouraging, condoning, justifying or supporting the commission of a violent act to achieve political, ideological, religious, social or economic goals."
Thinking along the same line, USAID defines violent extreme activities as the "advocating, engaging in, preparing, or otherwise supporting ideologically motivated or justified violence to further social, economic or political objectives."
He stated that there has been an unprecedented rise in violent extremism across the world in recent time, posing a huge threat to collective global peace; hence the fight must have a global perspective.
On what drives people to violent extremism, he said they cut across socio-cultural, psychological and institutional which are grouped into 'Push Factors, Pull Factors and Contextual Factors.'
He explained: "In the case of Push factors, practices such as marginalisation, inequity and persecution, are often said to be the driving force for violent extremism. That is, when there is denial of rights and privileges to certain group of people in such a way that they begin to feel excluded from the rest, the oppressed, in turn, may use violent extreme means to express their frustration and anger.
"The Pull factor has to do with some services and tempting offers often put on the table which attract membership into extremist groups and the third factor which is Contextual has to do with environment or psychological givens which ignite the urge to foment violence."
He however, added a forth factor which he called the "intolerant factor." This, according to Igwe, "refers to the thinking that one's own position, ideology or faith is the best and all contraries must file in or be destroyed."
Picking holes with the intolerant factor, Igwe noted that it was a "half-truth for one to think that outside what one believes, can see, can feel or understand, is absolute nonsense."
He said no system; religion, metaphysical or even scientific should conceive the other as counterfeit. According to him, there were several angles to looking at reality and as such, "no one way to truth."
Igwe spoke further; "Reality is radical; it can manifest itself to different civilization at different time in different forms. No opinion, no solution is untouchable. A celebrated solution to a problem today is liable to constitute another problem somehow in the near future, to the extent that applying the same method of approach to its solution becomes anachronistic. That is why it is rather an aberration for one to speak in such 'a know it all manner.'
Proffering solutions therefore, the lecturer noted that radicalism and violent extremism can be tackled on two fronts, namely; through government and community partnership and through a sustained culture of participation and inclusion.
On how government and community partnership can be used to deal with the menace, he said: "while violent extremism requires increased vigilance and interventions in order to secure peoples' lives and properties, its prevention requires much more fundamental approach such as finding political and leadership solutions to the various factors that drive their activities as enumerated above.
"This will be done in partnership with community efforts in form of neighbour to neighbour watch. From the perspectives of leadership, promoting rule of law by ensuring that all irons pass through the blacksmith is very vital for tackling the push factors to violent extremism.
"In addition to the question of rule of law is the enforcement of human right. In other words, human lives must be accorded full dignity which they truly deserve."
Igwe called for massive orientation programme on the dangers of radicalism and the consequences of using violence as a method of addressing grievances.
"Such orientation must take effect using the bottom-top approach, that is, from the primary school level to tertiary. Parents must be uncompromising in inculcating the right attitude into the children. More importantly, there should be increased reward for responsible citizenship and high incentive for the different agencies of government saddled with the responsibility of combating violent extremism and banditry. These will curb the pull factors to radicalism," he posited.
He also stressed that "the government must not be seen through their actions and utterances to be endorsing or supporting extremism."
Acknowledging that government alone cannot win the battle, Igwe, stressed for increased community involvement. "The reason is that every violent action takes place in the community and in the community, everybody knows everybody. A criminal is a member of community and a community is made up of families, neighbours, friends, brothers and sisters. In other words, people must be made to take ownership of securing their environment by always being willing to identify a morally reprehensible actor and collectively condemn the action," he noted.
According to him, one the greatest setbacks in fighting banditry and violent extremism is that the actors shielded and protected by communities.
On how to fight radicalism and extremism through sustained cultural participation and inclusion, Dr. Igwe recommended what he termed "participatory decision making rather than policy of exclusion or winner takes it all," which he said is often pursued by political leaders.
He posited that increased levels of inclusion and participation in communities can lead to both better governance of diversity and to "societies better inoculated against violent extremism."
According to him, this can be achieved if and when the government deliberately pursues the policy of inclusion or what he termed "inclusivist approach to diversity."
He said; "The argument is that diversity in itself is not a problem per se. The problem arises when it is understood in exclisivist term. When understood in exclusivist terms, diversity becomes a problem because vital aspects of reality are decreed out of recognition, support and attention, only because they fail the test of familiarity. On the contrary, the inclusivist understanding of diversity brings everybody on board and creates room for participation and for disclosure of what people think and feel."
He argued that giving recognition and respect to people or entities with different degrees of differences reduces friction and the tendency for violent behaviour in the society.
Concluding, Igwe said: "In combating radicalisation and violent attitudes, multi stakeholder approach which includes the government, security agents, community involvement and mass reorientation are required to counter the push, pull and contextual factors that drive their existence. The mass reorientation entails reaffirming our commitment to diversity and practice of inclusion, be it political religious, ideological or cultural.
"It is important to add that violent extreme activities can as well be combated by effectively engaging the youths with the aim of sharpening their critical mindset not to accept every piece of information thrown at them from everywhere without subjecting them to logical crucibles. This will enable them to develop resistance to violent tendencies and be able to sift truth from falsehood."
As a last word to the youths, he said; "be tolerant."
The National Information Officer at the United Nations Information Centre, UNIC, Lagos, Mr. Oluseyi Soremekun, in his remarks noted that to achieve peace in any society, everyone must contribute including youths.
He said: "Peace is very important to development, hence Goal 16 of the SDGs which addresses the of importance peace. There can be no development without peace and if there is no development, peace is compromised.
"Youths have a lot to contribute to peace and development. The UN believes that youths can't be pushed aside in the process of finding lasting peace. They must be involved in peace building, prevention of breakdown of law and order."
Soremekun noted that radicalism sometimes builds up gradually without people realising it. "When you begin to have reservations about the next person because of his or tribe or religion, you are building radicalism. The colour of the blood running in every human is the same," he said, adding, "to combat radicalism, there must be mutual respect for everyone. Do not take another's religion, race or creed as inferior. Say no to hatred and anti Semitism, embrace yourselves as one."
Mr. Waheed Ishola, Director, National Orientation Agency, NOA, Lagos State Directorate, in his comments, lamented the alarming increase in the rate of radical and violent activities in the country which he blamed on social injustice, religious intolerance, lack of discipline and integrity among others.
According to him, "injustice within the society brings about violent extremism and that is why we say we should allow the minority to have a say on issues concerning them. But when you decide you always want the majority to have their way, there is bound to be radicalism. In an environment where there is social justice, there would not be violent extremism."
On how to combat the twin evils of radicalisation and violent extremism, the NOA Director, stressed the need for religious tolerance. According to him, religious leaders must promote tolerance from the pulpit while the culture of hostility among communities must be rested.
He spoke further; "There has to be dignity of labour. Every worker must be respected. We must promote patriotism. We need to believe in Nigeria, we must begin to believe that we are first Nigerians before being any tribe. We must see ourselves as one indivisible entity, fused together as one."
Ishola also called on the media to live up to expectation as agents of cohesion and not division.
Mr. Femi Taiwo of LEAP Africa, a non-governmental organisation, had this to say to the youth: "Leadership is not about titles and positions. It is about values. Youths can solve problems and add values. If everyone imbibes the value of promoting peace in our local spaces, the country and the world will be at peace.
"In your journey to become leaders, mind what you listen to, what you read, what you say and what you share on social media. Hold yourselves to higher standards."
Over 10 secondary schools in Lagos participated at the Summit, which held at the Afe Babalola Hall, University of Lagos.