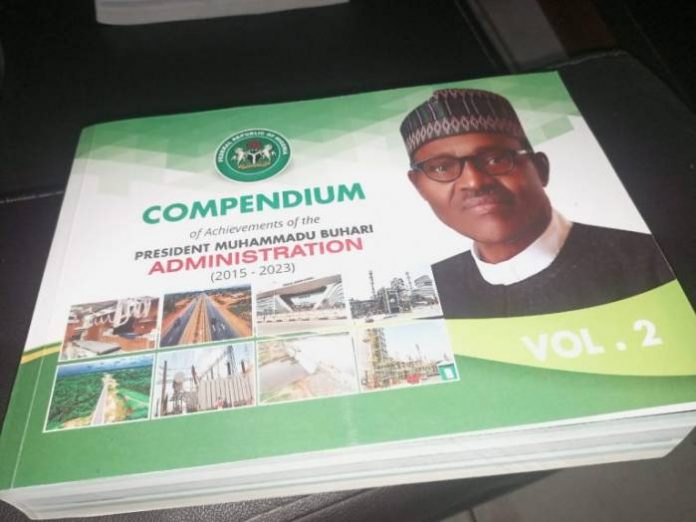 The Federal Government has released a 1,564-page compendium detailing the numerous achievements of the Administration of President Muhammadu Buhari from 2015 to 2023
The compendium which came in two volumes and documented by the Ministry of Information and Culture was made available to newsmen on Wednesday in Abuja.
In the preface, signed by the Minister of Information and Culture, Alhaji Lai Mohammed, he said the compendium was one of the outcomes of the multi-dimensional programmes designed by the Ministry to showcase the administration's achievements.
According to the minister, "the compendium contained the aggregation of the scorecards of the various ministries.
"Making it the most authentic and detailed collection – in a written form – that anyone can have on the achievements of the Buhari Administration from its assumption of
office in 2015 to the end of its two-term tenure in 2023.
Mohammed said the collection came under the Administration's Scorecard Series
(2015-2023)', launched by his ministry in October last year to consolidate the propagation of the government's achievements.
The scorecard series, according to him, provided the platform for ministers to tell Nigerians how they had fared in executing the policies and programmes of the Administration from their various sectors.
READ ALSO: UNICAL To Reward Cleaners, Guards, Others At 35th Convocation
Mohammed said other components of the multi-layer programmes included a Documentary showcasing in vivid terms the giant strides of the Administration in all spheres of life.
He said a Testimony Series was also organised, which gave ordinary Nigerians the opportunity to express how they had benefitted from the Administration's policies.
The minister said the ministry equally launched a Legacy Portal that would preserve for posterity all the achievements of the administration.
"I can boldly say that we have achieved our objective of launching the entire Scorecard Series, which is to tell Nigerians what the Buhari Administration has done in all the sectors to positively impact on
their lives.
"Prior to the launch of this Scorecard Series, the refrain from the opposition was that the APC and the Buhari Administration have nothing to campaign with in the run-up to the 2023 general elections.
"But we have proven them wrong. Not only do we have achievements to campaign with, we are spoilt for choice," he said.
The minister appreciated all the ministers for their support and cooperation in making the compendium and all the other components of the scorecard series a reality.
He also expressed gratitude to the members of staff of his ministry, heads of the agencies under the ministry as well as the media, which
consistently reported the presentations.
On behalf of other Ministers, Mohammed gave gratitude to President Buhari for his unflinching support for them to deliver on their mandates (NAN)