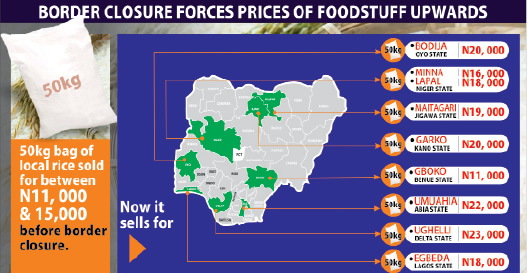 Residents of Makurdi, the Benue state capital are visiting markets and shops to stock up for the Christmas and New year celebrations even as prices of food commodities increased in many markets across the state.
A survey by our correspondent around markets in Makurdi showed that the markets are witnessing large influx of customers even on sundays.
At the High Level, Wurukum and Wadata markets, Next Edition discovered that the prices of rice, beans, tomatoes, onion, pepper and vegetable oil have soared relatively above what it was in the last few weeks.
Remnant of foreign rice in shops sell for between N22,000 to N25,000 for a 50kg bag and N12,000 for 25kg bag slightly higher than N20,000 and N10,000 which it was sold few weeks ago.
It was also discovered that local rice from the local rice mill sells at N6000 to N6500 for a tin which equals 25kg bag of rice as 50kg and 25kg bags of locally refined ones sell for N17,000 and N8,600 as against N16,500 and N7,800 respectively.
Mallam Ali Musa told our correspondent at the High Level market that they are also expecting the prices to go higher in this last week to Christmas.
He said a large percentage of beans sold in Makurdi markets come from the North East of Nigeria.
According to him, paint bucket costs between N1200 to N1300 for honey, Iron and Adamawa beans.
READ ALSO: Prices of selected food stuff increased in October – NBS
Potatoes brought in from Jos, Plateau state, is 2500 for paint bucket, while garri produced in Benue state still remains at 400 for paint bucket which is the standard measuring container in the state. White garri is cheaper than red garri by N50 in most markets. Added advantage to the Benue garri is its vitamins A fortification making it ideal for all to consume.
Christmas time also witnesses high purchase of flour, margarine, sugar, eggs and oil as house holds fry chinchin and other pasteries to entertain their visitors.
This, marketers also confim has pushed the price of flour up from N1100 to N1500 depending on the measure.
Also, 20 liters of vegetable oil goes for N13000 and four litres for N2700 to N3000 depending on the brand. Crates of eggs sells for 1200 up by N1000. Margarine is sold depending on size and brand which could be 250 for a small pack or 6000 to 15000 for the large bucket.
Other ingredients in high demand at the yulitide season are tomatoes, pepper and onions which vary in cost and from where it is brought. While tomatoes grown in Benue are cheaper, those brought in from Jos are slightly expensive.
Chickens are witnessing an increase in price as the Christmas draw near as broiler chickens are sold for N2500 to N3500, and as high as 4000 while Turkey is N18,000, a goat sells from N10,000 to N16,000, while a cow is sold based on age, size and gender ranging from N80,000 and above.
In Benue state festivities are incomplete without pork. Depending on the age of the pig, one goes for N50,000, N70,00 and a N100,000 to get a priced pig for a joyful occasion.
Our correspondent also observed that most shops and supermarkets have stocked their shops with the choicest alcoholic and soft drinks, wines, spirits and vodka. Shop owners say they also fear that the prices of some may rise as the festivities approach.