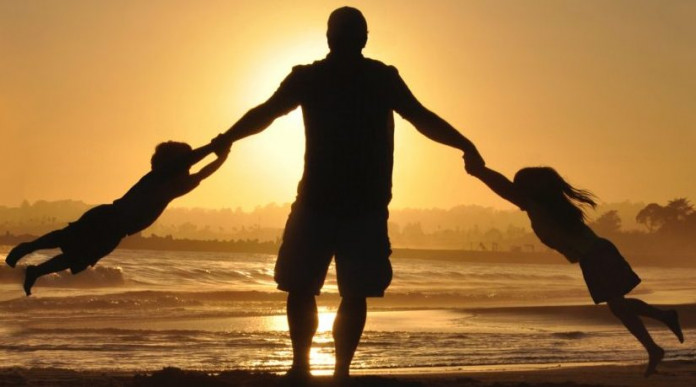 Happy Father's Day!  It's that time of the year again when we have to pay respect to whom respect is due. 
And how do we do it? No special way, to say thank you to someone you love and cherish. Take him out, buy him a gift, cook him some delicious meal or share a joke with him over some bottles of wines or put a call through to him if he is still around or sit back and recall the good old days!!!
And guess what? It's after some Mother's Days that we finally get to celebrate our fathers; a daughter's first love and hero, a son's friend.
To mark this bond between fathers and children, the Father's Day is  celebrated every year in the third week of June, and so, today, June 16, 2019, is Father's Day. What a coincidence! It's also the International Day of the African Child.
 Most Fathers play a crucial role in a child's life, they stand by the family through thick and thin and help their children achieve the best in life. With their heroic activities, they are the ones who solve most of the family's problems. 
Several people have taken to social media to post pictures of their fathers, husbands and even boyfriends in celebration of Fathers. Here is a collection of some past memories of fathers shared on social media.
A Nigerian Twitter user, @M0re_nike asked a question on Twitter regarding Father's Day, and the responses from Nigerians have been quite emotional. 
The question: "I've probably asked this before, but what fond memories do you have of your dad? One not related to him spending money?"
Below are some responses:
"My best memory is how my father arrived in UNIBEN few hours after I was raped, marched to S&T barracks to mobilise soldiers to arrest the nigga. No questions asked, just 'point and kill.'
He spent almost a month in Benin because of this matter, between navigating police station, barracks, UNIBEN and hospitals. He never for once blamed me for anything, never made me feel guilty. It was the best landing I could have ever asked after something wicked had been done." – @The_Musgravite
"One time, I cooked bitterleaf soup, so bitter that no one at home could eat it, including me the chef, well, except my dad. He said, "Keep the soup for me, it's my daughter that cooked it." Man literally ate the whole soup until it finished. Can never forget that day." – @phayvour__0
"My dad taught me to cook, to use a pad when I first got my period, never missed a PTA meeting in school.
Didn't marry until about 12 years after my mum died because he wanted us to grow up without trouble.?
Still followed me again for my first job interview " – @TaireTamarah
"He made me read a lot and fall in love with reading, almost all the gifts I've got from him were books. My dad was bad in Math so he wanted us to be way better. I remember him having to spend so much time figuring out my primary school Math homework so he could teach me." – @Jesuis_ST
"Went swimming one day when I was 6/7 and decided to enter the deep end. I couldn't swim ??‍♀️
Seconds later, I started drowning. ??❤
My dad jumped straight in with his full trad, phone & wallet in pocket. My father had a terrible fear of water and he also couldn't swim ️" – @Princess_Okoh
"He realized I love reading when I was like 3 years old so he made it his point of duty to bring back different newspapers and magazines for me when coming back from work.???
He bought me my first novel which was Harlequin when I was 6 years old (he had no idea)" – @_eiife
"My pops is not an emotional guy but when I got admitted to Uni, he drove me from Warri to Nsukka & we lodged in a hotel for about 3 days, he queued with me to pay my fees and followed me to my hostel & made sure I was settled in before he went back to Warri." – @Don_Kane
"Few months after we lost my mum and my siblings and I felt the world was going to end, my dad took us to the living room, held our hands, started praying for us one after the other and began weeping in the process. I felt it!" – @Kezzygrace
"Popsi drove me to school on my first day. Was there on the second day and came to Ago Ìwòye every day till he was sure I was fine. During the June 16 massacre at OOU, he drove through the chaos of burning tyres and rioting students to get me out." – @Crosseyednerd
"When I was little my dad made a watery soup for me and my siblings as little as I was I could tell it was tasteless but till today he still feels he is the best cook in the family." – @bella_uche8
"I used to be very sick growing up, like I was always making trips to the hospital, one day on our way to the hospital, I wanted wafers biscuit, my dad didn't have cash to buy me that so he had to carry a random person in the car like a cab guy just to buy me biscuit." – @Cohannnnn
Cheers to all the fathers out there who play important roles and stick out their necks for the children. You are our heroes!
If you are reading this, please share those unforgettable moments you had with your Dad.