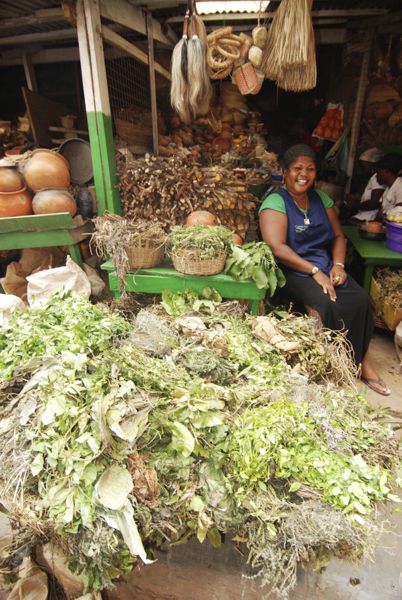 Agbo, an old traditional medicine patronised across Nigeria, has risen in acceptance far beyond the slums from where it all began.
From the downtown streets and roads where hawkers started serving willing clientele, the traditional brew has soared in popularity beyond its humble pedigree.
Initially, only the poor drank the concoction extracted from assortments of herbs, which the sellers claim have the power to heal all sorts of ailments.
But today, "Okpenyi", "Jedi-Jedi" and other herbal combinations have become popular so much so they are patronised even by those who hitherto were thought to be too sophisticated and "civilised" to stoop to grab a gulp from the roadside "pharmacists."
It may seem improbable but it is to the credit of the concoction that many folks don't visit hospitals or consult pharmacists for conventional drugs when they fall ill. They prefer to visit the agbo sellers for their hazy concoctions. That's how agbo has become the king among some of the most popular traditional medicines in Nigeria.
In the bustling mega city of Lagos, for example, it is available everywhere. You can find it in highbrow areas like Ikoyi, Victoria Island, Ikeja etc., as well as in places like Ajegunle, Sango Ota and downtown Ikorodu. It is by far, the most popular traditional medicine on the streets.
Agbo spots dot Nigeria's major commercial city and residents troop there in their numbers to savour it for every known infirmity.
It is a common sight to see hawkers with basin-loads of agbo bottles delicately-balanced on their heads, roaming on Lagos highways, roads and streets. The itinerant traders, mostly females adorn themselves with beautiful clothes and some even spot jewellery. You find them in the morning, in the afternoon, in the evening and even late in at night.
Agbo comes in different flavours and colours, depending on the mixture of preference. And the assorted bottles stuffed with either roots or herbs are specified for different purposes. There are mixtures for waist pain, malaria, typhoid and those for sexually transmitted diseases, and even aphrodisiac popularly referred to as "manpower," among others.
One of the agbo dealers, Aishat Lawal, who plies her trade along Allen Avenue in Ikeja, Lagos, invited The Next Edition into her peculiar world where she opened up on the kind of patrons who keep her shuttling from one neighbourhood to another.
According to her, the boom time for business is usually when people are going to work in the morning. She said most of her customers prefer to start the day with a luxurious sip of the famous drink.
Speaking with The Next Edition in-between serving customers, Mrs. Lawal said: "Agbo is good for general well-being. If you take it every day, you will not be sick. 'You go strong kampe.'
"There is a mixture for body pains, waist pain, back pain, general body pain, fever, malaria or sickness in general. If you want to reduce sugar in your body, you should take 'Agbo Jedi.' Each cup or nylon is sold for N100," she explained.
Selling Agbo is a lucrative business. On the spot, The Next Edition observed that the hawker sold about N500 worth of the concoction before moving further down the road. According to her, every day, she walks from Opebi to Allen Junction and back to Opebi before retiring for the day.
The Next Edition also learnt that the assorted mixture of herbal drinks could be blended with alcohol, depending on the customer's choice. The sellers either soak herbs and roots in clean water, water mixed with lime or with gin.
While interviewing Aishat, a middle-aged man bought Agbo, which was mixed with alcohol. When asked the difference between the one mixed with water and that of alcohol, she said, "It is the same thing but most of my customers prefer the alcoholic blend, perhaps so that they can get a bit tipsy."
Mr. Rasheed Olawole, who is a mechanic at Acme Road, Ikeja, told The Next Edition that he cannot simply do without taking Agbo "at least once in two days."  
Continuing, he said, "It is part of my life. I have been taking it almost every day for the past 10 years."
When asked if he has experienced any side effects, he said "Not at all. I have never experienced any side effect since I have been taking it. Those who have problems are those who take the alcoholic blend regularly because we all know that too much of alcohol is bad for the liver. I take the alcoholic one sometimes but not in the morning. I take it when I'm almost through with work in the evenings, especially on Fridays."
Another Agbo enthusiast, Andy Ochai, from Benue State, said the concoction works like magic."
"This drink is magical. I was having a waist and hip pains for several months. I took many pain killers all to no avail. One day, I was introduced to Agbo by a friend and I took it. Prior to that, I used to look down on it as a drink for low-lives. But not anymore. Its efficacy is indescribable," he boasted.

"My pain forced me to give it a try and just like magic, the pain went the next day. The seller told me I would visit the toilet, which I did. After a day or two, the pain in my waist and hips were gone. Since then, I have also been introducing people to it. I am of the view that government should pay more attention to traditional medicine," he said.
It was gathered that while roadside mechanics, bus conductors, and drivers are commonly associated with this drink, those who are perceived to be well-exposed in the society are also regulars at traditional medicine joints.
Another Agbo hawker, who simply gave her name as Aminat, said while a majority of her customers are roadside traders, people from the corporate world also patronise her.
"Some bankers see me on the road and stop their cars to buy agbo from me. One customer was with his girlfriend in the car and stopped to buy "Age" (aphrodisiac blend) from me. If a man takes "Age," he will be strong enough for his wife. We also have a powder we mix with "Age" which costs extra N50. Adding that one will give the man extra strength on the bed," she said.
There have been reports in the past of people dying after drinking agbo. When asked if any of her customers came back with complaints, she angrily retorted: "No one has complained. If anyone has died from drinking agbo, that person might have taken something else. Agbo is natural. It is those pharmacy people that are trying to spoil our business. Have you ever heard of a wrong diagnosis with agbo? People still die in hospitals in the hands of doctors," she insisted.
Aminat went on to say that elites, including medical doctors, have realised the importance of agbo and that some of them patronise her products.
"Apart from bankers, I have medical doctors as customers. They buy concoctions for waist pain and other ailments from me," she said with a pride.
But a medical doctor from Kogi State, Aliyu Yakubu, said in a telephone interview that Agbo shouldn't be a substitute for conventional medicine because the former is not regulated.
"Agbo is complicated," he said. "It is highly risky in my opinion because they don't give the patient the dosage to take. Unfortunately, some people even take it every day, regardless of the consequences. The agbo in Lagos may be different from that in another state. You are not sure of the mixture and how was it made?"

"Some of the ailments they claim agbo cures are sicknesses that can go on their own. Sometimes, all you need is a rest. Coincidentally, when they take agbo and feel relieved, they credit the recovery to the concoction, not knowing the inconvenience required time to go."
Continuing, he said, "When one feels sick, the best thing is to visit a hospital for a proper test to know what is really wrong so that the right drugs would be administered."