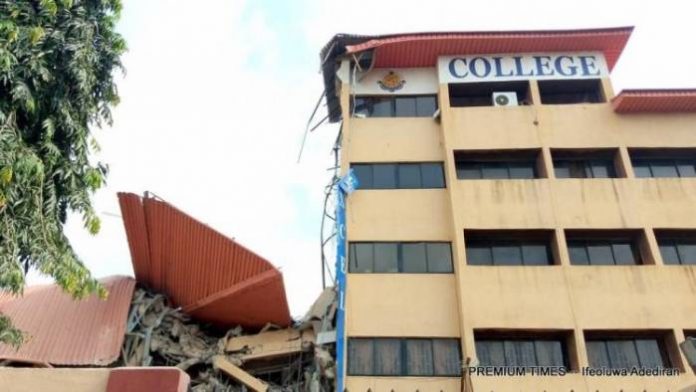 As schools reopen across the country, the management of Excel College, Ejigbo, has adopted a multi-campus system in order to be able to accommodate all returning and new students.
The school adopted the system following the recent collapse of one of its classroom buildings.
The management explained that the multi-campus system would ensure better adherence to the medical guidelines as well as ensure a hitch-free resumption of academic classes after the collapse of the school building.
One of the wings of the college edifice collapsed a few days to the resumption of school after a long break due to the COVID-19 pandemic, resulting in the demolition of the entire building.
Addressing the parents of students at the weekend, the Principal of the school, Lady Kehinde Oke said that in keeping with management pledge to ensure that the students' education is not jeopardized by the unfortunate incident, the college will function temporarily in three sites, including the annex building, the sports centre and another building – all within the same environment.
She said the new classrooms are comfortably designed and equipped with laboratories and other necessary learning aides.
Oke further said although the collapsed building was a huge loss to the school, having the full complement of the quality staff for continuity is enough assurance that ours standards is not affected by the sad incident.
"The challenges are obvious but we are giving it all we have to ensure that the Excel legacy is not lost. We have all our staff, both academic and non academic staff intact. And all hands are on deck to keep the flag flying," she said.
The principal, who expressed her gratitude to parents for their profound support and prayer, disclosed that the JS 3 and outgoing SS 3 students shall resume on Tuesday, Sept. 29, 2020, and that adequate revision will be given to the students to guarantee outstanding results in the forthcoming examinations.
READ ALSO: Schools Resumption: FG Warns Against Surge in COVID-19 Infections
According to her, October 19, 2020, is the​ resumption date for other classes – JS2, JS3, SS1, SS2 and SS3.
Also, she said accommodation for all boarders and transportation for day students will be available on physical resumption.
Also speaking at the event, the PTA Chairman, Ndubuisi Udeagu commended the Lagos State government for its diligence and quick responses to the emergency and support to the school in its efforts at providing alternative facilities for the students to continue their education.
"Honestly, we are pleased with all the actions of the state government. The steps taken by the government give us the confidence that our children's education is not in jeopardy.
"We empathize with the management on the loss of the building. Again, we remain grateful that we didn't lose any life. The parents have pledged their full support to the management in its efforts to rebuild the school. And we are convinced Excel College will emerge stronger from the rubbles," he said.