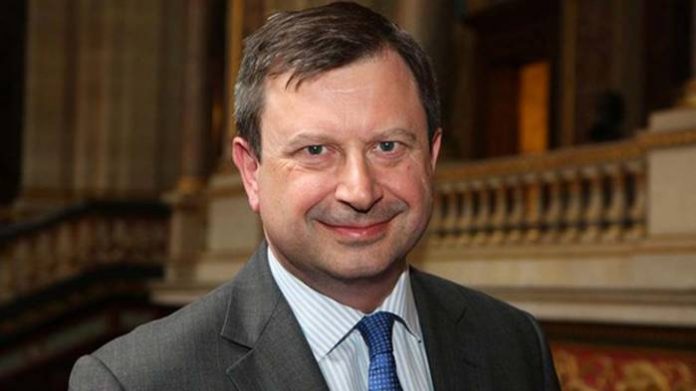 Former British Ambassador to Nigeria, Paul Arkwright, on Saturday canvassed proper presentation of young people and women in politics in Nigeria, especially in elective positions.
Arkwright made the call at a webinar on Democracy Day facilitated by Nigeria-American Public Affairs Committee (NAPAC) and Nigerian Think-Thank Group in conjunction with Nigerians in the Diaspora Commission (NIDCOM).
The former envoy said that there was need for proper representation of under-represented groups in Nigeria, for women and young people.
"It is still to my mind, quite shocking that they are few women in decision making- National Assembly and no woman has even being a governor of Nigerian state since independence.
"Nigeria needs to involve women in the democratic process and same goes for youths,'' he said.
He said that he used to be supporter of "Not too Young to run campaign'' when he was in Nigeria, noting that 60 per cent of Nigeria population is under 25.
Arkwright, a panellist at the webinar canvassed for more inclusion and participation of Nigerians in the Diaspora in the democratic process in Nigeria.
"The diaspora has a great role to play and has been contributing greatly but when it comes to democracy, they have been left out.
"They are not allowed to vote; they should be included so that they can have a voice in the 2023 elections,'' he said.
In addition, he noted adequate representation of all ethnic groups and geographic zones, especially the minority groups in the electoral and democratic process.
Also speaking, Hon. Abike Dabiri-Erewa, the Chairman/CEO of Nigerians in the Diaspora Commission (NIDCOM), said that the commission would continue to engage the diaspora.
READ ALSO: Speech by President Buhari on 2021 Democracy Day
Dabiri-Erewa said that NIDCOM would continue to engage the diaspora, particularly women and youth, stressing that the recently approved diaspora policy provides a holistic map for constructive diaspora engagement.
She spoke on the need for diaspora voting, adding that the issue was exhaustively tabled at the recent Public hearing on Constitutional amendment.
The NIDCOM boss also advised Nigerians living abroad to speak well about the country, and joined hands with the government to contribute their quota to national development.
Similarly, Audu Maikori, a panellist at the webinar canvassed for inclusion of women in politics, noting that there is  huge gap as no woman has ever being a governor in Nigeria.
Maikori, a lawyer and entrepreneur based in the USA said there was a generation gap in inclusion of youths in politics, adding that the country should change the narrative be allowing free participation in politics.
"Nigerians should also be allowed to contest for elective post in any part of the country.
"For instance, Nigerians are winning elections in the USA but can that the possible in Nigeria where somebody from Kaduna will win election in Lagos,'' he said.
Another Panelist from Nigeria, Mr. Tony Isama, commended President Muhammadu Buhari's massive strides in infrastructural development while calling for collaboration among the numerous diaspora groups.(NAN)