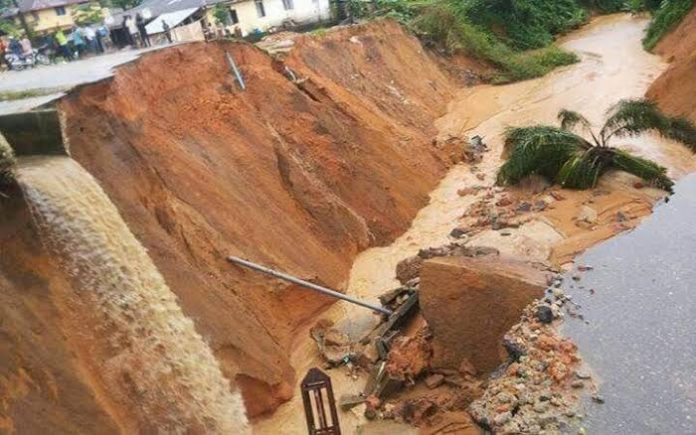 Hydroelectric Power Producing Areas Development Commission (HYPPADEC), has concluded plans to intervene in seven local government areas in Benue state that was ravaged by flood and gully erosion.
The Managing Director, HYPPADEC, Abubakar Sadiq, disclosed this in a report presented to the Benue State government at a one-day stakeholders meeting which held in Government House, in Makurdi on Monday.
Sadiq said after a Need Assessment Exercise conducted in Benue by the commission in collaboration with her development partners, it was discovered that most communities incured losses in both lives and property.
He said the Need Assessment Exercise looked at the mid and long term interventions in various communities in the state.
"We directly went to the communities to gather issues affecting them, identified specific issues of what affects each household, determined responses and generate quality data in terms of figures.
"We discovered a high devastating effect of flooding and erosion. There is no local government area that is not affected by high flooding and erosion. In fact, Benue has the highest erosion in terms of the depth in the country with gully erosion which stands at 34 percent. This is as a result of the River Benue connection to Cameron river.
"Majority of communities lost lives, farmlands and many household are affected by diseases like Cholera, malaria, typhoid and hepatitis saying the commission will do its best to cushion the effect of the erosion on the community.
The Commission's Managing Director, promised to train over 400 youths as well as provide other social amenities for communities in Benue State.
READ ALSO: Sen. Olujimi Wants Enforcement Of 30 Per Cent Women Representation In ECOWAS Parliament
According to him, 10 youths will be selected from each ward in the seven LGAs to be trained within three to six months and would be paid stipends.
He also said they will provide 37 motorcycles for each ward before the end of the year including two boreholes each for seven local government areas and solar streetlights in the communities.
Earlier, the Director of Programme, HYPPADEC, Muhammed Alkali decried the level of insecurity in the state particularly in Guma and Katsina Ala noting in their report that only 16 percent of schools in the State are currently functional with good structures.
Responding, Benue State Deputy Governor, Mr. Benson Abounu lauded the establishment of the Commission and urged that it should live up to its responsibilities in providing amenities for communities in the country and Benue especially.
"The federal government has always had faultless and excellent plans and policies but when it comes to implementation, it is almost zero.
"All the Government and people og the state require to see is results. Put your plans together and let us begin to see HYPPADEC presence here in Benue," he said.