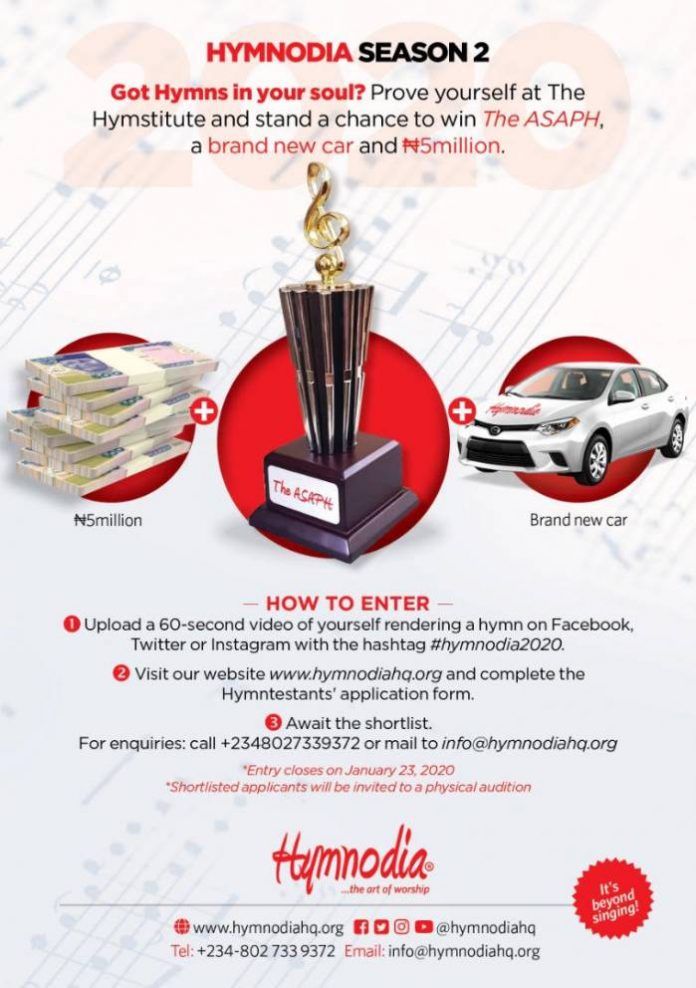 The organisers of Hymnodia has announced the commencement of entries for the second season of the award-winning programme, which is the first-ever reality TV show created around hymns and worship.
According to Kufre Ekanem, Managing Director of Philosoville the initiators of Hymnodia, "entries opened at midday on January 1, 2020 to close by midnight on January 23."
In a press statement to announce the commencement of the 2020 programme, Ekanem asserted that "we have simplified the entry protocol for Hymnodia 2020 into two easy steps but the process remains essentially the same.
"Applicants are required to post a 60-second video rendering a hymn on their social media platform (specifically Instagram, Facebook and Twitter) with the hashtag #hymnodia2020. Thereafter the applicants should visit our website www.hymnodiahq.org to complete the short online application form. The shortlisted applicants will be invited to a physical audition in Lagos. The 14 successful hymntestants will enter the Hymnstitute for Hymnodia Season 2 where they stand a chance to win the ASAPH, a brand-new car and N5 million."
READ ALSO: Nigerian Breweries rewards Nigerian journalists
Hymnodia is an innovative triple-E (entertainment, education and edification) programme, which has a selection of hymntestants (contestants) competing to showcase their talents in diverse dimensions of hymn-related skills including hymn writing, hymn rendition or hymn making.
Season 1 of Hymnodia held in 2019 and culminated at the grand finale, the Hymncert, which held at the Shell Hall of MUSON Centre, Lagos in April. Hymnodia was broadcast on 10 television channels across the country with a dedicated YouTube channel (www.youtube.com/hymnodiahq).
Hymnodia season 1 was won by Kenneth Ekhuemelo, a 25-year old bassofundo and organist.
"Coming on the back of our successful Hymnladen December programme, we are pleased that the hymn rebirth journey still continues with Hymnodia season 2. All of us at the Hymnstitute are looking forward to sharing the world class talents and heartfelt worshippers who will emerge from the process on national television from February 2020. We are most grateful for all who have supported the dream in several ways thus far and we promise an even better dimension with the art of worship in Hymnodia season 2 and thereafter.", Ekanem concluded.