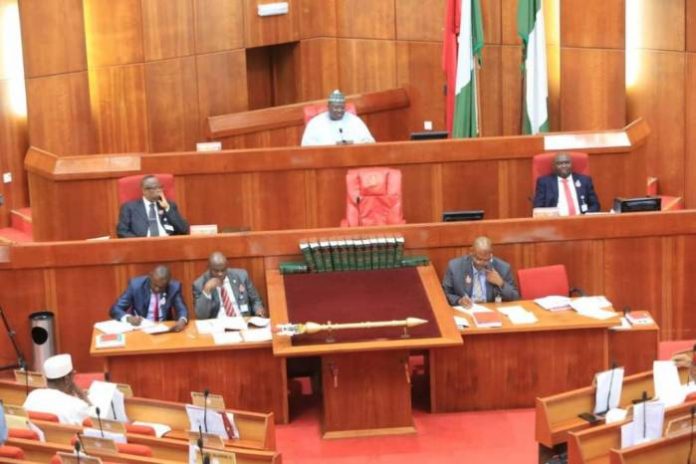 The Senate has asked President Muhammadu Buhari to address the nation immediately on the ongoing nationwide protests by youths demanding an end to police brutality.
The Senate made the call on Tuesday.
It also directed the police to offer protection to the #EndSARS protesters to prevent hoodlums from hijacking their genuine action.
The Senate's decision followed a point of order by Senator Biodun Olujimi, titled, "#EndSARS: The need for a comprehensive reform"
She expressed dismay that despite the dissolution of the special anti-robbery squad (SARS) by the Inspector-General of Police, Mohammed Adamu, police officers have continued assaulting citizens.
"They have increased with intensity and violence with compatriots losing their lives. The protest has grown to include the demands for good governance.
READ ALSO: #EndSARS: CAN Warns Against Attacks On Protester
"In June 2020, Amnesty International, in a report documented that between January 2017 and May 2020, there were 82 cases of torture, ill-treatment and extra-judicial killings by SARS.
"That latest #EndSARS protests which have assumed a global dimension began on the 3rd of October 2020 from the video of the SARS officer who shot a young man in Delta state," she said.
The senator called for an improved welfare for police officers.
"The barracks are in very bad shape, they must be up to living standards. Training and medical insurance to all members of the Nigeria Police Force," Olujimi said.
The motion was adopted after it was put to a voice vote by Senate President Ahmad Lawan.
The lawmakers also pleaded with the protesters to leave the streets while the Federal Government addresses their demands.
They also urged Buhari to immediately set up a judicial panel of enquiry made up of eminent Nigerians that would be respected by the youths to identify the notorious SARS operatives and ensure their arrest and prosecution.