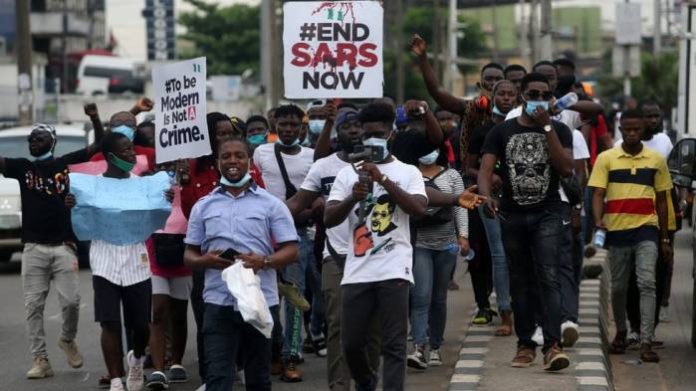 Youths of Igbogbo-Baiyeku in Ikorodu area of Lagos State, on Sunday, filed out in protest against brutality by the disbanded Special Anti-Robbery Squad (SARS) of the Nigeria Police Force.
The protesters initially converged at the secretariat of Igbogbo-Baiyeku Local Council Developmental Area (LCDA) before moving, in a procession, along major roads in the area.
The demonstration caused gridlocks in the area for hours as some of the roads were blocked by protesters.
NAN reports that some hoodlums attempted to hijack the protest to extort money from commuters and undermine the peaceful protest.
Addressing the protesters, Mr. Sesan Daini, the Chairman of the Igbogbo-Baiyeku LCDA urged the youths not to engage in any act of violence or vandalism.
Daini said that the Lagos State Government had not done anything to interrupt the protest or support anything that could stop protesters from expressing their concerns.
He, however, appealed to them to show understanding as all their concerns were being looked into by the government.
The council boss added that state governors and other stakeholders had condemned police brutality in all forms and that SARS had been disbanded in response to their concerns.
READ ALSO: JUST IN: Buhari, Lawan, Gbajabiamila In Closed-Door Meeting Over #EndSARS Protests
"Greatest Nigerian youths, it is a privilege to stand before you and I am here to associate myself with my generation.
"I want to appreciate you for going out peacefully to express your grievances and your concerns with the government of the day.
"Fortunately, the government of the day is a listening government that has demonstrated democratic values to the highest standard.
"It is a government that has shown the people that they have the right to express themselves in a peaceful manner.
"Now, the government has decided not to interrupt or support any activities to stop the protesters of this peaceful demonstration.
"Do not allow hoodlums to hijack your protest as all your concerns are being considered,'' Daini said.
According to him, the state government has set up a seven-man judicial panel to investigate cases of brutality by the disbanded SARS operatives.
He said that state government had also set aside some money as compensation for victims of SARS brutality.