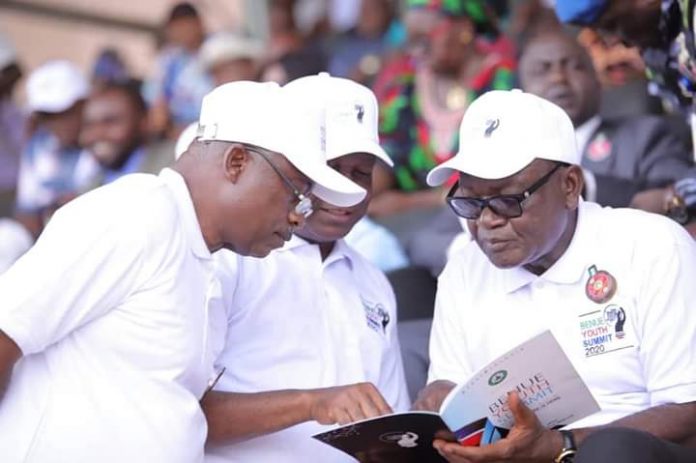 Benue State government has convened a Youth Summit for the young people of the state with the aim to address all the agitations brought during the EndSARS protests.
Addressing over 150 youths at the Aper Aku Stadium in Makurdi, Governor Samuel Ortom said his policy goal and commitment are to ensure that every young man and young woman in Benue State is empowered to actualize their potential sooner rather than later.
The Governor expressed the determination to ensure that every young person in Benue State has the preparation and the perspective to face life with confidence, and the assurance that he or she will have the opportunity to succeed.
"While the government cannot force everyone to be successful, it is duty bound to ensure that everyone has the chance to succeed and that no-one fails for lack of opportunity.
Ortom who acknowledged that things have become much tougher for many young people today, named high rates of unemployment and poverty, insecurity, economic decline, the impact of a disruptive pandemic and the total breakdown in citizens' trust of government as issues highlighted in the recent EndSARS protests.
He said the ICT and digital revolution has created opportunities that previously only existed in science fiction and urged Nigerian youths to key Into the ICT revolution as It is a dependable path to self-reliance.
While stating that Benue State has comparative advantage in agriculture, Ortom said his administration is making deliberate efforts to support farmers through subsidy on fertilizer and farm machinery such as tractors.
He, therefore, encouraged the youths to access agric loans at Bank Of Industry at only five percent interest rate to start their businesses through the agriculture-value chain production, through processing and marketing.
Declaring the summit open, Ortom promised to listen attentively and to offer a credible response that will reflect "how carefully we have listened. At the end of the summit I will be confirming what we have heard and how we are responding," he added.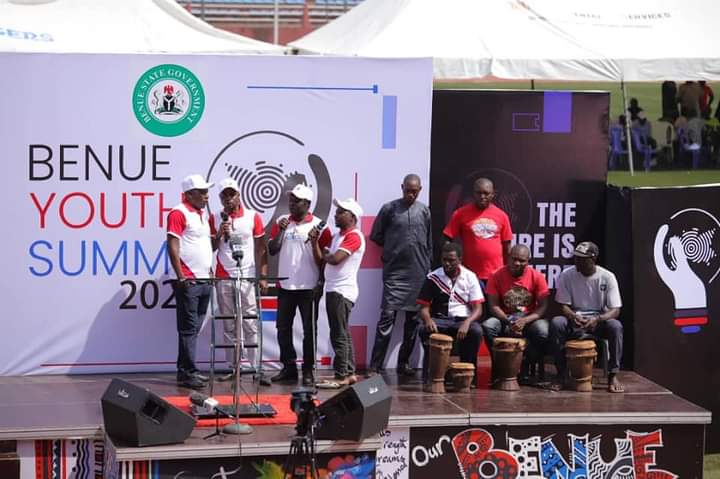 READ ALSO: LEST WE FORGET: OPPORTUNITIES FOR YOUNG NIGERIANS, BY THE BUHARI ADMINISTRATION
Also speaking, former state Governor and Minister of Special Duties and Inter-Governmental Affairs, Senator George Akume commended the state government for the initiative saying the importance of a youthful population cannot be overemphasized, hence the need to create a conducive atmosphere for them to maximise their potentials.
Akume who was represented by Mr. Joseph Utse, said the power of youth must be positively utilised in the area of health, education and empowerment towards achieving peace.
He said Benue youth have a huge role to play in national development and must not settle for analysis but rather rise up and take active role in the scheme of affairs in the country.
He further tasked them to be good ambassadors of the state and always position themselves for positive change.
Meanwhile, the Chairman and Public Relations Officer, (PRO) of Joint National Association of Person's With Disabilities, (JONAPWD), Benue State Chapter, Peter Iorkighir and Faith Yaasar commended the state government for the youth summit.
They,  however, called on the organisers to be more inclusive and concerned about their plight.
"We are happy that the state government has called the youths to hear them out for a way forward. But for the arrangements, we the people with disabilities are kept behind the stage and we could not even see what is happening.
"We were not given water or any form of souvenir or refreshments since we could not go for it like our able bodied brothers and sisters. So we are appealing that our interest should be considered," they said.