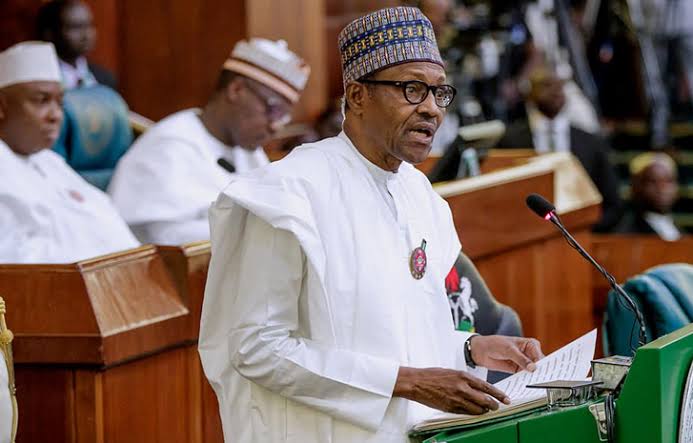 More reactions have continued to trail president Muhammadu Buhari's nationwide speech on Thursday, over the End SARS protests.
The Next Edition reports that Nigerian youths have, for more than two weeks, been protesting against police brutality especially by the Special Anti Robbery Squad (SARS).
The protests which Tuesday turned bloody, attracted condemnation from Nigerians and members of the international community, and perhaps pushed president Buhari to address the nation, on Thursday.
Hours after the his speech, reactions are still trailing the speech with many saying he showed no sympathy for the massacred youths.
Speaking to the Next Edition, a public analyst, Mr. Austin Onuoha said it was very disappointing that it took the president two weeks to address the nation on a situation that is affecting over 65 percent of citizens of his country.
Onuoha told our correspodent on phone that from the content of the president's speech, it would have been better if he didn't speak at all as according to him, "the speech is lacking in sympathy as he spoke like he was doing us a favour.
"The basic fact is that he is a father and I don't know how he would have felt if his child had been killed either by SARS or was shot at, at Lekki. How would he feel? Would he sweep it under the carpet?
"Even if his son or daughter is acclaimed to be a criminal, there is no parent on the face of the earth who will leave the child to be killed like this and then to treat the death of such young people casually is an unfortunate thing for our country," Onuoha said.
He noted that rather that address serious issues, the president seems to be overwhelmed by his poverty alleviation measures "meanwhile some of the interventions, like the farmermoni,
tradermoni, marketmoni, have no specified criteria for disbursement."
He also faulted the renumeration for the proposed 7000 job opportunities for Nigerian youths saying there is no alleviation of poverty for someone who is employed and being paid N30,000 monthly.
He advised President Buhari to visit and borrow a leaf from China in handling poverty alleviation that will truly impact the lives of Nigerian youths.
Also speaking, the Initiator and Chief Executive of Jireh Doo Foundation, (JDF), Mrs. Josephine Habba noted that the President's speech was only seeing the material things that were wasted.
"In my opinion, I think the destruction of Nigerian properties was more paramount to the President of Nigeria than the souls, the children that were massacred at Lekki.
"I think they are trying to get people confused, and then pull back and reorganize. I think it is the culture of the president not to bother about the dead.
"When he came to Benue during Fulani herders and farmers issues, when he was speaking, he did not make mention of anyone who died. He did not even request to know how many people died let alone that there was a mass burial. He came to talk about politics, his re-election and the appointments that he will give.
"Maybe it's a culture of the President not to bother about a life. Maybe he is such a toughened soldier that bloodshed doesn't matter to him.
"I am first a mother then a Nigerian and an Activist for that matter. I advise Nigerian youths and the protesters not to engage in any violent activites but to continue to protest peacefully and let the Nigerian Government be killing them. The world is watching but they will pay for this," she said.
Mrs. Habba who acknowledged that the protesters are made up of men and women of honour as well as professionals also advised them not to engage in any combat with the security agencies but to stay put until their demands are met.
In his reaction, the Chairman of Nigerian Bar Association (NBA), Benue State, Justin Gbagir said the President's address was short, concise and very straight to the point.
"The only area that I thought the President would have been more emphatic was, one, the issue of Lekki killings. He practically avoided that issue which I thought was very important for him to have said something about.
"Secondly, was the issue of insecurity. I think he ought to have made specific orders or given specific instructions to the security agencies to try and curb that issues. These are the two areas I think were lacking in the speech.
But he specifically said the killings were unfortunate," Gbagir said.
The President General of the Tiv Youths Organisation, (TYO), Mr. Timothy Hembaor expressed deep disappointment with the President's address saying "after yesterday, I drew a conclusion about our country, Nigeria. I was absolutely convinced that we are living in Nigeria practically without a President."
READ ALSO: I'm Still Traumatised By The Lekki TollGate Shootings – Burna Boy
Hembaor said there was nothing Presidential about the President's outing adding that "he just told us that he was bereft of ideas and do not know what was happening in Nigeria.
He also expressed suspicion that the President's speech must have been prepared before the Lekki massacre.
The TYO President called on the Youths to be steadfast and continue to go about their dealings within the armbits of the law saying "we have a long way to go now that we know we do not have a President but as determined youths, we should continue to be peaceful, move freely and do everything to take back our country."