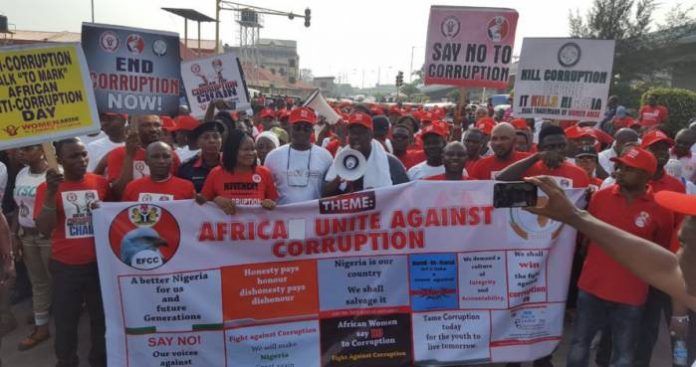 The Economic and Financial Crimes Commission, EFCC, in Benue State in collaboration with National Youth Service Corps and other concerned stakeholders have staged a road walk against corruption.
The State Zonal Director of EFCC, Mr. Johnson Babalola, who led the walk across major streets of Makurdi appealed to Nigerians to take the fight against corruption seriously.
Speaking to journalists in his office, Babalola described corruption as an existential threat and called on the people to help spread the message to every nook and cranny so as to correct the ills in the society.
Expressing the devastating effect of corruption on the nation's fabrics, the zonal director, attributed rising cases of criminality to corruption urging Nigerians to assist the EFCC in the fight as it is not going to be business as usual.
"We are not going to allow corruption to collapse on our head, we are not going to allow it to kill us, it is an existential threat, it is a threat to the existence of all of us. We are going to bequeath to our younger ones, the younger generation coming after us, a country that all of us will be proud of in the comity of nations."
READ ALSO: Is EFCC Fighting Corruption or Government's Enemies?
"We will not allow them to be given a compromised society. Many ungoverned spaces in Nigeria today is as a result of corruption. You may not be able to move in distance of 5kms before kidnappers and terrorists will come and attack.
"It's because the very fabric of this nation, the entire gamut of this nation and national life have been compromised. We are not going to allow it to happen. Henceforth, let us go to wherever we come from, let us tell them that we are starting a new life as a nation and the crusade has started from Makurdi.
"We are sending our men to Plateau, Taraba, Nassarawa states; all these states are under Makurdi Zone. So it is not going to be business as usual, we are not going to be lone rangers in this crusade."
"Let us tell them we have become born again as an individual, as a nation. We are going to start a new vista in anti corruption fight and this vista is that we are going to begin to spread the messages across like in our churches and mosque, like we talk to people to talk to God, let us appeal to their conscience that enough is enough.
"When you see something, tell us, we are ready to go after them wherever they are, we have the wherewithall, we have resources, we have the panache, the strength, the material, the equipment and backing of God and that of the President to fish out the corrupt elements amongst us. We cannot continue to allow this country to be managed the way it is being managed," Babalola said.